Subscribe to Blog via Email
RCCG JUNIOR ZEAL 2021/2022 AGE 9-12 TEACHER'S MANUAL SUNDAY 24TH OF OCTOBER 2021 LESSON 8
TOPIC: WAYS GOD BLESSES A MAN I (GOOD HEALTH)
BIBLE TEXT: Exodus 23:26
[26]There shall nothing cast their young, nor be barren, in thy land: the number of thy days I will fulfil.
MEMORY VERSE: 3 John 1:2 "Beloved, I wish above all things that thou mayest prosper and be in health even as they soul prospereth".
LESSON AIM: To let the children know the ways to enjoy good health.
CENTRAL TRUTH: Good health is a gift from God.
INTRODUCTION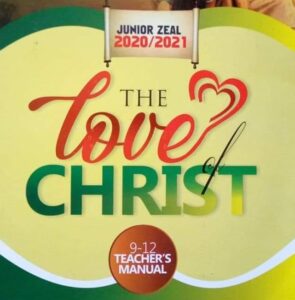 God sent His angel ahead of the children of Israel to prepare a place for them. God told them to be obedient to his instructions and He wil fight for them. He charged them not to worship or serve idols but rather they should worship the LORD their God and His blessings will be on their food and water. Also He will take away sickness from among them. To be healthy means to be free from sicknesses and diseases. God desire for all His children is to live a healthy life.
STUDY GUIDE
A. WHAT IS GOOD HEALTH
1. The state of being vigorous and free from bodily or mental disease – Isa. 41:10
2. Health refers to a state of complete emotional and physical well being – Rom. 8:6
– Good health is physical, mental and social well being – 1 Pet. 5:7
B. HOW TO PRESERVE GOOD HEALTH
1. Exercise regularly – 1 Timothy 4:8
2. Cheerful heart – Prov. 17:22
3. Remove jealousy out of your life – Prov. 14:30
4. Have the spirit of love Prov. 14:30
5. Be hardworking – Proverbs 31
6. Fasting often
7. Take lots of water
8. Eat healthily (fruits and vegetables)
9. Have enough rest( healthy sleep)
10. Serve God faithfully – Exodus 23:25
C. WHY DO YOU NEED GOOD HEALTH
1. So as to live a longer and active life
2. To be able to handle stress
3. To have grace to fulfill your destiny.
4. To be able to fulfill your God given assignment (ministry)
D. Biblical examples of healthy people.
1. Hebrew women – Exodus 1:15-19
2. Caleb – Joshua 14:10-13
3. Moses – Deut. 34:7
4. Joshua – Joshua 14:11
5. Those that wait upon God – Isaiah 40:31
THIS WEEK RCCG SUNDAY SCHOOL MANAUL
RCCG MESSAGES
RCCG APRIL 2021 HOLY COMMUNION SERVICE THEME: GOD BLESS YOU – PART 4 (BLESSED FRUITS) MINISTERING: PASTOR E.A ADEBOYE
RCCG MARCH 2021 DIVINE ENCOUNTER THEME: GOD BLESS YOU – PART 3 (I WILL LIFT UP MY EYES UNTO THE HILLS).
CONCLUSION: God is interested in your health so that you can be fit to do His work.
INVITATION: Accept Jesus into your heart
LIFE APPLICATION: Eat healthily.
DAILY DEVOTIONAL:
SUNDAY – GENESIS 10:7-18
MONDAY – GENESIS 10:19-32
TUESDAY – GENESIS 11:1-5
WEDNESDAY – GENESIS 11:6-12
THURSDAY – GENESIS 11:13-20
FRIDAY – GENESIS 11:21-26
SATURDAY – GENESIS 11:27-32