JUNIOR ZEAL (AGES: 9-12) TEACHER'S MANUAL SUNDAY 2ND OF MAY 2021 LESSON 35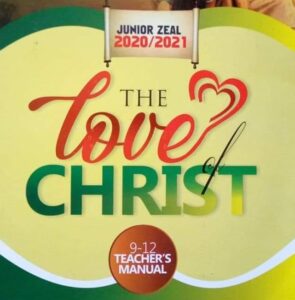 TOPIC: HOME TRAINING
BIBLE TEXT: 2 Timothy 1:1-9
[1]Paul, an apostle of Jesus Christ by the will of God, according to the promise of life which is in Christ Jesus,
[2]To Timothy, my dearly beloved son: Grace, mercy, and peace, from God the Father and Christ Jesus our Lord.
[3]I thank God, whom I serve from my forefathers with pure conscience, that without ceasing I have remembrance of thee in my prayers night and day;
[4]Greatly desiring to see thee, being mindful of thy tears, that I may be filled with joy;
[5]When I call to remembrance the unfeigned faith that is in thee, which dwelt first in thy grandmother Lois, and thy mother Eunice; and I am persuaded that in thee also.
[6]Wherefore I put thee in remembrance that thou stir up the gift of God, which is in thee by the putting on of my hands.
[7]For God hath not given us the spirit of fear; but of power, and of love, and of a sound mind.
[8]Be not thou therefore ashamed of the testimony of our Lord, nor of me his prisoner: but be thou partaker of the afflictions of the gospel according to the power of God;
[9]Who hath saved us, and called us with an holy calling, not according to our works, but according to his own purpose and grace, which was given us in Christ Jesus before the world began,
MEMORY VERSE: Proverbs 22:6 "Train up a child in the way he should go, and when he is old, he will not depart from it".
LESSON AIM: To let the children know the importance of home training.
CENTRAL TRUTH:A good training starts from home.
INTRODUCTION: Timothy was favoured to have a grandmother and a mother who built him up in a sincere faith towards God. This made Apostle Paul to discover him. Apostle Paul was used by God to fan into flame the gift of God in Timothy by the laying of hands on him. Timothy was Apostle Paul co-worker and also a son in the Lord. Apostle Paul encourage and disciple him to carry on the ministry and also to guard the gospel.
STUDY GUIDE
A. WHAT IS HOME TRAINING?
Home Training is defined as manners and social etiquette taught at home.
B. HOW TO TRAIN A CHILD
1. Through prayer – Philippians 4:6-7
2. By disciplining a child – Hebrews 12:5-6
3. Consistency in the training – Luke 16:10
4. To live by example -2 Timothy 1:5
5. Be patient with the child -1 Corinthians 13:4-7
C. AREAS TO TRAIN A CHILD:
1. How to pray.
2 Politeness, courtesy and respect
3 In humility – Proverbs 18:12
4. On kindness and love – 1 Corinthians 13:4
5. To understand scriptures -2 Timothy 3:15
6. On generosity – John 6:9
7. On hygiene – Exodus 2:5, Mark 7:3
8. On character – Genesis 24:17-18
9. On obedience – Ephesians 6:1-2
10. To know consequences of disobedience – Deuteronomy 28:15
11. On integrity – Romans 15:20
12. On godliness – Psalm 1
13. On cleanliness and house chores – Genesis 24
14. On hard work and diligence – Proverbs 22:29
15. On how to say thank you and sorry when its necessary – James 5:16
D. BIBLICAL EXAMPLES OF TRAINED CHILDREN
1. Jesus Christ – Luke 2:51
2. Timothy – 2 Timothy 1:5
3. King David -1 Samuel 2:18
4. Daniel – Daniel 1:8
5. Esther – Esther 2:7
E. WHAT ARE THE BENEFITS OF GOOD HOME TRAINING?
1. It prepares your heart to seek God.
2. It attracts God's blessings.
3. It equipped you for every good work. 2 Timothy 3:16
4. It gives you hope, peace and comfort in all circumstances.
5. It makes you cultivate better relationships with others.
6. It makes you to please God.
7. Good home training makes you withstand false teachings.
8. It helps you to be useful to yourself,family and friends.
9. Good home training makes you wise.
10. It builds your faith in the Word of God.
CONCLUSION
Subscribe to Blog via Email
A child that is trained in the way of the Lord through the wisdom of God will affect his generation positively.
INVITATION: You need Jesus Christ in your life in order to accept the teachings of godly parents.
ACTIVITY:Mention 2(two) ways a child that is not well trained behaves.
LIFE APPLICATION: A godly child can only be raised through good home training.
Acquiring a robust Home training is the foundation of a successful life. Your attitude
(behaviour) determines your altitude (How far you can go). Submit yourself to proper home training so that your tomorrow can be great. Proverbs 6:22b
DAILY DEVOTIONAL:
SUNDAY: ISAIAH 10:20-26
MONDAY: ISAIAH 10:27-34
TUESDAY: ISAIAH 11:1-5
WEDNESDAY: ISAIAH 11:6-11
THURSDAY: ISAIAH 11:12-16
FRIDAY: ISAIAH 12:1-6
SATURDAY: ISAIAH 13:1-5