RCCG JUNIOR ZEAL (AGE 4-5) TEACHER'S MANUAL SUNDAY 16TH OF MAY, 2021
LESSON THIRTY-SEVEN(37)
TOPIC: SELF-DISCIPLINE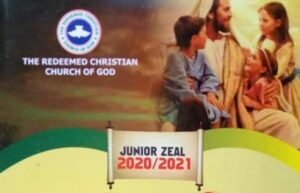 BIBLE TEXT: Romans 12:12, 1st Peter 4: 12-19
12:- Rejoicing in hope; patient in tribulation; continuing instant in prayer.
12. Beloved, think it not strange concerning the fiery trial which is to try you, as though some strange thing happened onto you:
13. But rejoice, inasmuch as Ye are partakers of Christ sufferings; that, when his glory shall be revealed, ye may be glad also with exceeding joy.
14. If ye be reproached for the name of Christ, happy are you; for the spirit of glory and of God rested upon you: on their part he is evil spoken of, but on your part He is glorified.
15. But let none of you suffer as a murderer, or as a thief, or as an evildoer, or as a busy body in other men's matters.
16. Yet if any man suffer as a Christian, let him not be ashamed; But let him glorify God on this behalf.
17. For the time is come that judgment must begin at the House of God: and if it first begin at us, what shall the end be of them that obey not the gospel of God?
18. And if the righteous scarcely be saved, where shall be ungodly and the sinner appear?
19. Wherefore let them that suffer according to the will of God commit the keeping of their souls to him in well doing as unto a faithful Creator.
MEMORY VERSE: James 1:3
3. Knowing this that the trying of your faith worketh patience.
LESSON AIM: God wants you to have self discipline.
CHILD RELATED TRUTH: Be patient even in the face of suffering.
INTRODUCTION: for years, William Wilberforce pushed for Britain to stop slavery. Discouraged, he was about to give up; but his elderly friend John Wesley heard from his sickbed and managed to write him a few words that said "Oh! Be not weary of well doing! Go on in the name of God an in the power of his might till even American slavery shall vanish away before it." Wesley died six days later. But Wilberforce fought for 45 years until in 1883, he saw slavery abolished in Britain; three days later he died. what a great encouragement for us all. Be patient in the face of suffering.
PROGRESSION OF EVENTS:
1. What is self-discipline?
Self-discipline means to be self-controlled, the ability to persevere and endure.
Be joyful in hope, patient in affliction, faithful in prayers. Romans 12:12
– Be joyful in hope: what does it mean to be joyful in hope?
This means that no matter what is going on around you, you should constantly look ahead. We know that even if your circumstance is negative now, brighter days are coming for you. Why? Because your God is good, and his love is everlasting and unfailing.
– Be patient in affliction: affliction is something that causes pain or suffering. Many things cause us pain and suffering e.g. hunger, sickness, failure, ridicule etc. as a child of God, you are not exempted from them. Even the disciples and believers of old suffered from these things. God sometimes allows afflictions, to purify us and to make us holy so we can be qualified to be with him. That is why the word of God tells us to be patient in affliction.
– Be faithful in prayer: through prayer, you will be able to stand strong and be disciplined in the time of trial. Pray and keep on praying when going through trying times.
Luke 18 :1b "that men ought always to pray and not faint." Be faithful in prayer, pray about everything and every time. Pray without ceasing 1st Thes 5:17.
2. 1st Peter 4:12-14, the word of God says. Do not be surprised at the painful trial you are suffering as if something strange is happening to you. (Most times when something bad is happening to us as God's children, we begin to ask God why or react the ways we feel and most times sin. Some even stop going to church, say or do bad things). It is a wrong attitude towards pain and suffering to backslide. Instead, God wants you to be patient and trust him to intervene. He is in control, and he knows what to do.
If you are a child of God, self-discipline is particularly important as an evidence of new birth. A lot of Christians and disciples went through trials in the Bible, they apostles, even Jesus Christ the great King went through pain and agony, but he took it kindly. 1st Peter 2:19-23. As a child of God, you must rejoice that you participate in the sufferings of Christ 1st Peter 4:13 – 14 by exercising self-discipline.
3. James 1:2-3 God tests you whenever you face trials of any kind, how then should you feel and relate with God and others around you? How can you count pain and sorrow as joy? By self-discipline; And that is what God wants. How do you act when:
I. When you are insulted?
II. Cheated?
III. When things are shared and you did not get?
IV. When given the type of biscuit you do not like?
V. When someone abuses you or pushes you?
VI. When you are giving difficult tasks to do?
CLIMAX: Perseverance will make you mature and complete. James 1:14
CONCLUSION:
When you are mature, you will lack nothing.
CHALLENGE: a child of God should be patient in the face of trial and difficulty. Remember your self discipline would develop into obedience which will produce perseverance. As you persevere, you become mature and complete.
INVITATION: Romans 10:13.
"for whosoever shall call upon the name of the Lord shall be saved"
RCCG TOPICS THIS WEEK
RCCG SUNDAY SCHOOL STUDENT'S MANUAL MAIDEN SPECIAL FOR YOUNG ADULTS AND YOUTHS (YAYA) LESSON THIRTY-SEVEN SUNDAY 16TH MAY 2021
RCCG JUNIOR ZEAL (AGE 4-5) TEACHER'S MANUAL SUNDAY 16TH OF MAY, 2021 LESSON THIRTY-SEVEN(37)
JUNIOR ZEAL (AGES: 9-12) TEACHER'S MANUAL SUNDAY 16TH OF MAY 2021 LESSON THIRTY-SEVEN (37)
RCCG 2020/2021 ZEAL (AGE 13-19) TEENS TEACHER'S MANUAL SUNDAY 16TH OF MAY, 2021 LESSON THIRTY SEVEN (37)
RCCG HOUSE FELLOWSHIP LEADERS' MANUAL DATE: SUNDAY 16TH MAY 2021 LESSON: 37
RCCG SUNDAY SCHOOL STUDENT'S MANUAL LESSON THIRTY-SEVEN SUNDAY 16TH MAY 2021
RCCG JUNIOR ZEAL (AGE 6-8) TEACHER'S MANUAL SUNDAY 16TH OF MAY 2021 LESSON THIRTY-SEVEN(37)
RCCG SUNDAY SCHOOL (YAYA) TEACHER'S MANUAL MAIDEN SPECIAL FOR YOUNG ADULTS AND YOUTHSLESSON THIRTY-SEVEN SUNDAY 16TH MAY 2021
RCCG SUNDAY SCHOOL TEACHER'S MANUAL LESSON THIRTY-SEVEN SUNDAY 16TH MAY 2021
RCCG SUNDAY SCHOOL STUDENT'S MANUAL MAIDEN SPECIAL FOR YOUNG ADULTS AND YOUTHS (YAYA) LESSON THIRTY-SEVEN SUNDAY 16TH MAY 2021
Subscribe to Blog via Email
LIES, LYING AND LIARS (AVOID SPEAKING THE DEVIL'S LANGUAGE) RCCG DIGGING DEEP
DAILY DEVOTION:
SUNDAY: Luke 16: 17-19
MONDAY: Luke 16:20-22
TUESDAY: Luke 16:23-25
WEDNESDAY: Luke 16:26-28
THURSDAY: Luke 16:29-31
FRIDAY: Luke 17:1-3
SATURDAY: Luke 17:4-6