RCCG JUNIOR ZEAL (AGE 6-8) TEACHER'S MANUAL SUNDAY 16TH OF MAY 2021 LESSON THIRTY-SEVEN(37)
TOPIC: SELF-DISCIPLINE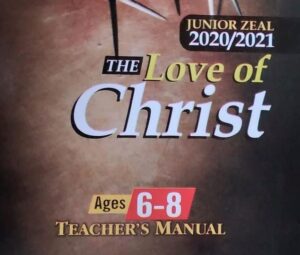 BIBLE TEXT: Matt 4:1-11
1.Then Jesus was led by the Spirit into the wilderness to be tempted[a] by the devil.
2 After fasting forty days and forty nights, he was hungry.
3 The tempter came to him and said, "If you are the Son of God, tell these stones to become bread."
4 Jesus answered, "It is written: 'Man shall not live on bread alone, but on every word that comes from the mouth of God.'[b]"
5 Then the devil took him to the holy city and had him stand on the highest point of the temple. 6 "If you are the Son of God," he said, "throw yourself down. For it is written:
"'He will command his angels concerning you,
and they will lift you up in their hands,
so that you will not strike your foot against a stone.'[c]"
7 Jesus answered him, "It is also written: 'Do not put the Lord your God to the test.'[d]"
8 Again, the devil took him to a very high mountain and showed him all the kingdoms of the world and their splendor. 9 "All this I will give you," he said, "if you will bow down and worship me."
10 Jesus said to him, "Away from me, Satan! For it is written: 'Worship the Lord your God, and serve him only.'[e]"
11 Then the devil left him, and angels came and attended him
MEMORY VERSE: Proverbs 25:28
"He that hath no rule over his own Spirit is like a city that is broken down and without walls."
LESSON AIM: The children will depend on the Word of God to have self-control.
CHILD RELATED TRUTH: God wants you to rely on Jesus for self-.
INTRODUCTION: Children! Have you ever gone without food before? A day? Now, imagine 40 days without food. In our story today, Jesus has gone 40 days and 40 nights without food. Imagine what Jesus would have felt like ( weak, tired, dizzy, confused maybe). Satan tried to get Jesus to sin. He tempted Him when He was weak. Satan tempts us when we are weak too.
What is self discipline? Self discipline means to be self controlled, the ability to persevere and endure.
Be joyful in hope, patient in affliction, and faithful in prayers. Romans 12:12
RCCG THIS WEEK
RCCG SUNDAY SCHOOL STUDENT'S MANUAL MAIDEN SPECIAL FOR YOUNG ADULTS AND YOUTHS (YAYA) LESSON THIRTY-SEVEN SUNDAY 16TH MAY 2021
RCCG JUNIOR ZEAL (AGE 4-5) TEACHER'S MANUAL SUNDAY 16TH OF MAY, 2021 LESSON THIRTY-SEVEN(37)
JUNIOR ZEAL (AGES: 9-12) TEACHER'S MANUAL SUNDAY 16TH OF MAY 2021 LESSON THIRTY-SEVEN (37)
RCCG 2020/2021 ZEAL (AGE 13-19) TEENS TEACHER'S MANUAL SUNDAY 16TH OF MAY, 2021 LESSON THIRTY SEVEN (37)
RCCG HOUSE FELLOWSHIP LEADERS' MANUAL DATE: SUNDAY 16TH MAY 2021 LESSON: 37
RCCG SUNDAY SCHOOL STUDENT'S MANUAL LESSON THIRTY-SEVEN SUNDAY 16TH MAY 2021
RCCG JUNIOR ZEAL (AGE 6-8) TEACHER'S MANUAL SUNDAY 16TH OF MAY 2021 LESSON THIRTY-SEVEN(37)
RCCG SUNDAY SCHOOL (YAYA) TEACHER'S MANUAL MAIDEN SPECIAL FOR YOUNG ADULTS AND YOUTHSLESSON THIRTY-SEVEN SUNDAY 16TH MAY 2021
RCCG SUNDAY SCHOOL TEACHER'S MANUAL LESSON THIRTY-SEVEN SUNDAY 16TH MAY 2021
RCCG SUNDAY SCHOOL STUDENT'S MANUAL MAIDEN SPECIAL FOR YOUNG ADULTS AND YOUTHS (YAYA) LESSON THIRTY-SEVEN SUNDAY 16TH MAY 2021
LIES, LYING AND LIARS (AVOID SPEAKING THE DEVIL'S LANGUAGE) RCCG DIGGING DEEP
PROGRESSION OF EVENTS:
1. The Spirit of God led Jesus to the wilderness to be tempted by the devil.
2. After fasting forty days and night, He became hungry
3. Satan told Jesus to turn stones into bread
4. Jesus answered him by saying man shall not live by bread alone.
5. Satan took Jesus to the highest part of the temple and challenged him to prove himself to be the son of God by throwing himself down.
6. Jesus told Satan not to tempt the Lord his God.
7. Satan to Jesus to the top of the high mountain and offered him the kingdoms of the world if He would fall down and worship him.
8. Jesus to sit and that the only one to be worshipped is the Lord God.
CLIMAX: Jesus used the Word of God as self-control to resist Satan and Satan left Him.
CONCLUSION: Angels ministered to Jesus.
CHALLENGE: is there an area of your life that needs self control? Is it your tongue? Do you talk about people? Do you complain? Do use language that would hurt the heart of God? Or maybe you have a hard time keeping your hands to yourself if you're angry or frustrated about something. Do you hate, push, or kick? What about your free time? Do you spend time with God during the day? Do you help around the house and do your homework? Or do you lack self-control and spend too much time on the computer, watching TV, or playing video games? Our today's memory verse Proverbs 25:28 will help you to have self- control because God says is Psalm 119:11 that if you hide His word in your heart, you will not sin against Him. Anytime you feel you are not self- disciplined during this week, remember your memory first.
INVITATION: Calling on Jesus as Lord and Saviour will help you to exercise self-control. Call on Him today and be saved. (Romans 10:13).
DAILY DEVOTION:
SUNDAY: Acts 8:9-13
MONDAY: Acts 8:14-19
TUESDAY: Acts 8:20-25
WEDNESDAY: Acts 8:26-31
THURSDAY: Acts 8:32-40
FRIDAY: Acts 9:1-9
SATURDAY: Acts 9:10-14