RCCG JUNIOR ZEAL (AGE 6-8) TEACHER'S MANUAL SUNDAY 23RD OF MAY 2021 LESSON THIRTY EIGHT (38)
TOPIC: REVISION 6
– Revise the previous lessons with the Children
Ask them questions to ensure lessons have been well understood
– Tell your class to review the previous lessons during the week before the revision day.
SUMMARY OF LESSONS 33-37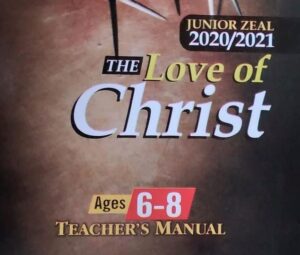 LESSON THIRTY THREE (33) TOPIC: COUNSEL THE SHEEP
BIBLE TEXT: JOHN 21:1-17
MEMORY VERSE: PROVERBS 15:22 "Without counsel purposes are disappointed: but in the multitude of counselors they are established."
LESSON AIM: The children will know that they should accept God's forgiveness and continue in their serving Him.
CHILD RELATED TRUTH: God wants you to share His love with others and take care of them.
INTRODUCTION: Have you ever messed up? Like really messed up? How did it make you feel? How did it affect others? Did anything good come from your mistake? (Give room for answers). Before Jesus was crucified, he warned Peter that he will commit a sin of denying Him but Jesus had a special promise for Peter even though he knew Peter would deny him. Jesus promised Peter that He will lead the church and the gate of Hell will not overcome it. Jesus needed to counsel Peter for a new beginning after His resurrection.
PROGRESSION OF EVENTS:
1. Peter had gone back to being a fisherman after Jesus rose from the dead.
2. And he was out in his sailboat with James and John.
3. They had fished all night and not had a single fish swim into their nets, and they were tired and hungry.
4. Jesus came by and told them to try putting their nets on the other side of the boat.
5. When they did, they caught more fish than they could even hold!
6. Peter realized that it was Jesus who was there on the shore, and he jumped out of the boat and swam as fast as he could to Him.
GOSPEL CONNECTION:
The disciples did not recognize Jesus. This was the third time he had appeared to them following his death, and yet his friends seemed to busy with their fishing to recognize their Lord. Jesus' love does not waver. He reveals His identity by using His power to overflow their nets with fish and welcomes them back into the community. Jesus also welcomes you and me each time we confess our sins and forsake them. Jesus died on the cross to take the punishment for your sins. Gods love for the world is so strong that He does not want anyone to perish (John 3:16).
7. Once there, Jesus built a campfire and cooked some fish for breakfast.
8. Then Jesus started talking to Peter, and asked if Peter loved Him.
CLIMAX: Jesus asked this three times, and three times Peter told Him he did love Him, and Jesus told Him to "feed my sheep".
CONCLUSION: This meant that Jesus was giving Peter a very special job of taking care of people.
CHALLENGE: God used Peter to draw others into a relationship with Jesus and the same is true for us! Jesus' sacrifice means we can repent of our sins, be forgiven by God, and continue serving according to his will. Repenting of our sins and accepting God's forgiveness will enable our continued service. God knows we are imperfect, but He wants us to use us anyway! Read Romans 8: 1-2. Emphasize that regrets and shame should certainly bring us back into a right relationship with the Lord, but we should never let them control our lives.
INVITATION: You need Jesus to serve others, believe in Him today and be saved (John 5:24)
LESSON THIRTY FOUR (34)
TOPIC: ACTS OF PRAYERS
BIBLE TEXT: Luke 11:1-13
MEMORY VERSE: MATTHEW 21:22 "And all things, whatsoever we shall ask in prayer, believing, ye shall receive."
LESSON AIM: The children will learn to pray and know that God will listen to their prayers.
CHILD RELATED TRUTH: God loves and hears you.
INTRODUCTION: What is prayer? Why should we pray, and how should we pray? And does God really listen every time we talk to Him?
(Give room for children to answer). Today, we are going to learn how to pray. Remember that it is as simple as talking to someone you love. Jesus taught His disciples how to pray in this manner.
PROGRESSION OF EVENTS: LUKE 11:1-13
1. Jesus teaches on how to worship our Father who dwells in heaven.
2. Jesus teaches that we ought to pray for God's kingdom to come.
3. Jesus teaches that we should ask daily for all the necessities of life.
4. Jesus teaches that we should ask for forgiveness of our sins while praying
5. Jesus teaches us that we must forgive others in order for the Lord to forgive us our sins
6. Jesus teaches to pray that we are not led into temptation and to deliver us from the evil one
CLIMAX:
God is the owner of the kingdom and power and glory are His always
CONCLUSION: Jesus teaches never to give up praying because God will always give you the best (Luke 11:5-13).
CHALLENGE: Today our hands are going to help us learn how to pray.
You have got five fingers and we have got five parts of prayer.
1. PRAISE: Praise is saying what you love about someone. It's saying, "God, I love that you are good. I love how you made the ocean. I
love that you sent Jesus for our sins."
2. CONFESS: Confession means when you ask for forgiveness of your sins.
3. READ: Reading God's word helps you see yourself as in a mirror. It helps you understand who God is and who we are. It helps you to
pray because you know who we're praying to.
4. ASK: God says in Matthew 21:22 that, "If you believe, you will receive whatever you ask for in prayer." Pray for others and for yourself.
5. THANKS: God has done so much for you. What can you be thankful for today? (Invite children to list items). This week, ask God for something special using these five parts of prayers.
INVITATION: If you have not called on Jesus to save you from your sin, you can do so now by raising up your right hand (Romans 10:13).
LESSON THIRTY FIVE (35) TOPIC: HOME TRAINING
BIBLE TEXT: 2 Kings 11:1-12:2; 2 Kings 12:1-2
MEMORY VERSE: PROVERBS 22:6 "Train up a child in the way he should go: and when he is old, he will not depart from it."
LESSON AIM: The children will rely on God to listen and respond to godly training.
CHILD RELATED TRUTH: God wants you to have a teachable attitude to be wise.
INTRODUCTION: What can I do to make my life better? I am just seven years old exclaimed Joash. I am a king who cannot rule over a
kingdom. If l don't let my uncle the priest train me, I will be very bad like my father and wicked like my grandmother. I must let my uncle take
charge of directing me in the ways of ruling the kingdom to make my life better.
PROGRESSION OF EVENTS
1. As queen Athaliah ruthlessly killed her grandchildren in order to inherit the throne, Joash was rescued from death.
GOSPEL CONNECTION: Joash was very fortunate to have someone who loved him and rescued him from been killed. God loves you so much that He sent His beloved Son Jesus to earth that you will be saved from the punishment of your sin. The Lord Jesus died a terrible death on the cross freely giving his lifeblood. Jesus paid the price for yours and my sins. Believing in the Lord Jesus, your life can be saved from the punishment of your sin (John
5:24).
2. Joash was hidden by his aunt Jehosheba and her husband Jehoiada the priest in the house of the Lord for six years.
3. Jehoiada planned the overthrow of the wicked queen Athalian.
4. God used the priest and the people in the temple to overthrow the wicked queen.
5. Jehoiada crowned Joash king who was seven years old and presented him as the new king.
6. Jehoiada taught Joash to lead the nation to be faithful to God.
7. King Joash made the decision to listen and respond correctly to the training of the priest.
CLIMAX: King Joash was faithful to God in leading the nation as he followed the training of Jehoiada the priest.
CONCLUSION: As long as King Joash followed the training of Jehoiada the priest, he was greatly blessed by God.
CHALLENGE: Joash was taught by the priest to be a good boy as he grew up. He needed guidance and training in the ways of the Lord and how to be a good king. You too need the right training so God gave parents and godly adults to train you in the right way and point you to Christ. This week, you are going to thank God for giving you these wonderful people who are training you to become great in society and in
the kingdom of God.
INVITATION: It is only God who can rescue from the punishment of your sin if you believe Jesus as Lord and Savior (Romans 5:8).
LESSON THIRTY-SIX (36)
TOPIC: WATER BAPTISM AND HOLY SPIRIT BAPTISM
BIBLE TEXT: Acts 2: 37-40
MEMORY VERSE: Matthew 3:11
11. I indeed baptize you with water unto repentance: but he that cometh after me is mightier than I, whose shoes I am not worthy to bear: he shall baptize you with the Holy Ghost, and with fire:
LESSON AIM: The children will know that baptizing is a symbol of turning away from sin.
CHILD RELATED TRUTH: God wants you to be baptized.
INTRODUCTION: Have you ever heard of Baptism? The water Kind? But did you know that there is another? One that God perfectly designed. You may have been baptized by water. We are cleansed by that water. Just as Jesus cleansed our heart. There is still another Baptism, one that you can't see. The Baptism of the Holy Spirit, which lives in you and me. When Jesus went back to heaven, the Holy Spirit came to be our guide. He lives inside you always, to help you leave sin behind. Both Baptisms are important, one on the outside and one within. But they mean you love Jesus and will be with Him in the end.
PROGRESSION OF EVENTS:
1. When the crowd heard Peter teach about Jesus death, burial and resurrection there was a response, they were convicted.
GOSPEL CONNECTION:
There will always be a response when the good news of Jesus is shared. Either the person will respond by believing in Jesus or by rejecting Jesus. It is God's love for you that prompted him to send his son Jesus to die on the cross for your sins, He was buried and rose again on the third day. Then it is the Holy Spirit that will convict your heart to respond and accept him as your Lord and Savior.
2. Peter told them to change their hearts and lives and be baptized in the name of Jesus.
3. Then God will forgive them their sins and after that,
4. They will receive the gift of the Holy Spirit.
CLIMAX: They that received the word were baptized.
CONCLUSION: The promise of the Holy Spirit is for everyone the Lord calls to Himself .
CHALLENGE: When you see someone baptized, it is a sign that tells people we believe in Jesus and trust in Him to forgive all of our sins. It shows people our hearts have been washed clean and we are ready to live a new life in obedience to God. Being baptized is also a way we obey God, just like Jesus did. Baptism is very important and a very special event. God wants us to know too that Jesus was not just an ordinary man, he is His son. Jesus died and rose again and lives in heaven. The Holy Spirit now lives in you and you can pray to God whenever you want.
INVITATION: Let Jesus save you now as you believe in Him. (Acts 16:31).
LESSON THIRTY-SEVEN(37) RCCG JUNIOR ZEAL (AGE 6-8) TEACHER'S MANUAL SUNDAY 23RD OF MAY 2021 LESSON THIRTY EIGHT (38)
RCCG THIS WEEK
TOPIC: SELF-DISCIPLINE
BIBLE TEXT: Matt 4:1-11*
MEMORY VERSE: Proverbs 25:28
"He that hath no rule over his own Spirit is like a city that is broken down and without walls."
LESSON AIM: The children will depend on the Word of God to have self-control.
CHILD RELATED TRUTH: God wants you to rely on Jesus for self-discipine.
INTRODUCTION: Children! Have you ever gone without food before? A day? Now, imagine 40 days without food. In our story today, Jesus has gone 40 days and 40 nights without food. Imagine what Jesus would have felt like (weak, tired, dizzy, confused maybe). Satan tried to get Jesus to sin. He tempted Him when He was weak. Satan tempts us when we are weak too.
What is self discipline? Self discipline means to be self controlled, the ability to persevere and endure.
Be joyful in hope, patient in affliction, and faithful in prayers. Romans 12:12
PROGRESSION OF EVENTS:
1. The Spirit of God led Jesus to the wilderness to be tempted by the devil.
2. After fasting forty days and night, He became hungry
3. Satan told Jesus to turn stones into bread
4. Jesus answered him by saying man shall not live by bread alone.
5. Satan took Jesus to the highest part of the temple and challenged him to prove himself to be the son of God by throwing himself down.
6. Jesus told Satan not to tempt the Lord his God.
7. Satan to Jesus to the top of the high mountain and offered him the kingdoms of the world if He would fall down and worship him.
8. Jesus to sit and that the only one to be worshipped is the Lord God.
CLIMAX: Jesus used the Word of God as self-control to resist Satan and Satan left Him.
CONCLUSION: Angels ministered to Jesus.
CHALLENGE: is there an area of your life that needs self control? Is it your tongue? Do you talk about people? Do you complain? Do use language that would hurt the heart of God? Or maybe you have a hard time keeping your hands to yourself if you're angry or frustrated about something. Do you hate, push, or kick? What about your free time? Do you spend time with God during the day? Do you help around the house and do your homework? Or do you lack self-control and spend too much time on the computer, watching TV, or playing video games? Our today's memory verse Proverbs 25:28 will help you to have self-control because God says is Psalm 119:11 that if you hide His word in your heart, you will not sin against Him. Anytime you feel you are not self-disciplined during this week, remember your memory first.
INVITATION: Calling on Jesus as Lord and Saviour will help you to exercise self-control. Call on Him today and be saved. (Romans 10:13).
DAILY DEVOTION
Subscribe to Blog via Email
1. SUNDAY – ACTS 9:15-19
2. MONDAY – ACTS 9:20-25
3. TUESDAY – ACTS 9:26-30
4. WEDNESDAY – ACTS 9:31-35
5. THURSDAY – ACTS 9:36-43
6. FRIDAY – ACTS 10:1-8
7. SATURDAY ACTS 10:9-16
RCCG JUNIOR ZEAL (AGE 6-8) TEACHER'S MANUAL SUNDAY 23RD OF MAY 2021 LESSON THIRTY EIGHT (38)