JUNIOR ZEAL (AGES: 9-12) TEACHER'S MANUAL SUNDAY 23RD OF MAY 2021 LESSON THIRTY EIGHT (38)
TOPIC: REVISION 6
•Revise the previous lessons with the Children.
•Ask them questions to ensure lessons have been well understood.
•Tell your class to review the previous lessons during the week before the revision day.
•Remember that next week is quiz. Be prepared.
DAILY DEVOTIONAL:
SUNDAY – ISAIAH 19:17-25
MONDAY – ISAIAH 20:1-6
TUESDAY – ISAIAH 21:1-10
WEDNESDAY – ISAIAH 21:11-17
THURSDAY – ISAIAH 22:1-7
FRIDAY – ISAIAH 22:8-14
SATURDAY – ISAIAH 22:15-19
SUMMARY OF LESSONS 33-37
LESSON THIRTY-THREE (33)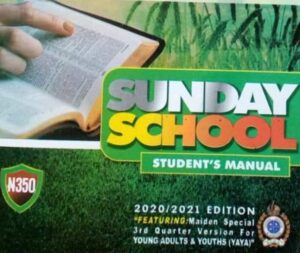 TOPIC: COUNSEL THE SHEEP
BIBLE TEXT: 1 Kings 12:1-12
MEMORY VERSE: Proverbs 11:14 "Where no counsel is, the people fall: but in the multitude of counselors there is safety".
LESSON AIM: To let the children know the important of seeking for good and godly counsel.
CENTRAL TRUTH: Good and godly counsel brings peace.
INTRODUCTION: After the death of King Solomon, his son Rehoboam became king. The people of Israel came to him saying they will serve him only if he removes the heavy yoke on them for they were already tired of Solomon's tax policy. Rehoboam did not listen to the counsel of the elders but chose rather to listen to the counsel of his young friends. They gave him a wrong advice and his Kingdom was divided. As a child of God, you will need to seek good and godly counsel in order to succeed in life. Your success in life is dependent on who counsels you.
STUDY GUIDE
A. WHAT IS COUNSEL?
1. To exhort, warn, admonish or instruct.
2. Advice, opinion or instruction given upon request or otherwise for directing the judgement or conduct of another.
3. To receive direction from the word of God.
B. WHERE CAN I GET GOOD AND GODLY COUNSEL?
1. Through my parents – Colossian 3:20
2. Through my Teachers – Romans 2:20
3. Through godly elders -1 Kings 12:6
4. Through prayer – Acts 13:2
5. Through the Holy Spirit – Acts 13:2, Romans 8:14
6. Through the Holy scriptures (God's word)- Joshua 1:8
7. Through my Pastor – Exodus 18:19-20
8. Through godly books -1 Timothy 4:13
C. THE KINDS OF COUNSEL WE CAN RECEIVE
1. Counsel on academic excellent
2. Counsel against the vices of this age – Philippians 3:2
3. Counsel to depend on the Holy Spirit – 1 Corinthians 2:12-14
4. Counsel not to lean on your own understanding – Proverbs 3:5
5. Counsel against the wolves outside – Matthew 7:15
6. Instruction on the whole counsel of God for your life – 1 kings 1:12; Revelation 3:18, Zechariah 4:6
7. Counsel on your spiritual growth – Mark 9:29
8. Counsel on the authority of the word of God – Hebrews 4:12
9. Counsel on preparation for Jesus second coming – James 5:7-8
CONCLUSION: Biblical counseling teaches, encourages, rebuke and guides us on the issues of life.
INVITATION: You can only submit to godly counsel if you are born again.
ACTIVITY: Memorize Psalm 1:1-end.
LIFE APPLICATION: Listening to Godly counsel will helps you to grow in Christ and live a happy life as children.. The Bible says in the multitude of counsel, there is wisdom confide in a mature Christian for Godly counsel when ever you have issues you cannot handle.
LESSON THIRTY-FOUR (34)
TOPIC: ACTS OF PRAYER
BIBLE TEXT: Luke 18:1-8
MEMORY VERSE: Acts 1:14 "These all continued with one accord in prayer and supplication, with the women, and Mary the mother of Jesus and with his brethren".
LESSON AIM: To let the children know the need to persevere in prayer.
CENTRAL TRUTH: We are commanded to Pray without ceasing.
RCCG THIS WEEK
INTRODUCTION:
Jesus told his disciples a parable on the need to always pray and not give up. A widow came to a
judge for justice, for sometime the judge refuse but eventually he gave into the request of the widow because of her persistency.
STUDY GUIDE
A. WHAT IS PRAYER?
Way in which we communicate with God. Prayer is conversation with God and should be without ceasing. 1 Thessalonians 5:16-18
B. ACTS OF PRAYER
1. Adoration: Worshipping or praising God for who he is – Psalm 136
2. Confession: Ask God for forgiveness – 1 John 1:9
3. Thanksgiving: Appreciate God for what He has done. Psalm 100
4. Supplication: Entrusting all your needs and desires to God as well as the needs of others – 1 kings 8:45, Ephesians 6:18, Philippians 4:6)
C. HOW TO PRAY
1. Pray in faith – Mark 11:24
2. Pray with a forgiving spirit – Matthew 6:14-15
3. Pray according to the will of God – 1 John 5:14
4. Pray with a heart free from sin – Psalm 66:18
D. HOW GOD ANSWERS OUR PRAYER
1. Sometimes immediately – Luke 23:43
2 Sometimes after a delay – Luke 18:1-7
3.Sometimes more than we asked for – Ephesians 3:20
4. Sometimes different from the request – 2 Corinthians 12:7-9
5. Sometimes, No" – 2 Samuel 12:15-20
E. Christ exemplary life of prayer
1. Jesus made prayer his first daily activity – Mark 1:35
2. Jesus taught his disciples how to pray -Matthew 6:9-13
3. Jesus commanded us to pray – Matthew 7:7; John16:23-24
4. Jesus prayed in all situations – Matthew 14:32
5. Jesus prayed for us – John17:20
CONCLUSION: God answers prayer of His children.
INVITATION: Accept Jesus Christ as your Lord and Saviour so as to receive answers to your prayers.
ACTIVITY:Write out the LORDS prayer.
LIFE APPLICATION: Without God we can do nothing. We must acknowledge our complete dependence upon the Lord through prayer. 1 Thess. 5:17 says "pray without ceasing".
LESSON THIRTY-FIVE (35)
TOPIC: HOME TRAINING
BIBLE TEXT: 2 Timothy 1:1-9
MEMORY VERSE: Proverbs 22:6 "Train up a child in the way he should go, and when he is old, he will not depart from it".
LESSON AIM: To let the children know the importance of home training.
CENTRAL TRUTH:A good training starts from home.
INTRODUCTION: Timothy was favoured to have a grandmother and a mother who built him up in a sincere faith towards God. This made Apostle Paul to discover him. Apostle Paul was used by God to fan into flame the gift of God in Timothy by the laying of hands on him. Timothy was Apostle Paul co-worker and also a son in the Lord. Apostle Paul encourage and disciple him to carry on the ministry and also to guard the gospel.
STUDY GUIDE
A. WHAT IS HOME TRAINING?
Home Training is defined as manners and social etiquette taught at home.
B. HOW TO TRAIN A CHILD
1. Through prayer – Philippians 4:6-7
2. By disciplining a child – Hebrews 12:5-6
3. Consistency in the training – Luke 16:10
4. To live by example -2 Timothy 1:5
5. Be patient with the child -1 Corinthians 13:4-7
C. AREAS TO TRAIN A CHILD:
1. How to pray.
2 Politeness, courtesy and respect
3 In humility – Proverbs 18:12
4. On kindness and love – 1 Corinthians 13:4
5. To understand scriptures -2 Timothy 3:15
6. On generosity – John 6:9
7. On hygiene – Exodus 2:5, Mark 7:3
8. On character – Genesis 24:17-18
9. On obedience – Ephesians 6:1-2
10. To know consequences of disobedience – Deuteronomy 28:15
11. On integrity – Romans 15:20
12. On godliness – Psalm 1
13. On cleanliness and house chores – Genesis 24
14. On hard work and diligence – Proverbs 22:29
15. On how to say thank you and sorry when its necessary – James 5:16
D. BIBLICAL EXAMPLES OF TRAINED CHILDREN
1. Jesus Christ – Luke 2:51
2. Timothy – 2 Timothy 1:5
3. King David -1 Samuel 2:18
4. Daniel – Daniel 1:8
5. Esther – Esther 2:7
E. WHAT ARE THE BENEFITS OF GOOD HOME TRAINING?
1. It prepares your heart to seek God.
2. It attracts God's blessings.
3. It equipped you for every good work. 2 Timothy 3:16
4. It gives you hope, peace and comfort in all circumstances.
5. It makes you cultivate better relationships with others.
6. It makes you to please God.
7. Good home training makes you withstand false teachings.
8. It helps you to be useful to yourself,family and friends.
9. Good home training makes you wise.
10. It builds your faith in the Word of God.
CONCLUSION: A child that is trained in the way of the Lord through the wisdom of God will affect his generation positively.
INVITATION: You need Jesus Christ in your life in order to accept the teachings of godly parents.
ACTIVITY:Mention 2 ways a child that is not well trained behaves.
LIFE APPLICATION: A godly child can only be raised through good home training.
Acquiring a robust Home training is the foundation of a successful life. Your attitude
(behaviour) determines your altitude (How far you can go). Submit yourself to proper home training so that your tomorrow can be great. Proverbs 6:22b
LESSON THIRTY-SIX (36)
TOPIC: WATER BAPTISM AND HOLY SPIRIT BAPTISM
BIBLE TEXT: Matthew 3:6-16; Acts 2:1-8
MEMORY VERSE: Matthew 3:11 "I indeed baptize you with water unto repentance: but he that cometh after me is mightier than I, whose shoes l am not worthy to bear, he shall baptize you with the Holy Ghost and with fire"
LESSON AIM: To let the children know difference between water and Holy Spirit baptism and their importance.
CENTRAL TRUTH: Jesus baptizes with Holy Ghost and fire.
INTRODUCTION: John the Baptist baptizes with water for repentance, but Jesus Christ baptizes with Holy Spirit and fire. In Ephesus, Apostle Paul saw some disciples and asked if they received the Holy Spirit when they believed.
He explained to them they needed to receive Holy Spirit even though they had done water baptism. He placed his hands on them, and the Holy Spirit came upon them, they spoke in tongues and prophesied – Acts 19:1-7.
STUDY GUIDE
A. WATER BAPTISM
1. Baptism means to immerse; water baptism is when a person is immersed in water as a public confession of his/her faith in Jesus Christ.
2. Water baptism is publicly identifying with the death, burial and resurrection of Jesus Christ.
3. It is a public confession of faith in Christ Jesus.
B. HOLY SPIRIT BAPTISM
1. Holy Spirit baptism is when the Holy Spirit falls on a believer, filing him/her to receive spiritual empowerment, with evidence of speaking in tongues. – Acts 1:8, Acts 2:1-8
2. The baptism of the Holy Spirit empowers us and makes us to be united with the Holy Spirit to do service for God.
C. IMPORTANCE OF HOLY SPRIT BAPTISM
1. For spiritual assignment – Acts 1:8
2. Speaking in tongues – Acts 2:4, Jude 1:20
3. Prophesying – 1 Corinthians 12:10
4. Ability to preach the gospel – Acts 2:37-41
5. To equip, build and perfect the saints – Ephesians 4:12
6. Makes us mature believers (fruit bearing) – Galatians 5:22-24
7. Gives spiritual gifts for service -1 Corinthians 12:8-10
CONCLUSION: After water baptism you need to seek for Holy Spirit baptism
INVITATION: Before you can receive Holy Spirit baptism you must first receive Jesus Christ as Lord and Saviour.
ACTIVITY Children should ask for the baptism of the Holy Spirit.
LIFE APPLICATION: Water Baptism is openly identifying with the death and resurrection of Jesus Christ. Holy Spirit baptism is the infilling of the power of God in the life of a believer. Jesus is our perfect example. He baptised at River Jordan and the Spirit of God descended upon Him Matthew 3:13-17. Peter and other Apostles received Holy Spirit empowerment. You too need the power of God to fortified your destiny. Acts 3:41-42
LESSON THIRTY-SEVEN (37)
T
OPIC: SELF DISCIPLINE
Subscribe to Blog via Email
BIBLE TEXT: 1 Corinthians 9:19-27
MEMORY VERSE: Daniel 1:8 "But Daniel purposed in his heart that he would not defile himself with the portion of the king's meat, nor with the wine which he drank: therefore he requested of the prince of the eunuchs that he might not defile himself."
LESSON AIM: To let the children know the importance self-discipline
CENTRAL TRUTH: Self-discipine comes through self-control
INTRODUCTION: Apostle Paul disciplined himself to be able to bring people to Christ. He was faithful in the mission God assigned to him for people to share in His blessings. He encouraged us to run the race of salvation so as to win the prize. He wars against sin so that after he has preached to others, he will not be disqualified for the prize.
STUDY GUIDE
A. WHAT IS SELF-DISCIPLINE?
1, Self-discipline is the same as self-control which is a fruit of the Holy Spirit.
2 Self-discipline is the loving and corrective training that comes from training our minds and bodies to do what is right.
3 Self discipline is the ability to control our desires.
B. HOW TO EXERCISE SELF DISCIPLINE
1. Be studious.
2. Be hardworking.
3. Submit to God – Philippians 4:6-7
4. Be filled with the Holy Spirit – Ephesians 5:18
5. Be sober minded – Romans 12:2
6. Be obedient to your parents and Teachers
7. Give yourself to Training – 1 Corinthians 9:27
8. Give yourself to Prayer – 1 Thessalonians 5:17
9. Meditate on the Word of God – (Joshua 1:8)
10. Give yourself to Fasting – (Acts 14:23, Mark 9:29)
C. BIBLICAL EXAMPLES OF THOSE WHO EXHIBITED SELF DISCIPLINE
1. Joseph – Genesis 39:9
2. Apostle Paul – 1 Corinthians 6:12
3. Elisha – 2 Kings 5:16
4. Samuel – 1 Samuel 12:3
5. Daniel – Daniel 1:8
CONCLUSION
Self control is highly esteemed by God as it is part of the fruit of the Spirit.
INVITATION: You cannot exercise self discipline in you have not accepted Jesus Christ as your Lord and Saviour.
ACTIVITY: Mention 4(four) areas you need to show self discipline.
LIFE APPLICATION: Self discipline is needed to win the race that is set before us and to live a holy life. To be self disciplined is to have self control. How you behave is very important for your acceptance and relationship with God and others. Be disciplined obtain the right character by God, remember Cain and Abel Genesis 4.