RCCG LOWER JUNIOR ZEAL AGE 4-5 TEACHER'S MANUAL SUNDAY 14TH OF AUGUST 2022 LESSON FIFTY (50)
TOPIC: SECOND COMING OF CHRIST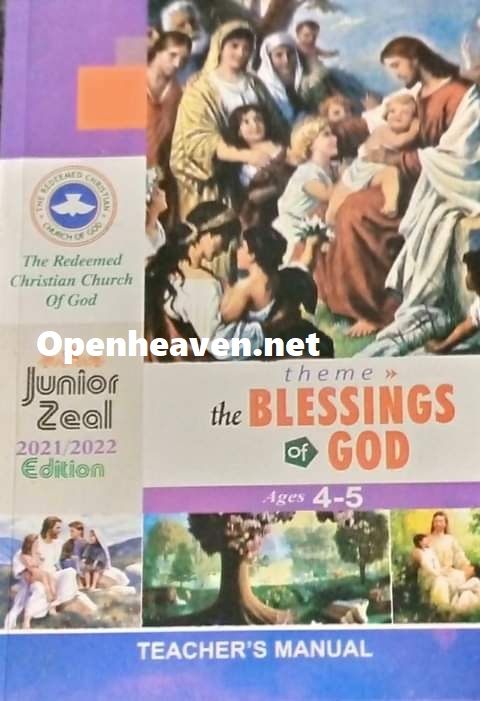 BIBLE TEXT: Acts 1:3-12
ALL RCCG MANUALS FOR TODAY
[3]To whom also he shewed himself alive after his passion by many infallible proofs, being seen of them forty days, and speaking of the things pertaining to the kingdom of God:
[4]And, being assembled together with them, commanded them that they should not depart from Jerusalem, but wait for the promise of the Father, which, saith he, ye have heard of me.
[5]For John truly baptized with water; but ye shall be baptized with the Holy Ghost not many days hence.
[6]When they therefore were come together, they asked of him, saying, Lord, wilt thou at this time restore again the kingdom to Israel?
[7]And he said unto them, It is not for you to know the times or the seasons, which the Father hath put in his own power.
[8]But ye shall receive power, after that the Holy Ghost is come upon you: and ye shall be witnesses unto me both in Jerusalem, and in all Judaea, and in Samaria, and unto the uttermost part of the earth.
[9]And when he had spoken these things, while they beheld, he was taken up; and a cloud received him out of their sight.
[10]And while they looked stedfastly toward heaven as he went up, behold, two men stood by them in white apparel;
[11]Which also said, Ye men of Galilee, why stand ye gazing up into heaven? this same Jesus, which is taken up from you into heaven, shall so come in like manner as ye have seen him go into heaven.
[12]Then returned they unto Jerusalem from the mount called Olivet, which is from Jerusalem a sabbath day's journey.
MEMORY VERSE: John 14:3a. "And I go to prepare a place for you, I will come again and receive you unto myself, that where I am, there ye may be also"
LESSON AIM: Jesus is coming back for His own.
CHILD RELATED TRUTH: Be prepared to go with Jesus when He comes.
INTRODUCTION: Jane and John were so excited they could hardly stand still as they watched for a glimpse of their dad. The few months he had been gone seemed like forever. Then suddenly he was there and they were in his arms.
After everyone calmed down a little, dad said; "I am pleased you both behaved well while I was away. I am proud to be your dad."
Because of their good behavior the children were happy and not ashamed to see their dad. For them it was an exciting day.
Going to Heaven at the second coming of Christ will far more exciting, we will all have super bodies, we will never be weak or tired, we will have power we have never had before. Everybody will be happy in the most beautiful place,
And Jesus love will reign forevermore!
PROGRESSION OF EVENTS:
A. The past forty days had been the most exciting of the disciples lives (Jesus was nailed to a cross to die a painful death. He gave His life so as to take the punishment for your sin. He suffered so that you can be forgiven of your sin).
B. The disciples saw Jesus Christ alive during those forty days. The disciples talked with Him, ate with Him and saw in His hands and feet the scars where nails had held him on the cross.
C. Jesus promised to send God the Holy Spirit to be with them
D. As He finished speaking, Jesus went up into the air before their eyes. After, a cloud took Him from their sight. The disciples starred at the sky.
CLIMAX: Two angels appeared standing right beside them said; "Jesus would return in the same way He had gone."
CONCLUSION: The disciples went back to Jerusalem to wait for the Holy Spirit and proclaiming with joy the promise that Jesus is coming back again.
CHALLENGE: Jesus promised HE is coming back to take His children home. John 14:3. Be ready to go with Him. Heaven is a beautiful place to be, full of beautiful people having a beautiful time!
INVITATION: Receive Jesus As your Lord and Saviour so you can be qualified to go with Him at His second coming. John 1:12.
DAILY DEVOTIONAL
SUNDAY – EXODUS 19:19-21
MONDAY – EXODUS 19:22-25
TUESDAY – EXODUS 20:1-6
WEDNESDAY – EXODUS 20:7-12
THURSDAY – EXODUS 20:13-18
FRIDAY – EXODUS 20:19-26
SATURDAY – EXODUS 21:1-6