AGN ADULT SUNDAY SCHOOL LESSONS|JULY-DECEMBER, 2022 UNIT 4: Christ In The Revelation LESSON 22: NOVEMBER 27, 2022.
TOPIC: CHRIST'S MESSAGES TO THE CHURCHES (PART 2)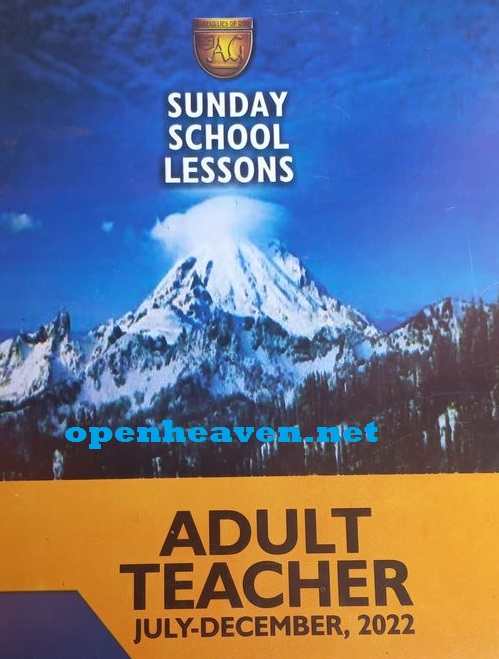 Memory Verse: Revelation 3:1 – These things saith he[Jesus] that hath the seven Spirits of God, and the seven stars (KJV).
Lesson Bible Text:
Revelation 3:1-22
Lesson Central Truth:
Jesus Christ admonishes and encourages His churches.
INTRODUCING THE LESSON
Let's consider this question: Why is it important to consider what's on the 'inside' when examining our own spiritual health, or even the health of our church?
We've all been fooled by appearances. Maybe it was dull-looking book that turned out to be a great read. Or a house that looked nice on the outside only to be in disrepair inside.
Remember that last week we learnt from Christ's messages to the first four churches in Revelation chapter 2. In this week's lesson, we will continue on the last three messages of Christ to the seven churches in chapter 3.
As we read these letters to Sardis, Philadelphia, and Laodicea, we are struck by the Lord's vision contrasted with the state of the church. The Spirit was about to reveal the truth of their situations. Our God is watching us the churches, and he is always looking for the day when we reconcile with Him through Christ. As we read these letters with an open heart by the Holy Spirit, we can examine ourselves and learn from the criticisms that Christ has told us to repent. We are to come back to Him in full reconciliation and repentance.
LESSON OUTLINE
1. SARDIS: BE SPIRITUALLY ALERT
A. Rebuke – Revelation 3:1-3
B. Commendation For Some – Revelation 3:4
C. Promise – Revelation 3:5-6.
2. PHILADELPHIA: HOLD TO CHRIST
A. Commendation – Revelation 3:7-11
B. Promise – Revelation 3:12-13
3. LAODICEA: BE ZEALOUS AND REPENT
A. Rebuke – Revelation 3:14-20
B. Promise – Revelation 3:21-22.
Christ's Message To The Church At Sardis: He wants them to be spiritually alert. Jesus reveals Himself as the One who has the seven Spirits of God and seven stars. The church of Sardis had a reputation for liveliness, but Jesus declared them spiritually dead, based on their deeds. wants His Church to leave aside its dead works of the flesh and accept God's righteousness. Sardis is a nearly dead church, even though it has a reputation for being alive. Christ has not found their works perfect. Only a few members have not 'defiled their garments'. What are defiled garments (in contrast to white garments)? They are 'garments defiled by the flesh' (Jude 1:23). The works that are produced by our natural strength (the flesh) are not found perfect before God; indeed, He counts them as filthy rags (Isaiah 64:6).
Christ called the Sardis church to repent of her dead works and trust in God alone who will clothe it the white garments of Christ's righteousness. Only those who have the righteousness of Christ will be found written in the Book of Life. Those with any other righteousness will be blotted out of the Book. Jesus will present those who trust in His righteousness faultless before God the Father and the angels in heaven. The only true righteousness in the universe is the righteousness of God. The church is called to leave aside the dead works of the flesh and accept the white linen of Christ's righteousness.
Is your life like Sardis church?️ Do you live a life of righteousness that is worthy to Christ's calling? Are you willing to walk with Jesus in your daily life? Jesus is inviting us to reject the corruption in this world and walk with him day after day. This is Christ's calling to His churches. Whoever is spiritual asleep like the Sardis church, we must repent and return to our earlier spiritual liveliness as a gospel-focused church who proclaim Jesus Christ in the world. Time to be spiritually alert is now!
Christ's Message To The Church At Philadelphia: He wants them to hold on to Him. Jesus reveals Himself as holy, true and as one that has the keys to the everlasting kingdom of David. He sits upon the throne of David. He opens the door to the kingdom and invites us to enter. Jesus praised the Philadelphia church and He had no rebuke. The church is commended for she has been faithful to Christ; she has kept His word and not denied His name, despite the fact that she has only a little strength. Those who formerly persecuted the church (the synagogue of Satan) will now acknowledge that the church is loved by Christ and will bow down in submission.
Christ promises to keep Philadelphia church from the hour of trial. He calls the church to be faithful till He comes. He promises that she will be a pillar in the temple of God; she will have the name of God and the city of God and the new name Christ will give her. God's grace is sufficient for the church; His strength is made perfect in weakness. God looks not for a successful church – He looks for a faithful church. There are times that we might feel like the Philadelphian church. Spiritual forces and cultural pressures in our communities can make us feel vulnerable and weak. We are encouraged to not despair. Jesus comes to the aid of His Church.
Christ reminds us to, "Hold on to what you have so that no one will take your crown" ( Revelation 3:11). As the times get harder and it is even more difficult to be a Christian, as hostility increases and the world becomes more and more secular and casts aside the precepts of Christianity that it had formerly practiced, then we must be careful that we do not give up and go along with worldly attitudes and worldly pursuits.
We must not allow a desire for status, prestige, fame, a beautiful home and the things the world lusts for, to become central in our thinking. "Hold on to what you have," says Jesus, because there is danger that someone may take your crown.
Christ Message To The Church At Laodicea: He wants them to be zealous and repent. Jesus reveals Himself as the Amen – in Him all the promises of God are 'Yes'! He is the Faithful and True Witness and He is the Beginning of the Creation of God. Christ has no commendation for Laodicea, based on their works – lukewarmness. The issue of the church of Laodicea is that the people are self-sufficient by themselves. They don't rely on God in anything at all. Jesus will judge and reject them for their self-righteousness or self-sufficiency. Jesus pointed out that, ironically, amid great abundance they were wretched and pitiful. They were poor, blind, and naked despite being surrounded by gold, fine wood, and eye salve. Jesus called the laodicean Christians to seek the spiritual reality they thought they had.
Christ counsels Laodicea 'to be zealous and repent' (Revelation 3:19). He rebukes and chastens her because He loves her. Hebrews 12:11 – "Now no chastening for the present seemeth to be joyous, but grievous: nevertheless afterward it yieldeth the peaceable fruit of righteousness unto them which are exercised thereby." As Laodicean church, we must open the door of our hearts to Christ to prune and chasten us. Note that when He comes in and dines with us, He removes unrighteousness and fills us with His glory. He has promised that not only He, but His Father also will come and make their home with us (John 14:23).
Christ promises that to him who overcomes i.e. he who is victorious in faith will be granted to sit on Christ's throne. In the Great Controversy, God looks for a people who will totally distrust self and turn to God whole-heartedly to do for them what they cannot do for themselves. Faith in Christ Jesus is the only way to win the victory over self, the world and the Devil. Beloved, no matter the sinful nature of our lives, Jesus is ever knocking at the door of our hearts. Our duty is to open the door for His entrance to save and to help us out from the pitiful nature of our lives.
Action Word
As the church overcomes daily by holding on in faith to Christ Jesus, He will cleanse her of every spot and wrinkle and present her to Himself a perfect church, a holy church. We are called to repent of every failure of faith, of every sin that so easily besets us, and keep looking unto Jesus who is the Author and Finisher of our faith. Such a people, such a church will be the Bride of Christ.
Lesson Prayer Point
Father, by Your grace, help us to live the rest of our lives in full commitment to You in Jesus Matchless Name. Amen!
Remain blessed as you join us to study in our Sunday school both online and at any Assemblies Of God Church close to you as we study together under the Feet of the Master.
Share your contribution and as well ask your question(s) from the lesson.