Subscribe to Blog via Email
APPRECIATION FOR THE RCCG MINISTER'S CONFERENCE 2021
Our deep hearts of appreciatoons goes to all our Faithful and Loyal Fathers, Mothers and Fans across the world who kept Faith in trusting us to make the Coverage of the RCCG Minister's Conference 2021 a Reality.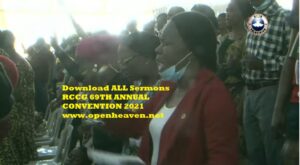 … This is how we wish to draw the curtain on our Coverage of the Program.
Our Coverage of the 69th RCCG Annual Convention 2021 is quite unique as so many hands goes into what we are seeing in the Physical behind the Scene.
Special thanks to our Daddy – Pastor Precious Akingbade that ease the issue of our Accomodation with his Recommendation and of Course a Great Pillar and Friend of DMC (A/P Olaniyi Abiona) who Sponsored our Accomodation and Stay during the Period – We thank you both so Profoundly in the role you Played in making us being a Great Privilege to the entire world.
We appreciate our friends who has always been a Notable Figure in seeing to the Success of the DMC Project – Our friend, Barrister Oladipupo Abodunrin (FCT, Abuja) and Daddy Victor Olorunmodimu (PICP, Kaduna 4) for all your Financial, Moral and Spiritual Supports as always.
We salute as always the Strong Home Base Supports of our Daddies in DMC – Daddy Adeyemo Adejumo (Patron), Daddy Seun Aderibigbe (Legal Adviser), Pastor Olorunsola (Business Development) and of course the Production Team ably led by my Humble Self, Deaconess Titilayomi Ajayi, Bro Tope Babalola, Bro Adebanjo Adesola, Deacon Femi Afuwape and Bro Sola Ojo (You guys are simply wonderful).
We won't undermine the Great Encouragement and Support coming from "ALUFA LIMA" himself – Pastor Leke Adeboye anytime we beckoned on him to have access to some information.
I appreciate my wife and boys (Ifeoluwa and Temiloluwa) to have kept with my absence from them while embedded in this task – Thanks for releasing me for the work.
We trust that we all have been blessed by our Coverage of the Minister's Conference 2021 and we do hope you will be blessed more after we turned in our reports for the Main RCCG Convention 2021.
This is how we wish to draw the curtain on our Coverage of the RCCG Minister's Conference 2021. A summarised Downloadable PDF file will soon be released to help our Archives System.
We are Prized to have in our Archives all the Full Text Messages of the RCCG Minister's Conference from Years 2018 to 2021.
We ascribed all the Glory to God always for this rare Privilege and Enablement.
Open Heavens Daily Devotional
guide was written by
Pastor E.A. Adeboye
, the General Overseer of the Redeemed Christian Church of God, one of the largest evangelical church in the world and also the President of Christ the Redeemer's Ministries.
The Open Heavens devotional
application is available across all mobile platforms and operating systems: iOS, Android, Blackberry, Nokia, Windows Mobile and PC.
… Discovery Media Crew; Reaching Out to the world through the Power of the Gospel!
Yours In Stewardship
MOSES DURODOLA
CONVENER, DISCOVERY MEDIA CREW © DMC 2021