Assemblies Of God Adult Teacher Sunday School Lesson 2022 LESSON 6 – 7 August 2022
Topic :- KEPT BY GOD'S POWER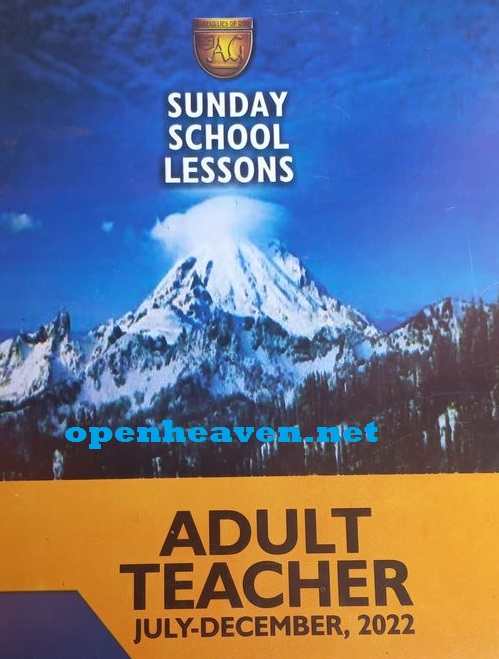 Memory Verse: 2 Thessalonians 3:3
The Lord is faithful, who shall stablish you, and keep you from evil (KJV).
Central Truth
God establishes, guards, and keeps His children.
••••••••••••••••••••••••••••
The Lesson Outline
1. Chosen and Called
2 Thessalonians 2:13–17
A. Be Thankful for Salvation
B. Practice Goodness
2. Established and Guarded
2 Thessalonians 3:1-5
A. Intercede in Prayer
B. Be Confident in the Lord
3. Commanded and Encouraged
2 Thessalonians 3:6-16
A. Live for Christ
B. Never Tire of Doing Right
Teaching Goals
1. Impart and Reinforce Knowledge: Instill within students a knowledge that God will be faithful to them.
2. Influence Attitudes: Exhort your students to live out their faith with confidence in Christ.
3 Influence Behaviour:
Challenge students to be committed to cultivating spiritual disciplines in their lives.
Introducing the Lesson
Read Jude 1:24-25, then note that this lesson focuses on God's promise that we will be kept by His power. Discuss what this doxology in Jude 1 says about God's keeping power for His people. Keep these verses in focus as you study this lesson. Our security as believers rests not with us, but with God. As long as we choose to abide in Christ, we can know without doubt that God will keep us from falling. Furthermore, we will be presented before Him without fault and with great joy when life in this world has ended.
The Holy Scriptures
2 Thess 2:13 But we are bound to give thanksalway to God for you, brethren beloved of the Lord, because God hath from the beginning chosen you to salvation through sanctification or the Spirit and belief of the truth:
14. Whereunto he called you by our gospel, do to the obtaining of the glory of our Lord Jesus Christ.
15. Therefore, brethren, stand fast, and hold the traditions which ye have been taught, whether by word, or our epistle.
16. Now our Lord Jesus Christ himself, and God, even our Father, which hath loved Us, and hath given us everlasting consolation and good hope through grace,
17. Comfort your hearts, and stablish you in every good word and work.
2 Thess 3:1 Finally, brethren, pray for us, that
the word of the Lord may have free course, and be glorified, even as it is with you:
2. And that we may be delivered from unreasonable and wicked men: for all men have not faith.
3. But the Lord is faithful, who shall stablish you, and keep you from evil.
4. And we have confidence in the Lord
touching you, that ye both do and will do the things which we command you.
5. And the Lord direct your hearts into the love of God, and into the patient waiting for Christ.
6. Now we command you, brethren, in the name of our Lord Jesus Christ, that ye withdraw yourselves from every brother that walketh disorderly, and not after the tradition which he received of us.
7. For yourselves know how ye ought to follow us: for we behaved not ourselves disorderly among you; Neither did we eat any man's bread for nought; but wrought with labour and travail night and day, that we might not be chargeable to any of you.
Assemblies Of God Adult Teacher Sunday School Lesson 2022 LESSON 6 – 7 August 2022
Commentary and Application
1. Chosen and Called
A. BeThankful for Salvation- 2 Thessalonians 2:13-14
While the section prior to 2 Thessalonians 2:13-14 focused on the deception of the Antichrist (see Lesson 5), Paul quickly turned to a positive note. He gave thanks to God
for the Thessalonian believers because God had chosen them as firstfruits to be saved" (verse 13, NIV).
It is important to note that this phrase does not mean that God determined ahead of time who would be saved and who would be condemned. Rather, the phrase pertains to what God has determined will happen to those who willingly accept His salvation and follow Him (and therefore also alludes to what will finally happen to those who wilfully refuse to accept and follow Him). All who accept Christ become part of the body of believers who will receive salvation and everlasting life.
Salvation comes about by belief in the gospel and the sanctifying work of the Holy Spirit. All who hear the gospel are called to salvation
(verse 14). All will be saved who believe in Jesus Christ for salvation through His sacrifice on the cross (verse13). Paul likely reminded his readers of these truths about their
salvation to inspire reflection on the amazing benefits of their salvation. Then they, too, would give thanks to God for their salvation.
Our salvation by faith is the spiritual foundation for practical Christianity. We can live daily for Christ because we have been saved from sin, and we remain saved by His grace. Thanking God daily for our salvation should motivate us to stand firm in the faith that saves us. Such salvation will allow us to share, or participate, in the glory of Christ at His return (verse 14).
Questions for Application
How do you express gratitude to Christ for salvation?
How would you describe the proper response to the fact that God chose to save all who call on the name of the Lord for salvation.?
B. Practise Goodness- 2 Thessalonians 2:15-17
Just as they had believed the gospel and were saved, Paul exhorted the Thessalonians to hold to the truths they had been taught (2 Thessalonians 2:15). This is a simple
yet critical aspect of salvation: We must continue to walk in the truth we have received.
Human teachings not based in Scripture can be harmful to our souls, and the blatantly sinful teachings of the unbelieving world are clear and present danger to the believer. In contrast, patterns of faith and practice based on Scripture will help us hold on to what is good.
Verses 16-17 form an intercessory prayer of blessing by Paul for the Thessalonians. Intercessory prayer simply, refers to prayer offered on behalf of another. Paul prayed that they would be established "in every good deed and word (verse 17, NIV). In other words, he prayed that they would live out their faith. Such a lifestyle is manifested in Christians by the sanctifying work of the Holy Spirit (verse 13; see Galatians 5:22-23).
Questions for Application
How can you distinguish between good teaching and false teaching?
What would you define as good deeds and good words?
Response to the Word
The verses we just studied call us to practise discernment, his means that we determine right from wrong and good from bad, whether we are talking about the teachings of others
or our own litestyles. Such discernment comes only through prayer and a dependence upon the Holy Spirit.
2. Established and Guarded
A. Intercede in Prayer- 2 Thessalonians 3:1-2
It is evident from Paul's letters in the New Testament that he prayed regularly and passionately for others, and he was not reluctant to ask his fellow Christians to pray for
him. Paul had experienced much opposition to the gospel, and this had been especially true in Thessalonica. In Corinth, from which he wrote this letter, Paul again faced strong opposition (see Acts 18:5-6). Note the subject of his prayer request: He asked the Thessalonians to pray for his message, that the gospel would spread rapidly and its message would be received with honour by those who heard the gospel (2 Thessalonians 3:1). Such a prayer is appropriate to be offered for all who preach the gospel.
Paul also requested prayer on his behalf for deliverance from wicked and evil people" (verse 2 NIV unreasonable and wicked," KJV). The word "unreasonable" might also be translated perverse or twisted. Wicked men whose hearts were far from God tried to stop him from preaching the gospel. Paul had suffered much, compelling him to flee for his life from one place to another. He desired that God would deliver him from his enemies, who were in fact enemies of God, so he could conduct his ministry.
When fellow Christians ask us to pray for them, this is one of the highest compliments we can receive. It is a privilege and an honour to pray for others, knowing that they have confidence that our prayers will be effective. However, on our part, we must take seriously requests for prayer, and follow through as we have been asked to do.
Questions for Application
What benefits do you see in asking for the prayers of other Christians?
What are some specific needs for which we might intercede regarding the spread of the gospel in the face of opposition?
Assemblies Of God Adult Teacher Sunday School Lesson 2022 LESSON 6 – 7 August 2022
B. Be Confident in the Lord- 2 Thessalonians 3:3-5
Note that Paul concluded his request for prayer with these words: "for not everyone has faith" (verse 2, NIV). In sharp contrast to those who have no faith in God- the evil and wicked- the Lord is faithful (2 Thessalonians 3:3). Regardless of what others do or do not believe, or whatever evil they may try to do in
opposition to the gospel, we can put our full confidence in Christ that He wIll strengthen and protect those who believe in Him.
Paul testified that he himself had confidence in the Lord that the Thessalonians would continue to do the things he had commanded them (verse 4). Paul's confidence in the
Thessalonians did not rest on abilities within themselves to obey these commands, which focused on living lives of faith and trusting in the Lord. Rather, his confidence was in the Lord, who empowered them to do what he had instructed. Being established in doing good, and being kept from evil, are two sides of the same work of grace that God performs within the believer.
As part of his prayer for the Thessalonians, Paul asked two things: (1) that their hearts would be directed into the love of God, and (2) that their hearts would be directed into patient waiting for Christ to come again (verse 5). By asking these two things, Paul in effect asked for them everything they needed to live for Christ.
Virtually every aspect of the Christian's life is in some way related to the love of God being shown toward us or manifested through us. Paul prayed that the Thessalonians would exercise patient trust in God in waiting for Christ to come, so they would not become discouraged and lose the hope that sustained them.
Questions for Application
Why must our confidence be in God to empower us and equip us to do what is right?
What blessings have you seen in your life and the lives of other believers as you have committed to praying for them?
Response to the Word
We must not take credit for or boast about our faithfulness to the Lord. Our faithfulness depends on His faithfulness to us. He keeps us faithful and gives us strength and hope to trust in Him. Therefore, we can walk in faithfulness and righteousness, honouring His name in our lost world, as we trust God to help us live for Him.
Assemblies Of God Adult Teacher Sunday School Lesson 2022 LESSON 6 – 7 August 2022
3. Commanded and Encouraged
A. Live for Christ- 2 Thessalonians 3:6-12
The "disorderly" living Paul condemned in this passage (verse 6, KJV; "disruptive, NIV) referred to idleness or laziness (verse 11). Such individuals neglected manual labour, choosing instead to cause trouble in the lives of others. This made them a negative influence on the church. It is not surprising that Paul instructed that those who desired to obey the Lord should withdraw themselves from such people.
Through teaching and example, Paul had instructed the Thessalonians to work, and earn their living (verses 7-9). Paul had a right to receive support from those he nurtured in Christ. However, he did not assert this right. Instead, he made himself an example of godly personal responsibility. Paul followed this practice at Thessalonica, Corinth, and Ephesus (see Acts 18:3; 2 Corinthians 11:9;Acts 20:34).
The Thessalonians who were lazy and dependent on others for their material support caused more harm than just bringing an unnecessary burden on the Christian
Community. Some of them were also "busybodies" (verse 11). A busybody is a person preoccupied with trivial matters, or who goes about meddling in others' business instead of handling their own responsibilities. Paul commanded busybodies, who professed to be Christians, to mind their own business and earn their own living (verse 12). When Paul was with the Thessalonians, he established a rule that was rooted in common Jewish practice: "The one who is unwilling to work shall not eat" verse 10, NIV).
In societies where Christian ethics are upheld, the belief that individuals have to work and earn their own living, and not be dependent on others for their needs, is a traditional Judeo-Christian value. The "work ethic" is seen as an ethical duty because it is unfair to others to be lazy and irresponsible and expect support from others when one is able to work.
In Thessalonica, however, a further issue was present. Paul noted that idleness among the able-bodied posed a danger to the church.
It negatively affected relationships among believers and undermined the healthy unity that existed in this vibrant congregation still growing in faith.
Questions for Application
Why do you think a lack of personal responsibility would have a negative impact on a fellowship of believers?
Why is being a busybody at odds with how a Christian ought to live?
B. Never Tire of Doing Right- 2 Thessalonians 3:13-16
After rebuking those who were lazy and busybodies, Paul encouraged those who were diligent about doing good. It is natural to grow tired in body and mind, but we must never be tired of doing good (2 Thessalonians 3:13). Christian living calls for determination to keep doing what is right even when it is difficult. Such a commitment calls Christians to depend on the promise of Isaiah 40:31: "They that wait upon the Lord shall renew their strength" (Isaiah 40:31, KJv).
In concluding his letter, Paul commanded the Thessalonians to withdraw themselves from associating with professing Christians who would not obey what he taught. We must keep in mind that this seemingly harsh instruction had positive intentions. They should also seek to bring correction (Verses 14-15).
Paul closed with a benediction, praying that the Thessalonians would be blessed by having the
the peace of Christ, and by having the awareness that Christ was always with them (verse 16). This is a good model of prayer for Christians today.
Questions for Application
What might cause you to be tired of doing right? What do you see as the answer to this problem?
What are some practical steps you can take to help restore Christians who have strayed from the truth?
Response to the Word
In 2 Thessalonians 3, we see discussion of some of the "mundane" issues of life: working for one's living, minding one's own business, and leading a quiet life. In contrast, Christians are more inclined to overlook such issues to focus only on reading the Bible, praying, going to church, and doing ministry. Yet Christianity must impact one's whole life. We find a similar exhortation in 1 Corinthians 10:31: "Whatever you do, do it all for the glory of God" (NIV). Take a moment to examine your life. Ask God to show you any areas where you are not bringing glory to Him.
Assemblies Of God Adult Teacher Sunday School Lesson 2022 LESSON 6 – 7 August 2022
Call to Discipleship
While much of this lesson focuses on understanding that we are kept faithful to God by His power at work in us, it also contains many exhortations that we do what is right. True Christian faith is obedient faith (James 2:17). We must commit to living for Christ daily, in large and small things. In this way we demonstrate that we are being kept by God's power.
➖➖➖➖➖➖➖
Ministry in Action
Some Christians fear failure as they struggle to live out their faith. Pray together that students will keep their trust in Christ, then walk faithful to Him in that trust. Encourage students to find ways to support one another during the week.
For more of this teaching, visit any Assemblies Of God nearest to you on Sunday by 8am.
For more of this teaching online, visit this platform next week.
For your questions, contributions, reactions, answers, compliments, and what have you!!!
Use the comments box below, we will get back to you.
Visit this space for your Children, Teens, and adults Sunday School Lesson every week.
You can also join us in Assemblies Of God Nigeria Sunday School Lesson On Telegram Platform, we do have teachings on daily basis with different topics and different guest speakers.
You can't regret joining us in the AGN Sunday School Lesson On Telegram Platform.
There is a link below for which you will click and join us immediately.
************************************************
We are Assemblies Of God Nigeria,
We are going back to Bethel,
We are in Effectual Fervent Prayers,
We are the mothers of the Pentecostal church,
We are all the gospel.
************************************************
******************GLORY TO GOD***************
Ladies and Gentlemen,
Welcome To Assemblies Of God Nigeria ADULT Sunday School Lesson Online.
Let's pray!!!
Father we are here to hear from you again, we ask for your presence, grace,mercy, wisdom, understanding, and Spiritual insight of your word in our midst. Let your spirit unveil your word in the language that each and everyone one of us will understand, use me to pass through thousands of people that will come across this teaching, all this I pray in Jesus Christ name, AMEN.
Beloved, I am still your online Sunday School teacher, Samuel-Dean Chinemerem.
I do teach AGN Children, Teenagers and Adults Sunday School Lessons every week on Facebook, WhatsApp, and Telegram Platforms.
This is the only three social media platforms that I operate for now.
But the only social media platform that I remain permanently and were you can enjoy all the teachings that is beyond Sunday School Lesson is the Assemblies Of God Nigeria Sunday School Lesson On Telegram Platform.
That is were I operate 24hrs in a day.
In that platform, I have morethan 20 pastors from different parts of the world that preach on daily basis.
In that platform, I have morethan 20 teachers that teaches circular topics on daily basis from different parts of the world.
If you don't have Telegram Account in your phone, open one and click the link below at the end of the lesson here.
I am Samuel-Dean Chinemerem, this is the ministry God handed over to me on 1st January 2017 and since then I have been elevating from Glory to Glory.
It's a non-denominational ministry but God demanded I should operate it through the umbrella of Assemblies Of God Nigeria.
So, I urge you to join me in the Assemblies Of God Nigeria Sunday School Lesson On Telegram Platform.
It's a non-denominational social media platform.
I am still your Brother,
Samuel-Dean Chinemerem. (Assemblies Of God Nigeria Sunday School Superintendent Online).
Call/WhatsApp/Telegram: 08060872869.
God bless your hearts!!!
*************************************************
The picture of this week Sunday School lesson is Rev Amb Ighodalo Alfred.
He is the Assemblies Of God, Edo District Secretary.
Huge and great man of God,
Intellectual and eloquent man of God.
We celebrate you now and forevermore.
*************************************************
God bless Rev Amb Ighodalo Alfred,
God bless Assemblies Of God Edo District,
God bless Assemblies Of God Nigeria.
*************************************************