DAY 12 SATURDAY 14TH NOVEMBER, 2020. TOPIC: HIDDEN COVENANT AND SECRET HOLDING NIGERIA IN BOND.
BIBLE TEXT(S): EXODUS 1:8-10, EST 3:3-11.
DAY 12 SATURDAY 14TH NOVEMBER, 2020 RCCG November Fasting Prayer Points 
Open Heaven Devotional Saturday 14 November 2020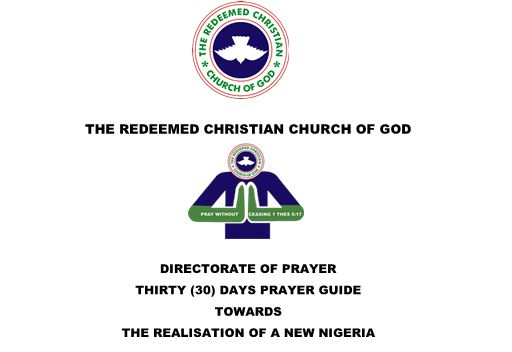 INTRODUCTION
Israelites were yoked and afflictedwith burdens by the task masters because of an evil counsel by a cabal. The faith of the Jews in Shusan were also sealed unto death in a secret covenant. But in all these; God arose
THE REDEEMED CHRISTIAN CHURCH OF GOD DIRECTORATE OF PRAYER THIRTY (30) DAYS PRAYER GUIDE
PRAYER POINTS A
1. Father; we worship you; You are the all-knowing God. The Omniscient Dan 2; 22
2. Father we thank you that nothing is hidden from you. Heb 4:13
3. Father we thank you that nothing too hard for thee. The problem of Nigeria is not too difficult to solve. Jer 32:27
4. Father; for the groaning of the masses, arise for the help on Nigeria. Exo 2:24
5. Father; Expose and dispose every hidden secret that is working against peace and prosperity of Nigerians.
6. Let brethren join hands and pray fervently in spirit and in understanding that;
7. Every evil covenant enacted in a secret coven designed to rubbish the glory of Nigeria be broken by the power in the name of Jesus.
8. As God intervene in Egypt by letting His people go, So the Lord will intervene in Nigeria and set the people free from bondage of secret and evil covenant In Jesus name
9. Let us plead the blood of Jesus to counter every evil agenda of the wicked causing the shedding of human blood in Nigeria
10. Let us cry for mercy. God have mercy over Nigeria. We are tired of famine in our nation. 11. Father; expose, dispose and destroy every agent of destabilizations in our nation's politics and governance
12. Father we release spirit of error into the camp of cabal manipulating the destiny of Nigeria to their evil and selfish agenda
13. Father; destroy the power of witchcraft at work in every sector of Nigeria politics and governance in Jesus name
PART B. END TO TROUBLES AND AFFLICTIONS IN THE LAND Text: Exodus 1:11-15
INTRODUCTION-
Brethren; terrorism, banditry, killings, kidnapping for ransom and many more terrible things are the order of the day in Nigeria.
PRAYER POINTS B
1. Let us plead for mercy for the killings and reckless wastages of human lives going on in Nigeria without culprits and without justice
2. Let us plead the blood of Jesus for the cleansing of the land of Nigeria
3. God, we destroy every altars of witchcraft thirsty and demanding for blood in Nigeria. Isa 10:27
4. Many are still in the prisons of the kidnappers; Father; Arise and set the captives free. 5. Father; destroy the mentality of quick money without work in Nigeria.
6. Father expose the hideouts of all kidnappers and ritual killers in Nigeria
7. Father; as many that are behind the shedding of innocent blood in anyway, bring them to judgment in Jesus name.
8. Father. Joblessness is a major challenge for our teeming youths, In your own way make a way for our youths to be gainfully engaged in Jesus name.
9. Father please solve the problems of Nigeria in your own way
10. Father. We pray for Nigeria of our dream
Subscribe to Blog via Email
11. Father; Let all wickedness come to an end in our nation
Open Heaven Sunday 15 November 2020 Mind What You Eat
THE REDEEMED CHRISTIAN CHURCH OF GOD DIRECTORATE OF PRAYER THIRTY (30) DAYS PRAYER GUIDE TOWARDS THE REALISATION OF A NEW NIGERIA
"For thus saith the LORD of hosts; Yet once, it is a little while, and I will shake the heavens, and the earth, and the sea, and the dry land; And I will shake all nations, and the desire of all nations shall come: and I will fill this house with glory, saith the LORD of hosts." Haggai 2:6-7 Glory, according to Prov. 3:35, is the opposite of shame. If there is any time when we need God to fill our Nations with Glory and remove all kinds of shameful situation that we are battling with, now is that time. A nation full of God's glory is what we all desire. A nation bound in freedom, peace, unity and righteousness,where no man is oppressed is the desire of everyone. Nigeria is a blessed country ordained to be a leader amongst the advanced countries. Many Nigerians in Diaspora are daily contributing to the development of other nations in areas of Science, Technology, Medicine, ICT, and many others. This is a clearevidence of her great potentials. More significantly is her position in the fulfillment of the end time prophesy and the great Commission. (Matt 28:19-20). By the grace of God our Nation would be filled with the glory of God afresh even as we fast and pray again this time. The following are some guidelines and prayer points that will be helpful during the rd nd period of fasting from Tuesday 3 November to Wednesday 2 December, 2020 declared by our father in the Lord; The General Overseer, Pastor E.A. Adeboye. These prayer points are not exhaustive, take time daily to give God quality praise and thanksgiving with your other requests. We are to recite the Daily Prophetic prayers after each day session. May you be blessed in Jesus name.