RCCG SEPTEMBER 2021 HOLY COMMUNION SERVICE
THEME: GOD BLESS YOU – PART 8 (YOU SHALL BE FRUITFUL) MINISTERING: PASTOR E.A ADEBOYE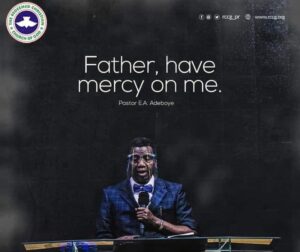 DATE: 2ND SEPTEMBER, 2021
BIBLE TEXT: GENESIS 18: 7-14
Let Someone shout Hallelujah – Hallelujah!
Let Us Pray!
SONG
Alpha, Omega
Alpha, Omega
You are worthy of our Praises today
You are worthy of our Praises today
Hallelujah
… Repeat!
OPENING PRAYER
Almighty God – The Alpha and The Omega; The Beginning and The Ending; The One who is, The One who was, The One who is to come; The Lord God Almighty.
We bless Your Holy Name because You are so Good – That You have brought us to a New Beginning of the Year of The Redeemed Christian Church of God (RCCG).
Thank You for what You did in the Past, Thank You for what You are doing now, Thank You for what You will do in the Future, Thank You for a New Wave of Glory – Father, accept our worship in Jesus Name.
As we gather again to dine with You tonight; we Pray that You will do something New again in our lives.
And everything that we need, Lord God Almighty to be Fruitful; Please release to us tonight in Jesus Name
Thank You Father!
In Jesus Mighty Name we have Prayed – Amen.
Well, let Someone shout Hallelujah – Hallelujah!
Wave to one (1) or two (2) People and say: Good Evening and God Bless You – Amen!
And we will go straight to Genesis 18: 7-14 – The whole Story is from Verse 1 but I'm sure that you will understand.
Genesis 18: 7-14:
7. And Abraham ran unto the herd, and fetched a calf tender and good, and gave it unto a Young Man; and he hasted to dress it.
8 And he took butter, and milk, and the calf which he had dressed, and set it before them; and he stood by them under the tree, and they did eat.
9 And they said unto him, Where is Sarah thy wife? And he said, Behold, in the tent.
10 And he said, I will certainly return unto thee according to the Time of Life; and, lo, Sarah thy wife shall have a son. And Sarah heard it in the tent door, which was behind him.
11 Now Abraham and Sarah were old and well stricken in age; and it ceased to be with Sarah after the manner of women.
12 Therefore Sarah laughed within herself, saying, After I am waxed old shall I have Pleasure, my lord being old also?
13 And the LORD said unto Abraham, Wherefore did Sarah laugh, saying, Shall I of a surety bear a child, which am old?
14 Is any thing too hard for the LORD? At the time appointed I will return unto thee, according to the Time of Life, and Sarah shall have a son.
Our Theme for this Month (September 2021) as you know is: God Bless You – Part 8 (You Shall Be Fruitful).
Here, we read about a Meal that Changes the Destiny of a woman and her husband:
I. A Meal that opened the womb that was hopelessly shut.
II. A Meal that brought back to Life the womb that was already dead.
III. A Meal that led to "Tremendous Fruitfulness".
So, the Holy Communion of tonight is not just an "Ordinary One", not just a "Regular One"; it is the Holy Communion that is going to lead to the Opening of wombs – Amen!
If you read Genesis 27: 1-3; Isaac said to Esau – Prepare for me the kind of Meal that I like; make me Pleased with a Special Meal that I may Pour my Blessings upon you.
You know the rest of the Story!
Somehow, the mother of Esau and Jacob informed Jacob of what the father was Planning to do; the mother Prepared the Meal on behalf of Jacob – Very Nice Meal. While Esau was away; Jacob brought the Meal to the father who didn't even fully recognised him.
The father ate the Meal, he was happy, he was Pleased and he Poured "Tremendous Blessings" upon Jacob.
After he finished and Jacob had just gone out of the door; the brother (Esau) came back from the farm and the father said: What are you talking about? Who is he that brought me food? – I have eaten the Meal, I enjoyed the Meal and I have already blessed him.
And if you look at Verse 33 there, he said: And he shall be Blessed.
When Isaac enjoyed the Meal; he Pronounced a Blessing that cannot be reversed.
In the Bible Text that I read to you tonight; Abraham and Sarah Prepared a Meal for God – God enjoyed the Meal and said: Whether you believed it or not; whether you laughed in Mockery; whether you want to say that we heard You say before:
I. In Genesis Chapter 12 – You said that I would through my Seed, the Nations of the world would be Blessed.
II. In Genesis Chapter 15 – You repeated the same thing as you said in Genesis Chapter 12.
III. In Genesis Chapter 17 – You said my Seeds would be like the Stars of Heaven.
Now that we are Old; twenty five (25) Years later, you are now saying that I will now have a Child?
God said: It doesn't matter whether you believed it or not; I have enjoyed this Meal – I'm Pronouncing my Blessings on you; I am saying to you that all the Promises will become a Decree!
… Nine (9) Months from now; Sarah will have a son.
I Stand on this Holy Altar and I decree to all those who are barren inclusive those following or reading now on the Label of DMC those who are Partaking in His Holy Communion – Whether they are here Physically or they are watching at the various Viewing Centers or reading now; Nine (9) Months from now, you will come back rejoicing (Amen).
Now, Man Prepared Meal for God – He (God) enjoyed the Meal, He was Pleased, He made a Decree and the Decree came to Pass.
Can you then imagine a Meal Prepared by God – Not by Man and I'm telling you that God is a "Good Cook".
In Psalms 23:5 – David said: Thou Preparest a Table before Me in the Presence of my enemies.
… God is a Good Cook – He knows how to Prepare a Table.
And the Meal that He has Prepared; the Lamb that He used for the Meal – You know Abraham got a calf; God got a Lamb. It is His Own Beloveth Son (John 1:29).
The Bread that He said that you are going to eat according to John 6:48-51; is the Bread from Heaven – The Bread of Life.
The Wine that you are going to drink according to Luke 22: 19-20 is the "Very Blood" of the Lamb of Jesus Christ Himself.
He has gone to a Great extent to Prepare a Great Wonderful Meal.
You can imagine what will be His Plan if you treat that Meal casually.
I mean in Matthew 22: 1-14 – He told us a Story about a King who Prepared a Mighty Meal at the Wedding of his son and then he invited People to come and eat and the People said that we are not interested.
He was so Pained that he dealt with those People very harshly.
You know that the Bible says that when you come to the Holy Communion; don't come unworthily because if you handle it casually, it can kill.
But if you come to that Table with Joy, with Excitement, with Faith, believing that this Meal Provided by God Himself is the Meal that is going to turn round my Destiny – Oh, God will be Pleased!
Because the Bible says in Hebrews 11:6 – It says: Without Faith, it is impossible to Please God.
What does that mean? – With Faith, it is Possible to Please God!
Tonight; He is not asking you to Prepare a Meal for Him – He has Prepared the Meal but He is asking you to come and eat that Meal with Faith.
He is expecting you to come and demonstrate your Faith in Him that you will eat this Meal – This Particular Meal and very soon, you will begin to give birth to Glorious Children – Amen.
… God is always moved by Faith!
I was telling my children in one of the Morning Devotions last week – Talking about the Power of Faith and how God can be Pleased by Faith.
DMC NOTES: Refer to Open Heavens Devotional by Pastor E.A Adeboye of Friday, 27th of August, 2021 Titled: "NEED A MIRACLE – PART 1"
So, I reminded them of Someone who wrote me a Letter and said: Daddy, I am not asking you to invite me for Prayers. All I want you to do is to read this Letter – I know that if you read this Letter, I will get my Miracle.
So, I read the Letter and also I said to God: Let it be to her according to her Faith.
Two (2) Weeks later; I got another Letter – Ha, Thank You daddy, I know that you read my Letter because I got my Miracle.
… Her Faith connected to God, her Faith Pleased God and led to her Miracle
I want you to connect to the Table tonight with Faith – That by the time we will have the next The Redeemed Christian Church of God (RCCG) Convention (In Year 2022); you will be coming forward with your children – Amen.
The Meal is ready, Prepared by God and:
I. He will be Pleased if you don't treat His Meal casually!
II. He will be Pleased if you take the Meal with Faith.
And we are not just talking about Physical wombs now; we are not talking about women who are barren only now. We are also talking about the People who had been considered Fruitless in every facets of their lives – Come too and God will open your womb and you will be Fruitful in every Areas of Life (Amen).
The Holy Communion is an Extremely Special Meal – Powerful, Highly Anointed, The Only Meal that God Himself could have Prepared!
That is why the Bible says: Don't take it unworthily; don't take it if you are not a Child of God; don't take it if you are living in sin; don't take it if you have a Brother or a Sister who has offended you that you have not forgiven.
Because if you do so; like the Bible Reading of today that was read to you (1 Corinthians 11: 23-34) – You can become weak and you can even die.
But if you eat it worthily, if you eat it with Faith; it will open your womb!
ALTAR CALL
So, if there is anyone here or among those reading now on the Label of DMC who is yet to be a Child of God and you want to surrender your Life to Jesus Christ – You want to say bye bye to a Life of sin; Please come now.
We will give you 2 Minutes – We will settle your case first before we go forward to this Important Meal.
So, I'm going to count from 1 to 5 – If you want to surrender your Life to Jesus Christ; come now.
The Almighty God is waiting – He is ready to forgive all your sins. Come, there is Power Mighty in His Blood to wash away your sins and to make you a Child of God.
… I'm counting now!
As for those of you who are listening in the various Viewing Centers; you can go to the nearest Altar to you and we will Pray the same Prayer for the Salvation of your Soul.
And if you are at home or reading now on the Label of DMC now and you want to give your Life to Jesus Christ; then Please Stand on your feet – Let Him see you take Actions to show Him that you really mean business: That you want to say bye bye to a Life of sin and you are asking for Salvation today.
Now, those of you who has come and those of you on the Way; cry to Jesus Christ now – Ask Him to Please save your Soul, ask Him to have Mercy on you, tell Him to Please wipe away your sin with His Blood and Promise Him that you will serve Him from now on.
And the rest of us: Shall we just go ahead and Pray for these People and Intercede for them – That the One who saved your Souls will save their own Souls also.
… Pray for them Brethrens – Pray that the Saviour of Mankind will save their Souls.
Thank You Father!
In Jesus Mighty Name we have Prayed – Amen!
PRAYER FOR SALVATION
My Father and my God; Saviour of Mankind.
I Thank You for Your Words and I Thank You for those People that has come forward to surrender their lives to You.
Father, Please receive them, save their Souls, let Your Blood wash away their sins, receive them into the Family of God. Please Lord, write their names in the Book of Life.
And the Grace for them to serve You wholeheartedly from now; Father Please give unto them.
And I Pray Lord God Almighty that tonight that even as they Partake of this Holy Communion; their wombs will be opened and they will begin to rejoice in You.
In Jesus Mighty Name we have Prayed – Amen.
And those of you who are Infront; let me hear you shout a big Hallelujah – Hallelujah!
Now, I want to Promise you that from now on by God's Grace; I will be Praying for you.
So, I'm going to need your names, your Address and your Prayer Request.
If you turn to your Left; you will see a Man lifting up a Placard with "Counselling" written on it – Please, follow him. He will take you to where some Counsellors are waiting; they will collect the information I want and then they will bring you back very quickly.
… You can begin to go!
ADMINISTRATION OF THE HOLY COMMUNION
Now tonight, as we come to the Table of the Lord with Faith:
As we Partake of the Bread – Let us cry to God. You say: Father, open my womb – My womb of Destiny; so that I can become Fruitful in every facets of Life – Fruitful Physically, Mentally, Materially, in my Ministry, Spiritually.
… As I Partake of the Bread tonight; Please open my womb.
Then when it is time to drink the wine; I will tell you how to Pray.
As soon as they give you the Bread; you can eat the Bread and continue to Pray – And Pray with all your heart.
The Lord Jesus Christ; the very Night in which He was betrayed took the Bread and when He has given Thanks, He broke it saying: Take, Eat; this is my Body broken for you; do this in Remembrance of Me.
In the Name of the Father, and of the Son and of the Holy Spirit – Amen!
Go ahead: Eat the Bread and Pray as Instructed.
In Jesus Mighty Name we have Prayed – Amen.
When you drink the Wine tonight; you are going to Call on the Almighty God to send down Fire – Fire that will consume every Doubts, every Unbelief, everything that can Stand between me and Fruitfulness. Let the Fire of God consume them!
You see: Sarah laughed but the Almighty God overruled her doubts.
After the same manner also; He took the Cup when He has sup, saying: This Cup is the New Testament in my Blood, Please do ye as oft as you drink it in Remembrance of Me.
In the Name of the Father, and of the Son and of the Holy Spirit – Amen!
Go ahead and Pray as Instructed.
Thank You Jesus; Thank You Almighty God.
In Jesus Mighty Name we have Prayed – Amen.
DADDY GO PRAYS
My Father and my God; I want to bless Your Holy Name again.
Thank You for the Tremendous Opportunity that You have given to us to dine with You – Thank You for the Body that was broken for us; Thank You for the Blood that was shed for us.
Tonight Lord God Almighty, as we have Partaken of Your Body and Your Blood; Please open our wombs.
And every obstructions to our Fruitfulness – Physical, Mental, Emotional, Spiritual and Otherwise; send down Your Fire and consume them all.
Thank You Father.
In Jesus Mighty Name we have Prayed – Amen.
Now, let Someone shout Hallelujah – Hallelujah!
Now, let us be seated for few Seconds and remain in an Attitude of Worship.
Pass the Cups to the aisles so that the Ushers can help us collect them very quickly.
THANKSGIVING
And then, let us take our Offerings – Offering of Gratitude.
Gratitude for the Body that was broken; Gratitude for the Blood that was shed for us.
And as soon as we are ready, and with Joy in our hearts; with sure Assurance that God has been Pleased with us because we demonstrated our Faith in Him – We dance to the nearest basket, we drop our Offerings and then we have the Closing Prayers.
… Over to you Band!
CLOSING PRAYER
And so Father we Thank You – We Thank You because we know that we shall Testify. Accept our Thanks in Jesus Name.
Father, Please receive the Offerings of Your Children, Sanctify it and Use it for Your Glory.
And right now; in every facets of their Finances, let them be Fruitful.
In Jesus Mighty Name we have Prayed – Amen.
Now, if you know that you are to be Fruitful from now on; I want to hear a Fruitful Hallelujah – Hallelujah!