OPEN HEAVEN 6 NOVEMBER 2020 FRIDAY: GOD THINKS ABOUT YOU
OPEN HEAVEN 6 NOVEMBER 2020 MEMORIZE: Many, O LORD my God, are thy wonderful works which thou hast done, and thy thoughts which are to us-ward: they cannot be reckoned up in order unto thee: if I would declare and speak of them, they are more than can be numbered. Psalms 40:5
OPEN HEAVEN 6 NOVEMBER 2020 BIBLE READING PSALMS 139:17-18
17. How precious also are thy thoughts unto me, O God! how great is the sum of them!
18. lf l should count them, they are more in number than the sand: when l awake, I am still with thee.
GOOD MORNING BELOVED,
If you are visiting this platform for the first time, please save this website OPENHEAVEN.NET on your device to ease your next visit. Hymnal, Bible Reading & Other helpful clickable links below. God bless you!
OPEN HEAVEN 6 NOVEMBER 2020 MESSAGE
The sand at the beach is literally uncountable, yet the Lord says His precious thoughts outnumber them (Psalms 139:17-18).
That is how much God thinks about you and me.
No one else will ever think about you that much not your spouse, not your child, nobody.
Nobody will care about you as much as God your perfect Heavenly Father thinks and cares about you. Isn't that awesome?.
You may often hear voices in your head saying No one is going to marry you, you are such a disaster, you are never going to be successful, you will always be at the same point, this sickness will kill you.
But NO!, The devil is a liar!. Those are not the thoughts of God about you! He says in Jeremiah 29:11:
"For I know the thoughts that I think toward you, saith the LORD, thoughts of peace, and not of evil, to give you an expected end."
When you are a true child of the living God, He is always with you. In Hebrew 13:5, He says:
"I will never leave thee, nor forsake thee."
No matter what you may be going through, God is ever with you, able and willing to help. That is why Psalm 46:1 says:
"God is our refuge and strength, a very present help in trouble."
Do you know that as a true child of God you are a friend to Jesus?, In John 15:14, He says:
"Ye are my friends, if ye do whatsoever I command you."
Jesus loves you so much that He gave His very life for you. The Bible says in John 15:13 that:
"Greater love hath no man than this, that a man lay down his life for his friends."
The only way you can repay this love of God is to surrender all to Him and continue walking in His will.
He thinks a lot about you, don't disappoint Him.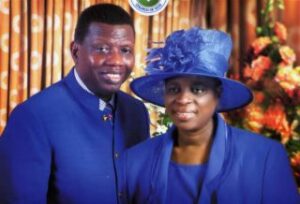 OPEN HEAVEN 6 NOVEMBER 2020 KEY POINT
isn't it great to know you are in God's thoughts and that He wants the best for you always.
FROM THE TEAM: Thank you for reading today's Open Heaven 6 November 2020, written by Pastor E. A. Adeboye. Please, share with someone on Facebook, Whatsapp, Instagram and other social media platforms using the social buttons at the beginning or scroll to the end of this post. Have a good day! #RemainRapturable
PREVIOUS DAY: OPEN HEAVENS 5 NOVEMBER 2020
OPEN HEAVEN 6 NOVEMBER 2020 HYMN
I AM SO GLAD THAT OUR FATHER IN HEAVEN
1. I am so glad that our Father in heaven
Tell of His love in the book He has given;
Wonderful things in the Bible I see;
This is the dearest, that Jesus loves me.
CHORUS:
I am so glad that Jesus loves me,
Jesus loves me, Jesus loves me,
I am so glad that Jesus loves me,
Jesus loves even me.
2. Jesus loves me and I know I love Him;
Love brought Him down my lost soul to redeem;
Yes, it was love made Him die on the tree:
Oh, I am certain that Jesus love me.
3. In this assurance I find sweetest rest,
Trusting in Jesus I know I am blest;
Satan dismayed from my soul doth now flee
When I just tell him that Jesus loves me.
4. Oh, if there's only one song I can sing,
When in His beauty I see the great King,
This shall my song in eternity be,
"Oh, what a wonder that Jesus loves me!"
5. If one should ask of me, how can I tell?
Glory to Jesus, I know very well!
God's Holy Spirit with mine doth agree,
Constantly witnessing-Jesus loves me.
OPEN HEAVEN 6 NOVEMBER 2020 BIBLE READING IN ONE YEAR: MATTHEW 24:1-51