Open Heaven for 1st December 2020
Open Heaven 1 December 2020 Tuesday Daily Devotional By Pastor E. A. Adeboye – Commit Your Plans To God
Click HERE for Previous Open Heaven Devotional
Topic: Commit Your Plans To God (Open Heaven 1 December 2020)
Memorise: A man's heart deviseth his way: but the LORD directeth his steps. – Proverbs 16:9
Read: Proverbs 19:20-21 (KJV)
20 Hear counsel, and receive instruction, that thou mayest be wise in thy latter end.
21 There are many devices in a man's heart; nevertheless the counsel of the LORD, that shall stand.
Bible In One Year: 1 Corinthians 12-14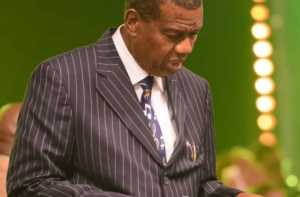 Open Heaven for 1st December 2020 Tuesday MESSAGE:
It is not wise to start planning for something when you are already in it. Some people plan their year in the beginning of the year; no wonder they hardly achieve anything meaningful in that year. You cannot begin to plan for a battle when you are already in the midst of it. Have you ever seen someone planning their own wedding on the wedding day? Or begin to study for an examination in the exam hall when question papers are already being distributed? Why then do you wait until the new year before you begin to plan for it?
Now, if I were to ask to see your plan for the year 2021, would you have something to show me? Note that I said 'show me' and not 'tell me', because I believe that any serious Christian will live by Habakkuk 2:2 which says:
"And the LORD answered me, and said, Write the vision, and make it plain upon tables, that he may run that readeth it."
If you would not have anything to show me, then you need to go to the drawing board and do a proper plan for the year 2021.
Having established the need for you to plan ahead of the new year, it is important that you commit those plans to the hands of God. Before you were formed in your mother's womb, God had a plan and agenda for your life. It does not matter how meticulous your plan is, if it is not in line with His agenda for you, you may end up struggling to get your footing in the new year. Let Him know that all you care about is that His will is done and nothing else. Tell Him, just like our memory verse says, that you may have planned your way, but you need Him to direct your steps. God is not responsible for whatever is not committed to his hands; if you say you know exactly what you want to do in the new year and you don't need His help, He will simply stand back and watch. But if you call on Him to direct your footsteps, He will take you to greater heights and help you far beyond your imaginations.
Open Heaven for 1st December 2020 Tuesday Key Point:
In year 2021, put God's will above yours, always.
Open Heaven for 1st December 2020 Tuesday Hymn 5: Deeper, Deeper In The Love Of Jesus
Deeper, deeper in the love of Jesus
Daily let me go;
Higher, higher in the school of wisdom,
More of grace to know.
Refrain:
Oh, deeper yet, I pray,
And higher every day,
And wiser, blessed Lord,
In Thy precious, holy Word.
Deeper, deeper, blessed Holy Spirit,
Take me deeper still,
Till my life is wholly lost in Jesus,
And His perfect will.
Deeper, deeper! though it cost hard trials,
Deeper let me go!
Rooted in the holy love of Jesus,
Let me fruitful grow.
Deeper, higher, every day in Jesus,
Till all conflict past,
Finds me conqu'ror, and in His own image
Perfected at last.
Deeper, deeper in the faith of Jesus,
Holy faith and true;
In His pow'r and soul exulting wisdom
Let me peace pursue.
Dont forget to read Open Heavens for tomorrow click HERE
THE REDEEMED CHRISTIAN CHURCH OF GOD DIRECTORATE OF PRAYER THIRTY (30) DAYS PRAYER GUIDE TOWARDS THE REALISATION OF A NEW NIGERIA
DAY 29: TUESDAY 1ST DECEMBER, 2020
TOPIC: MANIFESTATION OF GOD'S POWER AND GLORY IN OUR NATION.
BIBLE TEXT(s): EXODUS 5:1-2, EXODUS 12:29-32, ACTS 3:1-10.
Subscribe to Blog via Email
INTRODUCTION
Manifestation of God's power naturally brings conviction. Pharaoh doubted God in Exodus 5:1-2 but he bowed after he encountered the power of God Exodus 12:29-32. Whenever impossible becomes possible, like the case at the beautify Gate, Acts 3:1-10), then the glory of God manifests.
PRAYER POINTS:
Father, thank you, the world is full of your wonders in Jesus name.
Father. I thank you for the manifestation of your glory that the birth, death and resurrection of Jesus have brought to the world
Lord. I thank you for salvation of souls of Nigerians in readiness for manifestation of your glory in our land.
Father; we thank you for manifestation of your power we have experienced in the past.
Father, let there be greater manifestation of your power all over all the nations of the earth in Jesus Name
Father, pure down the spirit of healing, that this nation will become a land of healing and deliverance for anyone seeking healing.
Father; Let your light shine in our lives and lands that everyone will give glory to your name in Jesus name. Matt 5:16
Father, let the spirit of holiness cover nations of the earth as water covers the sea.
My father, make my life a wonder to my generation in Jesus name.
Except by signs and miracles, many will not believe, Father restore the era of sign, miracles and wonder in our nation in Jesus name
Father show all that oppress the innocent ones your power and put an end oppression in Jesus name.
Father, let our lives be a reflection of your wonder and let our nation be a righteous land in Jesus name.
Father, by your power, convert all our, men of integrity and truth leaders to evangelists in Nigeria in Jesus name.
Father, by your power, let all the wicked surrender to your Lordship and serve you as you converted Saul who became Paul in Jesus name.
Father, manifest your glory in our land through a revival that will shake the whole world in Jesus name.
Father, anoint me so that enemies will see me and run in Jesus name.
Father, let holiness become a lifestyle in this nation in Jesus Name.
Father, demonstrate your power in our lives and through us many will encounter you in Jesus name.
Father, through the manifestations of signs and miracles in our lives, family, your church, let more unbelievers believe you and be saved in Jesus name.
Father, there are still many Pharaohs and Herod's of our time, Lord demonstrate your power on them and be glorified in Jesus name.
Open Heavens Daily Devotional guide was written by Pastor E.A. Adeboye, the General Overseer of the Redeemed Christian Church of God, one of the largest evangelical church in the world and also the President of Christ the Redeemer's Ministries. The Open Heavens devotional application is available across all mobile platforms and operating systems: iOS, Android, Blackberry, Nokia, Windows Mobile and PC.