Subscribe to Blog via Email
Open heaven January 2021 January 31
TOPIC: DIVINE MERCY OPEN HEAVEN FOR SUNDAY 31 DAY OFR JANAURY 2021
Welcome to the last Sunday of the Month od January 2021
Memorize: So then it is not of him that willeth, nor of him that runneth, but
of God that sheweth mercy. Romans 9:16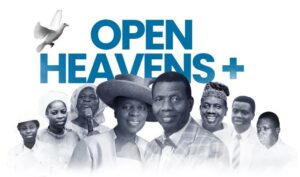 Read: Psalm 136
The mercy of God is a deep expression of His love to mankind; it is so much that the natural mind cannot make sense of it (Ephesians 2:4). A person can labour all his life and make no headway, but when God shows mercy, such a fellow would move from grass to grace in no time at all. Joseph was a slave, laboring for his master for years and then found himself wrongfully imprisoned. One day however, God arranged for the king to summon him and within minutes, he became the second most powerful man in
Egypt. If someone had told Joseph that morning that he would be the Prime Minister before nightfall, he would have called the person a joker. Who knew him, and by the way, who would make a prisoner Prime Minister?
That is however what the mercy of God can do. It does not matter how low you are right now, the mercy of God will lift you higher than your dreams in Jesus' name. Open Heaven 2021
If there is only one fellow I know who has enjoyed the mercy of God, it is I. I am a little boy from a village that was not on the map until not very long ago. In that village, my family was one of the poorest and least recognized, yet God showed me mercy. Today, by the grace of God, the name Adeboye is known in several countries of the world. If you also want to become great, you need His mercy. You get this mercy by simply asking for it as we see in Hebrews 4:16
Let us therefore come boldly unto the throne
of grace, that we may obtain mercy, and find
grace to help in time of need.
Exodus 25:17 gives us a hint of the position we should take when seeking His mercy. You will notice that in the dimensions therein, there is no height; just length and breadth. This mercy seat is one that you go flat on, in humility. It is when you have completely laid yourself bare before God that you can enjoy His mercy. When you say "Go ahead and use me for whatever you want, Lord", then you are ready. In all that Joseph went through, not once did he complain or contemplate rejecting God. If you still give God terms and conditions, then you are not yet ready for His divine mercy.
Open heaven January 2021 Hymn 28 What A Friend We Have In Jesus
Prayer point: Lord, I surrender my will completely to you from
today; please show me mercy.
Bible in one year: Leviticus 1-3
Open Heavens Daily Devotional
guide was written by
Pastor E.A. Adeboye
, the General Overseer of the Redeemed Christian Church of God, one of the largest evangelical church in the world and also the President of Christ the Redeemer's Ministries.
The Open Heavens devotional
application is available across all mobile platforms and operating systems: iOS, Android, Blackberry, Nokia, Windows Mobile and PC.
LESSON
Thanks to God for today's Open Heavens Daily Devotional, written by Pastor Enoch Adejare Adeboye who is the General Overseer of the Redeemed Christian Church of God. Today's Open Heavens Daily Devotional is another powerful one and is a blessing to every reader of the message. It is pretty and awesome to enjoy God's Mercy at all times. In today's Open Heavens Daily Devotional, Daddy Adeboye was talking about a very important subject, which is about Divine Mercy. Once we can align with God to be in that place where we can attract divine mercy, we are in for bliss and everything good. The Mercy of God will keep opening doors for us and God alone will be glorified all around. God's Mercy is always available. Just align yourself with Jesus Christ and run away from anything negative. It is well with you in Jesus Name Amen. Thank you for reading Today's open Heavens Daily Devotional. You can take to the comment section to share your thoughts on today's Open Heavens Daily Devotional and the lessons you learned from the message. As you express yourself, you will be a blessing to others too Tomorow ==> Open heaven January 2021 Day 1-31