OPEN HEAVENS 2021 Thursday July 22
Topic: ASPIRING TO HIGHER LEVELS?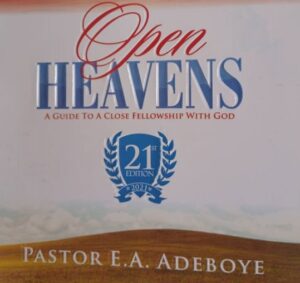 Memorise: And whosoever shall exalt himself shall be abased; and he that shall humble himself shall be exalted. Matthew 23:12
Read: Psalm 61:2
There are various levels in life. When we talk about health, we have those who are sick; even among the sick, there are levels of sickness some are sick, some are very sick while some have terminal sicknesses.
Some may even be dying. When we talk about wealth, there are the destitute, the poor, the comfortable, the rich, the very rich, the wealthy and the flourishing. The flourishing are those who, according to the Bible lend to nations. There are also those who have so much abundance that it is difficult to imagine. In 2 Chronicles 9:20 we read:
And all the drinking vessels of king Solomon were of gold..
There are also various levels of joy. There are those who are sad, there are sympathisers, there are those who have joy and those with great joy. The Bible in Psalm 16:11 talks about the fullness of joy that is available in the presence of God. The Bible also talks about "joy unspeakable" in 1 Peter 1:8.
There are also varying levels of victory. There is victory after a fight, victory without a fight and victory when the enemy miraculously disappears. There is also a kind of victory recorded in Psalm 23:5: "Thou preparest a table before me in the presence of mine enemies: thou anointest my head with oil; my cup runneth over." There is nothing as glorious as rejoicing in the presence of our enemies.
In any aspect of life, everyone is at one level or the other. It doesn't matter where you are, there is a higher level you can get to. Moving from one level to the other involves three possibilities: One, you want to move to the next level unassisted. Two, you want to move to the next level with assistance. Three and lastly, you are trying to move to the next level, but facing resistance.
It is easier to move to the next level of your life when you have the Lord Jesus Christ as your ally. The Bible says the blessing of the Lord maketh rich and addeth no sorrow with it (Proverbs 10:22). Surrender your life to Christ now so that He can take you to the next level. No one can resist or stop Jesus from doing whatever He is determined to do, according to Psalm 24. The plan of God is to take you to the next level according to Jeremiah 29:11 which says:
For I know the thoughts that I think toward you, saith the LORD, thoughts of peace, and not of evil, to give you an expected end.
OPEN HEAVENS 2021 Thursday JULY 22Hymn 10: I'm Pressing On The Upward Way
Action Point: Think of the level you should attain that would make stagnation history in your life, then call on the name of Jesus for divine assistance.
Bible in one year: Psalms 66-68
OPEN HEAVENS 2021 July 22 July 23 July 24 July 25 July 26 July 27 July 28 July29
OPEN HEAVENS 2021 Friday July 23
Topic: WHEN REVIVAL COMES I
Memorise: Wilt thou not revive us again: That thy people may rejoice in thee? Psalm 85:6
Read: Psalms 85:4-7
In Christianity, revival generally refers to increased spiritual fervency or renewal in the congregation of
believers.
What happens when revival comes? According to our Bible reading of today, people turn away from their wickedness when revival comes. Salvation becomes a household commodity and the anger of God ceases to burn against the people. One pleasant thing about God concerning sinners is that He would always warn them of the dangers of a sinful life so they may repent and escape His fiery judgment. The Bible says in Ezekiel 18:21-23:
But if the wicked will turn from all his sins that he hath committed, and keep all my statutes, and do that which is lawful and right, he shall surely live, he shall not die. All his transgressions that he hath committed, they shall not be mentioned unto him: in his righteousness that he hath done he shall live.
Have I any pleasure at all that the wicked should die? Saith the Lord GOD: and not that he should return from his ways, and live?
Another thing that happens when revival comes is that God answers the prayers of sinners – contrary to the general opinion that He does not. However, it is the prayer of repentance from a sinner that God honours before any other, according to 2 Chronicles 33:12-13. Revival brings about total restoration of both spiritual and physical wellbeing as seen in 2 Chronicles 33:14-15:
Now after this he built a wall without the city of David, on the west side of Gihon… And he took away the strange gods, and the idol out of the house of the LORD, and all the altars that he had built in the mount of the house of the LORD, and in Jerusalem, and cast them out of the city.
The true sign of revival is a genuine departure from an ungodly lifestyle, both publicly and even when we are in our closet. This is contrary to what we experience in the Church today when people claim to be born-again but still maintain their sinful lifestyles. Manasseh died a penitent sinner and had peace, according to 2 Chronicles 33:18-20. Your beginning may not matter much but your end certainly will. You shall end well in Jesus' name.
OPEN HEAVENS Friday 23 2021 Hymn 13: Ive A Message From The Lord, Halleluyah
Prayer Point: If you are a sinner, pray for the salvation of your soul. If you are a backslider, pray for revival and complete restoration.
Bible in one year: Psalms 69-71
OPEN HEAVENS 2021 July 22 July 23 July 24 July 25 July 26 July 27 July 28 July29
OPEN HEAVENS 2021 Saturday July 24
Topic: WHEN REVIVAL COMES II
Memorise: Create in me a clean heart, O God; And renew a right spirit within me. Psaim 51:10
Read: Psalms 51:1-3
Today, I want you to take a self-evaluation: is there anything you have done that could land you in hell?
Today is the day of repentance and restoration. A man of God once said "When genuine revival comes, everybody, including pastors, would have one or two things to repent of". Revival is not the working of miracles; it is an increased spiritual interest or renewal of a life of holiness, in complete obedience to the word of God.
The first step towards experiencing a revival is to realize that one has sinned or fallen short of God's expectations, according to Romans 3:23. Fervent prayers of repentance must therefore precede revival. In Psalm 51 we read of David praying fervently for revival and restoration after he had sinned against God. This is where many so-called born-again Christians, particularly those who consider themselves fairly old in the faith often miss it. They are like that Pharisee who went to the temple to display his
superiority over the publican in Luke 18:10-14. If you ever realise that you have fallen short of God's approval and favour, put aside your ego and humble yourself before the One who can forgive and forget. The Bible says in 1 John 2:1-2:
My little children, these things write I unto you, that ye sin not. And if any man sin, we have an advocate with the Father, jesus Christ the righteous: And he is the propitiation for our sins: and not for ours only, but also for the sins of the whole world.
What the Lord is telling us in this Scripture is that a child of God should be free of sin, according to 1 John 3:8-9 which says
He that committeth sin is of the devil; for the devil sinneth from the beginning. For this purpose the Son of God was manifested, that he might destroy the works of the devil. Whosoever is born of God doth not commit sin; for his seed remaineth in him: and he cannot sin, because he is born of God.
However, should anyone fall into sin, such a person must quickly cry to God in remorse for revival and restoration. The person must then have faith in the word of God and the blood of Jesus Christ for cleansing. Plead the blood of Jesus over your life and make up your mind never to go back sin.
OPEN HEAVENS JULY 24 2021 Hymn 16: O God our help in ages past
Action point: Check your life and see if there is anything you have done contrary to the word of God. Confess it to God and let Him restore you to your position as His child.
Bible in one year: Psalm 72-74
OPEN HEAVENS 2021 July 22 July 23 July 24 July 25 July 26 July 27 July 28 July29
OPEN HEAVENS 2021 Sunday July 25
Topic: LET YOUR LIGHT SO SHINE
Memorise: Let your light so shine before men, that they may see your good works, and glorify your Father which is in heaven. Matthew 5:16
Read: Daniel 6:25-28
God wants His children to shine as stars. From the Bible reading of today, you would see that Daniel shone and indeed outshone his colleagues. If you haven't done so already, you must surrender your life to God today, shun iniquity totally and begin to love righteousness if you also want to shine. Psalm 75:6 7 says:
For promotion cometh neither from the east, nor from the west, nor from the south. But God is the judge: he putteth down one, and setteth up another.
If you are a parent, then you have a crucial role to play in the lives of your children so that they can be stars (Proverbs 22:6). You must give them proper training spiritually intellectually and morally (Deuteronomy 11:19). I thank God always for my mother; she did a good job of raising me.
She encouraged me to study even when other children were out playing. I am what I am today by the grace of God and her efforts.
Teachers too must be involved- at school and in the Church. God bless my Mathematics teacher; he made a star in the subject out of me. He usually challenged the few of us who showed an interest in the subject, to make a hundred percent in our assignments. One day, we did and were very happy, hoping that we had finally impressed him. His reaction however kept us in check. He said "Look at you, your mates are now undergraduates and here you are bragging because you scored a hundred percent in
Ordinary Level Mathematics!" He was clearly telling us to strive harder for excellence.
You can also influence your shining through hard work (Proverbs 22:29). Children should not waste their time playing when there are more profitable things to do. Breakthroughs do not come to lazy people. Look at Daniel, for example: he was diligent even when he was a nobody –a slave. This young man was eventually enlisted as a minister in Babylon (Daniel 1-2).
If you would shine, you must also strive to obtain the blessing of your parents (both biological and spiritual) by honouring them. My mother would always pray for me thus "When you call on one fellow, two hundred will respond." Today, it is a reality in my life.
Your light will shine, in Jesus' name.
OPEN HEAVENS JULY 25 2021 Hymn 11: I Need Thee Evry Hour
Prayer Point: Father, please help me to do what I should in order to shine for You from now, in Jesus' name.
Bible in one year: Psalms 75-77
OPEN HEAVENS 2021 July 22 July 23 July 24 July 25 July 26 July 27 July 28 July29
Open heaven Monday July 26
Topic: PRAYER, PRAISE AND WORSHIP
Memorise: Pray without ceasing. Thessalonians 5:17
Read: Acts 16:25-34
God's desire for all His children is greatness. He wishes that they prosper, be in health even as their souls prosper (3 John 2). However, a study of the word of God reveals that there are certain requirements for
greatness, three of which are: prayers, praises and worship.
John 4:24 says: God is a Spirit: and they that worship Him must worship Him in Spirit and in truth.
Prayer is communication with God in line with His will. In praises we thank God for what He has done, what He is doing and what He is yet to do. In worship, we appreciate God for who He is. God expects all of creation to worship Him; however, there are various categories of worshippers.
One category of worshippers comprises those who, at one time or the other, received a blessing from God (Psalm 150:6). No matter how little you think the goodness of the Lord in your life may be, it is imperative that you praise Him.
The next category of worshippers are the afflicted ones. These include the bereaved, the sorrowful, the disappointed and the discouraged in our midst. A classic example is Job. Job was a man who worshipped God in prosperity (Job 1: 1 – 5), in the midst of satanic afflictions (job 1:15 to 2:9) and at the point of his turnaround (job 42:1-6).
The third category of worshippers are the vessels unto Honour (1 Timothy 2: 19-21). Vessels unto dishonour are those used by the devil to change joy to sorrow. These are are agents of the devil. A vessel unto honour however, is someone God can use anytime, anyway and anywhere He decides to. Worship characterizes vessels unto honour. In 1 vessels unto honour are chosen by God (ohn
6, Such people are willing to be chosen and ready to
Psalms 78-80
Hymn 19
Praise Him, Praise
Him, Jesus Our
Blessed Redeemer
live holy all the time.
Ar a vessel unto honour? If yes, go ahead and gve
praise to God. f not, repent and cry unto God tor
mercy.
Prayer Point: the Lord make and keep you as a vessel unto honour in the mighty name of Jesus. Father, please give me a grateful heart and the grace to praise and worship You always, in Jesus name
OPEN HEAVENS 2021 July 22 July 23 July 24 July 25 July 26 July 27 July 28 July29
OPEN HEAVENS 2021 Tuesday July 27
Topic: RENEWING THE MIND
Memorise: And be not conformed to this world: but be ye transformed by the renewing of your mind,
that ye may prove what is that good, and acceptable, and perfect, will of God. Romans 12:2
Read: Romans 12:1-2
One striking thing about holiness is that it is what makes God who he is. As human beings, if we were to be asked the question "Who is God?" we might say "God is love, God is powerful, God is merciful, God is faithful…" However, If any member of the hosts of heavens were to be asked the same question they would chorus "God is holy" (Isaiah 6:14, Revelation 4:6-8).  To know God intimately requires the deep study of His word.
It is imperative for every child of God to study and meditate on the word of God, day and night (Joshua 1:8). Mere reading the word of God is different from studying and serious meditation. Studying is a
deliberate effort to gain knowledge.
Meditation on the word of God involves reflecting, or pondering on His word. God instructed Joshua to meditate on the word of God day and night because constant meditation leads to good success (Joshua 1:8). There is a sequence to knowing the Most High more intimately. First, meditate on the word of God on a daily basis. Second, be observant enough to obey the word of God unconditionally. To this effect,
Deuteronomy 6:6-7 says:
And these words, which I command thee this day, shall be in thine heart: And thou shalt teach them diligently unto thy children, and shalt talk of them when thou Sittest in thine house, and when thou walkest by the way, and when thou liest down, and when thou risest up.
Do you desire to know the perfect will of God for every aspect of your life? Renew your mind through constant  Studying and meditation on the word of God. Keep God's word in your heart, allow it to take root in your entire being and act on it.
Let God know that you will only do what is pleasing to him from now and he will never leave you ( John 8:29). Your life will become completely transformed by the power of the most high God in Jesus` name.
OPEN HEAVENS JULY 27 2021 Hymn 14: Jesus my Lord, my God, my all
Action Point:  Create a plan for studying the Bible and meditating on a specific Scripture daily. The Bible in one Year in this devotional would help..
Bible in one year: psalm 81-83
OPEN HEAVENS 2021 July 22 July 23 July 24 July 25 July 26 July 27 July 28 July29
OPEN HEAVENS 2021 Wednesday July 28
Topic: THE BLOOD OF JESUS
Memorise: For the life of the flesh is in the blood: and I have given it to you upon the altar to make an atonement for your souls: for it is the blood that maketh an atonement for the soul. Leviticus 17:11
Read: Hebrews 9:24-28
There is power in the blood. Leviticus 17:10-12 contains seven prohibitions regarding eating
anything that is still bleeding. Our memory verse explains that firstly, blood is inherently necessary to
maintain animal life, so the life of an animal is in its blood, Secondly, God has chosen blood as a fitting symbol for atonement and forgiveness of sins. Hebrews 9:22 says:
And almost all things are by the law purge with blood; and without shedding of blood is no remission.
The blood of Jesus is the most efíective in all creation. It is recognized both in Heaven and on earth. It cleanses from all sins 1 John 1:7
But if we walk in the light, as he is in the light, we have fellowship one with another, and the blood of Jesus Christ his Son cleanseth us from all sin.
With the blood of Jesus every believer has the boldness to enter into the presence of God the holiest place in Heaven and the earth.
Having therefore, brethren, boldness to enter into the holiest by the blood of Jesus. Hebrews 10:19
You can see from the verse above that the blood of Jesus grants you access to all that you want from God.
There are however, other things you can do with the blood of Jesus, like covering yourself and your loved ones with it. Through the Holy Communion, you can drink the blood of Jesus and eat His flesh. Demons fear the blood of Jesus. You can cover your home and environment with the blood of Jesus. You can also plead the blood of Jesus upon your food or drinks so no demon can touch them. The blood of Jesus has the potency to heal and deliver from all evils, including attacks from witches, wizards and other agents of darkness.
The blood of Jesus however, will only work for those who have put themselves under the direct protection of Christ.
These are those who are born again and are living holy. Are you covered by the blood of Jesus?
OPEN HEAVENS JULY 28 2021 Hymn 29: What Can Wash Away My Stain?
Action Point: Wash yourself in the blood of Jesus today
Bible in one year: Psalms 84-86
OPEN HEAVENS 2021 July 22 July 23 July 24 July 25 July 26 July 27 July 28 July29
OPEN HEAVENS 2021 Thursday July 29
Topic: THE NEED FOR BODILY EXERCISE!
memorise: For bodily exercise profiteth little: but godliness is profitable unto all things, having promise  of the life that now is, and of that which is to come. 1 Timothy 4:8
Read: 3 John 2
Every sane person wishes to be healthy, wealthy, fulfilled and have longevity. 1 Chronicles 29:26-28 says:
Thus David the son of Jesse reigned over all Israel.. And he died in a good old age, full of days, riches, and honour…
Therefore, good health, long life and prosperity are the heritage of God's children. Bodily exercise may indeed profit little compared to the spiritual benefits of Godliness, but a healthy body is vital to successful living and longevity
Man is a tripartite being. The Bible teaches that man consists of the spirit, soul and body. God is interested in our good health – physically. He desires that we should be sound and complete – spirit, soul and body. This healing of the whole man starts in our spirit, it begins when God touches our spirit with His Holy Ghost. Romans 8:16 says:
The Spirit itself beareth witness with our spirit, that we are the children of God.
God created the human body to be rugged. However, good food, regular exercise, and daily rest are vital for a healthy body.
A healthy body is required to carry out daily human endeavours. More so, divine assignments are usually
tedious and demanding physically, emotionally and Spiritually. Therefore, fitness and sound health are two actors that make God appoint people in their youth to Special assignments. That is why strength and all-round fitness are common attributes of those that God used in the Bible.
Abraham was energetic and fit enough to produce Children at over a hundred years of age (Genesis 25:1-4).  Moses trekked through the wilderness and climbed mountains at over eighty years of age (Exodus 7:7). David displayed agility and strength in the fight against bears, Goliath and various armies even from his youth. Elljah exhibited speed and stamina as he was aided by the by the Holy Spirit to outrun the chariot of King Ahab. The exploits of Deborah, Peter, Paul, Stephen Joshua, Caleb, Samson, phillp, John the Beloved and others clearly shows they were physically fit.
Bodily exercise is required to keep the body fit and strong for the accomplishment of great and mighty things for God.
OPEN HEAVENS 2021 July 22 July 23 July 24 July 25 July 26 July 27 July 28 July29
OPEN HEAVENS JULY 29 2021Hymn: All hail The Powr
Action Point: Henceforth, ensure that you get involved in regular exercise for healthy living even as your soul continues to prosper.
Bible in one year: Psalms 87-89.