OPEN HEAVENS 2021 Sunday June 20
TOPIC: THE FATHER'S BLESSING
Memorise: The blessings of thy father have prevailed above the blessings of my progenitors unto the utmost bound of the everlasting hills: they shall be on the head of Joseph, and on the crown of the head of him that was separate from his brethren. Genesis 49:26
Read: Genesis 27:22-29
God is the Ultimate Father. In fact, He prefers the title of Father to God. No wonder when Jesus was teaching His disciples to pray in Matthew 6:9, He said they should start with "Our Father". As a Father, God likes to bless His children. The first thing He did when He created the man and woman was to bless them (Genesis 1:27-28). He has also transferred some of that power to fathers on earth. This means that when your earthly father blesses you, it is as though God Himself is blessing you; it is irreversible. We see this in Genesis 27:33: And Isaac trembled very exceedingly, and said Who? where is he that hath taken venison, and brought it me, and I have eaten of all before thou camest, and have blessed him? yea, and he shall be blessed.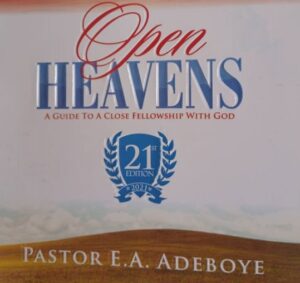 Your father blessings will propel you to tremendous greatness. In Genesis 27:38-40, Esau only got a remnant of the blessing from Isaac, yet in Genesis 32:6, we see that he had four hundred bodyguards. The first time a President attended one of our programmes at the Redemption Camp in Nigeria, he came along with two hundred and fifty bodyguards. Esau went to meet Jacob with four hundred bodyguards. That is what only a remnant of the blessing can do. In Genesis 27:29, we see that it can also make nations run helter-skelter to help you.
Nothing good comes cheap however; the fathers blessing is costly too, especially when it is from the heart. when Isaac wanted to bless Esau, he asked for something he loved. When you make your father happy, he will bless you from his heart. I had just arrived at the airport in Heathrow and I was carrying two big bags. There were two of my children-in-the-Lord there. One of them just greeted me while the other one ran to take my bags. I told the latter "God bless you". The other one then said "Daddy, you did not say 'God bless you' to me". I asked, "What did you do to warrant me blessing your When you make your father happy, he will bless you from his heart NOw, what can you gift your father- whether biological or spiritual, that would provoke him to bless you from his heart such that heaven would back it up? Present it to him in such a way that he would be happy with you; then ask him to bless you.
OPEN HEAVENS JUNE 20, 2021 Hymn 6: Great Is Thy Faithfulness
Prayer point: Father, guide me to do something that will provoke my fathers (biological and/or spiritual) to bless me.
Bible in one year: 1 Samuel 28-31
OPEN HEAVENS 2021 Sunday June 20