Subscribe to Blog via Email
Open Heavens Quiz 2020 4th Edition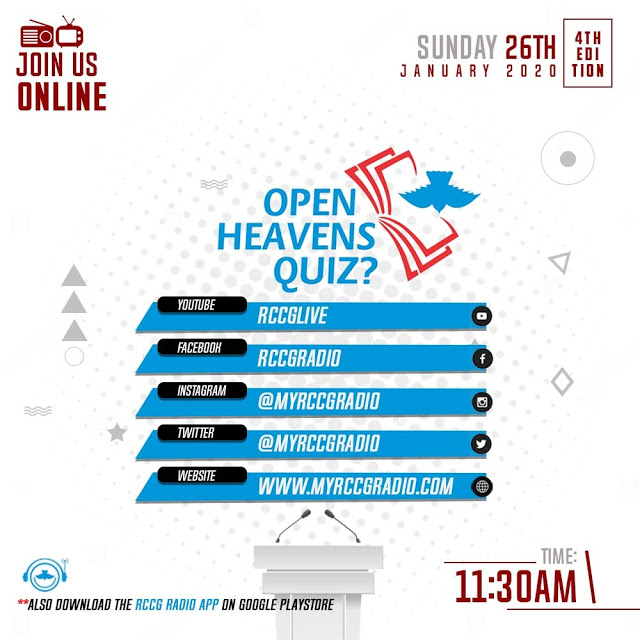 This is to inform all Open heaven readers that you can participate in the Open Heavens Quiz Sunday 26th of January 2020. This is the 4th Edition of the Quiz by Lagos Province 70HQ Lagos.
You can win Cash Prices and seed to support your business, education, feeding or health.
To participate, kindly send details to the phone number on the image below, or drop a comment on the section of this post. God bless you all.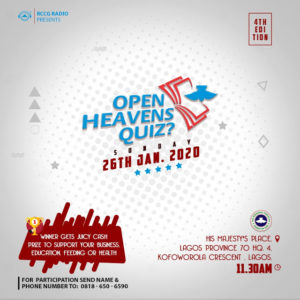 The Open Heavens Daily Dovotional is a product of The Redeemed Christian Church of God By Pastor E A Adeboye, General Overseer Of RCCG. He is the Author of the Open Heavens Daily Devotional.
Open Heavens Daily Devotional
guide was written by
Pastor E.A. Adeboye
, the General Overseer of the Redeemed Christian Church of God, one of the largest evangelical church in the world and also the President of Christ the Redeemer's Ministries.
The Open Heavens devotional
application is available across all mobile platforms and operating systems: iOS, Android, Blackberry, Nokia, Windows Mobile and PC.
For  Further INFORMATION, PARTNERSHIP, SPONSORSHIP & ADVERT PLACEMENT Send us a mail on our official email address
Open Heavens International Center. This gallery and library which we call the Open Heavens International Centre (OHIC) offers you a highly educative, inspiring and life-changing experience. OHIC is the first house lived in by Pastor E.A Adeboye on the Redemption Camp. The video-pictorial tour of the OHIC takes you through the life and times of this great and influential man of God, from his youthful days as a teacher and sports man to his ministry both locally and internationally. Our library also exposes you to a line-up of books written, forwarded and studied by Pastor E.A Adeboye. You also get the opportunity to peep into his personally handwritten sermon notes and diaries. Guests will also be given the opportunity to pray in Daddy GO's personal prayer room.