Subscribe to Blog via Email
Open Heavens Thursday January 7
Topic: PRAYERS FOR THE NEW YEAR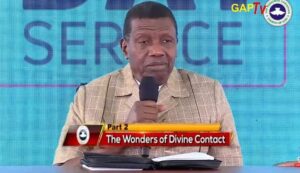 Memorize: Behold, I will do a new thing; now it shall spring forth; shall ye not know it? I will even make a way in the wilderness, and rivers in the desert.
Isaiah 43:19
Read: Isaiah 60:1-3
Prayers
1. Father, please give me the grace to praise you like never before and fill my life with great testimonies this year.
2. Lord, give me fresh anointing and understanding. Please, renew my strength for greater exploits this year in Jesus' name.
3. Father, please don't let me struggle this year. Let your favour distinguish me in the mighty name of Jesus.
4. Father, please let everything I lost in the past year be restored speedily in multiple folds.
5. Father, please help me to live a life of holiness. By Your mercy, please keep me far from sin.
6. Father, please give me the grace to obey all your instructions this year, in the mighty name of Jesus.
7. Father, please give me the wisdom not to walk in the counsel of the ungodly. Help me to do your will alone at all times.
8. Lord, lift me higher than all my enemies, silence the mouth of all mockers and remove every garment of shame from my life this year.
9. Father, this year, let my life overflow with your help on every side in Jesus' name.
10. Father, please give me a great passion for soul- winning. Let me win more souls for you than ever before.
11. Father, help me to apply my heart unto wisdom; so that I can live wisely in this year and beyond.
12. Ask God for that special thing you want Him to do for you this year.
Hymn 24: Take My Life, And Let It Be
Thanksgiving
Thank You Father, for keeping my family and me from all the evil that happened in 2020. Thank You Lord Jesus.
Bible in one year
Deuteronomy 3-4
Open Heavens Daily Devotional
guide was written by
Pastor E.A. Adeboye
, the General Overseer of the Redeemed Christian Church of God, one of the largest evangelical church in the world and also the President of Christ the Redeemer's Ministries.
The Open Heavens devotional
application is available across all mobile platforms and operating systems: iOS, Android, Blackberry, Nokia, Windows Mobile and PC.
Today is the day that the Lord has made, we will be glad and rejoice in it. Hallelujah! Amen! Glory to God! Amen! Yesterday open Heavens devotional made us realised that God is seeing all we do, and there is actually nothing hidden to HIM. Today's Open Heavens (7-1-2021) is filled with prayers for the New Year. We thank God for the life of the writer of the Open Heavens Daily Devotional, in the person of Pastor Enoch Adejare Adeboye. Today's Open Heavens should make you know that we should not stop praying at anytime, but we should continue to pray and ask God for all we desire. We are sure that God can do much more than we expect or desire, because there is nothing He cannot do. We are confident that God can make a way where there seems to be no way, and God can do great things for us this year and beyond. So, you should ensure you pray seriously as you read today Open Heavens Daily Devotional. Pray the prayers there on the devotional, and also ask God for the special things He is going to do for you. As you read today Open Heavens Daily Devotional, you should realise that you need to have great faith to pray prayers that will be answered by God. So, with faith, ask God for all you need in the place of prayer, and He will do it for you.
Open Heavens Thursday January 7