OPENING PRAYER DURING THE RCCG JULY 2022 HOLY GHOST SERVICE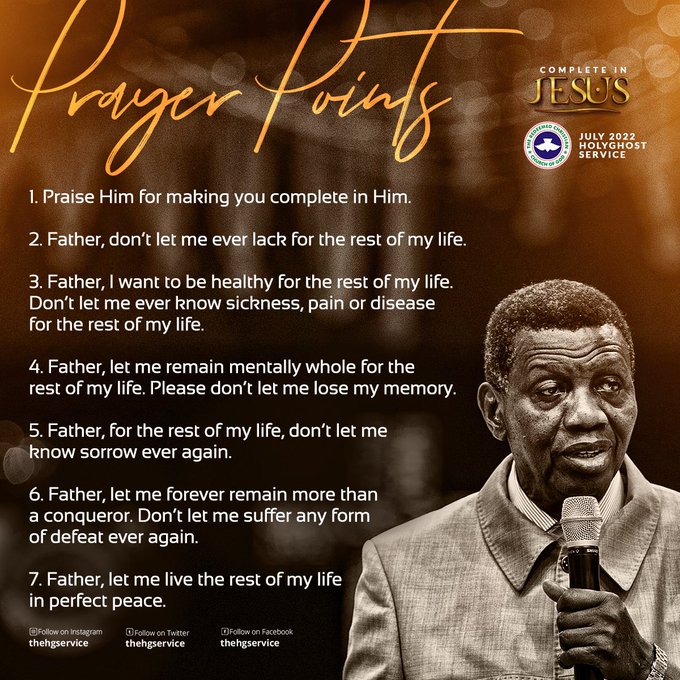 OPENING PRAYER DURING THE RCCG JULY 2022 HOLY GHOST SERVICE
Almighty God; there is Nothing too hard for You – Afterwards You are the Maker of Heaven and Earth.
The Earth is Yours and the Fullness thereof. There is no Darkness in You, there is no Hiding Place before You. We Worship You.
Thank You for January, Thank You for February, Thank You for March, Thank You for April, Thank You for May, Thank You for June and Thank You for the Second Half of this Year (2022). Please, accept our Thanks in Jesus Name.
Tonight; wherever the enemies of Your Children might be hiding; if they don't repent before daybreak; send down Your Fire.
With Your Mighty Hands, your Right Hands that has become Glorious in Power; the same Hand that has been fighting our battles for us – Flush them out.
Every enemies of the Church, wherever they may be; by Fire flush them out.
If they repent, save their Souls. If they don't repent quickly; The Consuming Fire just go ahead and consume them.
From now on, in the Life of all Your Children, let there be Victory and answer them by Fire.
Tonight Father, do something New – Save Souls, consume every Sickness, consume every Disease, consume every Yokes, consume every Bondage, consume every barrenness, consume every Failures, consume every defeats, consume every Shame and just Glorify Your Name.
Before the Sun rises tomorrow morning, let Your Children sing a New Song.
In Jesus Mighty Name we have Prayed – Amen!
Well, let Someone shout Hallelujah – Hallelujah!