Subscribe to Blog via Email
RCCG 2020 FAST DAY 40 Wednesday 19th February 2020
DAY 40: NATURAL DISASTERS-TEXT: Gen 6:17, Psa 46:1-3. Natural disasters are destructive events, calamities that happen by nature.
Open Heavens For Thursday February 20th 2020(Opens in a new browser tab)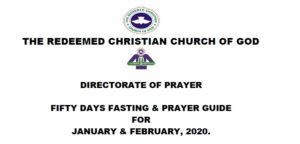 Such as floods, cyclones, earthquakes, fire, tsunami, landslide, plaques, etc. Men regard their occurrence as an act of God or by some strange powers; hence there is a need to pray against them from time to time.
Open Heavens Daily Devotional
guide was written by
Pastor E.A. Adeboye
, the General Overseer of the Redeemed Christian Church of God, one of the largest evangelical church in the world and also the President of Christ the Redeemer's Ministries.
The Open Heavens devotional
application is available across all mobile platforms and operating systems: iOS, Android, Blackberry, Nokia, Windows Mobile and PC.
1. Bless the Lord O my soul and all that is within me. Bless His Holy name. Psa 103: 1
2. Thank God for a new day and for the salvation of your soul
3. Let us bless the name of the Lord. Truly; it has been of the LORD'S mercies that we were not consumed, because his compassions that has not failed us. Lam 3:22 Psa 34:1 RCCG 2020 FAST DAY 40 Wednesday 19th February 2020
4. Thank the Almighty God for he is the controller of the universe. Psa 69:30
5. Let us praise the omnipotent God for being the possessor of heaven and the earth Gen 14:19.
6. Father, please forgive us of every generational sins in the mighty name of Jesus. Isaiah 59:1-2
7. Father, please don't let the rain of snares, fire, brimstone and horrible tempest ever be our portion again. Psa 11:6
8. Father, you are the Almighty God, don't let evil occur in our nations again.
9. Father, by your mercy and grace, let there be no sudden cry of sorrow in our habitations.
10. Father, please reverse the effects of evil floods that have caused destruction in our societies.
11. Father let your divine mercy rule over judgments that can warrant unforeseen destruction in our societies. Jas 2:13
12. Father, please redeem us from the destruction of earthquakes upon the surface of the earth. Jer. 15:21
13. RCCG 2020 FAST DAY 40 Wednesday 19th February 2020 Father, put an end to any form of sudden death caused by natural disasters. Acts 27:22 RCCG 2020 50 Days Fasting and Prayer points(Opens in a new browser tab)
14. Father, frustrate any programme of fire outbreak in all nations this year. RCCG 2020 FAST DAY 40 Wednesday 19th February 2020
15. Any destructive wind programmed to manifest in any part of this world this year, be still in Jesus name.
16. Father send help to all the victims of the past natural disasters.
17. Oh Lord, arrest any power using natural disasters to destroy lives in Jesus name. Rev. 6:8
PRAYER POINTS ON TODAY'S OPEN HEAVENS 17 FEBRUARY 2020 MONDAY(Opens in a new browser tab)