Subscribe to Blog via Email
RCCG CONGRESS 2019 PRAYER POINTS
RCCG CONGRESS 2019 THE GREAT TURNAROUND #TheGreatTurnAround #HGC2019 PASTOR E.A ADEBOYE
PRAYER RCCG CONGRESS 2019 PRAYER POINTS
FATHER, DURING THIS CONGRESS, PLEASE GIVE ME A PLEASANT SURPRISE
THE GARMENT OF PRAISE
MARK 10:46-52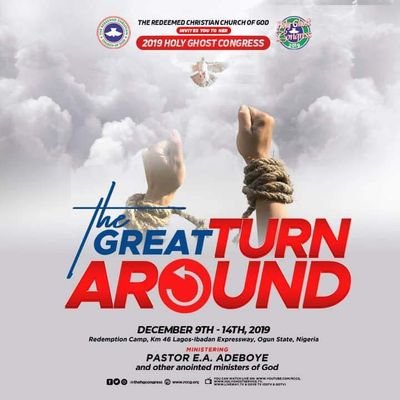 MESSAGE RCCG CONGRESS 2019 PASTOR E.A ADEBOYE
What is TURN AROUND? It means if you have been going backward, now you begin to go forward or if downward, you begin to go upward.
Great turn around means opportunities you have lost suddenly makes a turn around and comes back to you.
The great turn around can be found in the story of blind bartimeus.. After his encounter with Jesus, he had several turn around in his life.
1. God is a God of individuals. When he created you, he made you uniquely.. There is no one else like you. Whenever he does anything, it an individual thing he does. Rev. 3:20. Let your number one focus be yourself during this Congress. You talk about I/me and not We during crucial programs like this. Psa. 23:1&6. When it comes to praising the Lord, it's a personal and an individual matter. Psalm 34:1;103:1;108:8
2. Abraham's turn around came when he fed God. Gen. 18:1-14 the only food God wants from YOU is praise.
Open Heavens Daily Devotional
guide was written by
Pastor E.A. Adeboye
, the General Overseer of the Redeemed Christian Church of God, one of the largest evangelical church in the world and also the President of Christ the Redeemer's Ministries.
The Open Heavens devotional
application is available across all mobile platforms and operating systems: iOS, Android, Blackberry, Nokia, Windows Mobile and PC.
3. Hannah got her turn around when she made God an offer that he can't refuse. 1Sam 1:1-20. Psa. 50:23 there is an offer God can't refuse. When you pray and you don't get an answer, try praise.
4. When you have nothing else to offer God, offer praise. Mark 5:2-20; John 11:39-44
To place your request to God, you must first know Him and acknowledge His authority. If you want your praise to be accepted by God, then you need to be on his side. If you are not on his side, now is the time to do so. Give your life to him and he will accept your praise. To give your life to Christ online, please visit rccg.org click on altar call and follow the instruction(s) #TheGreatTurnAround #HGC2019
Praise God for ALL he has done for you. Praise him with the whole of your heart. Remember in all things to give thanks RCCG CONGRESS 2019 PRAYER POINTS E.A ADEBOYE