THE REDEEMED CHRISTIAN CHURCH OF GOD DIRECTORATE OF PRAYER THIRTY (30) DAYS PRAYER GUIDE TOWARDS THE REALISATION OF A NEW NIGERIA
RCCG DAY 11 FRIDAY 13TH NOVEMBER 2020 THIRTY (30) DAYS PRAYER FASTING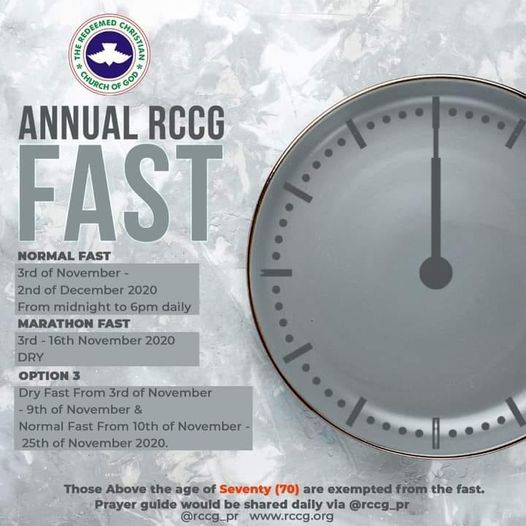 Our daily declaration during the period of fasting and prayer.
1. Nigeria; you will arise and shine again, for thy light is come.
2. All Prophesies of glory about Nigeria shall come to fulfilment in Jesus name.
3. I will eat the good of the land of Nigeria in Jesus name.
4. When the glory of Nigeria shall appear I and my family shall not disappear.
5. I thank you father for your good plan for Nigeria and answer to our prayers.
RCCG DAY 11 FRIDAY 13TH NOVEMBER 2020 THIRTY (30) DAYS PRAYER FASTING
TOPIC: PRAYER FOR FULFILMENT OF PROPHESIES IN NIGERIA
BIBLE TEXT: PROV 14:34, PSA 33:12
INTRODUCTION
Nigeria is a blessed country. God has promised salvation and through words of prophesies in our national anthem and pledge, we know that; in the name of Jesus "all will be well"
PRAYER POINTS
1. Father: We thank you for the image of Nigeria among Commonwealth of Nations.
2. Father; we thank you for the vision of a great Nigeria by our founding fathers.
3. Father; we are grateful for your promises of salvation through your son, our Father in the Lord. Pastor E.A Adeboye
4. Father we thank you for the promises through other men of God.
5. Father; You had said that, In the midst of our crisis situation; Salvation of Nigeria has been born; Help is on the way. Oh God fulfil your promise
6. Father send help and deliver Nigeria out of all her captivities
7. Nigeria, we hail thee. Our own dear native land. Though tribes and tongue may differ in brotherhood we stand in Jesus name
8. Our flag shall be a symbol for truth and justice to reign in Jesus name
9. The labour of our heroes past Shall never be in vain  RCCG DAY 11 FRIDAY 13TH NOVEMBER 2020 THIRTY (30) DAYS PRAYER FASTING
10. Father we ask for the grace to serve Nigeria with heart and might
11. Father keep our nation bound in freedom, peace, and unity in Jesus name
12. Oh God of creation, direct our noble cause Guide our leaders right
13. Help our youth the truth to know, in love and honesty to grow and living just and true. Great lofty heights let them attain
14. Father; we prophesy that Nigeria shall become a nation where peace and justice shall reign in Jesus name
15. Father; help all Nigerians; to serve their fatherland with love and strength and faith
16. Father we come against the locust, the cankerworm and the palmerworm from devouring Nigeria any longer. Stop the wave of corruption in Nigeria  RCCG DAY 11 FRIDAY 13TH NOVEMBER 2020 THIRTY (30) DAYS PRAYER FASTING
17. Father; please preserve and keep your son, the Vice President Prof. Yemi Osinbajo from every form of evil. Psm. 121:7
18. Father please lay your hands upon all the sectors of Nigeria and give us divine speed. I Kings 18:46
19. Father; uproot every plant that you have not planted and any sitting Goliath in Nigeria Matt.15:13.
20. Father let the doors of foreign investments open up such that; the economy will grow and there will be employments for the majority of our youths RCCG DAY 11 FRIDAY 13TH NOVEMBER 2020 THIRTY (30) DAYS PRAYER FASTING
Open Heaven Devotional Saturday 14 November 2020