Subscribe to Blog via Email
Tuesday 21st Jan 2020
Day 10 RCCG 50 Days FAST FASTING & PRAYER GUIDE FOR 20TH JANUARY, 2020
DAY 11: PRAYER FOR SPIRIT OF OBEDIENCE, TEXT: Jer 10:24, Psa 38:1
Psa 38:1
A Psalm of David, to bring to remembrance.
1
O 
Lord
, rebuke me not in thy wrath: neither chasten me in thy hot displeasure.
Jeremiah 10:24 King James Version (KJV)
Open Heavens Daily Devotional
guide was written by
Pastor E.A. Adeboye
, the General Overseer of the Redeemed Christian Church of God, one of the largest evangelical church in the world and also the President of Christ the Redeemer's Ministries.
The Open Heavens devotional
application is available across all mobile platforms and operating systems: iOS, Android, Blackberry, Nokia, Windows Mobile and PC.
24 O Lord, correct me, but with judgment; not in thine anger, lest thou bring me to nothing.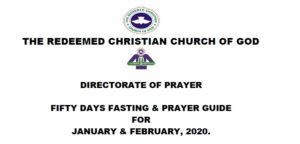 1. Praise and worship God for Who He is. Isa 44:6
2. Let us thank God for His marvelous works on the earth. Psa 40:5
3. Let us thank God for His mercy and goodness in our life and family. Psa 23:6
4. Let us thank God for His goodness and mercy in His church. Psa 23:6
5. Let us thank God for the Bible, the written word of God which is the manual for our soul. 2Tim 3:15-17
6. Let us thank God for divine guidelines and instructions for our well-being which are contained in the bible for us to obey. 2Tim 2:16
7. Father, be merciful unto us for all our acts of disobedience
8. Father, please give us a willing heart to obey your command to go and win souls
9. Father, teach us to number our days so that we may rightly apply our heart to your wisdom. Psa 90:12
10. Father, do not give up on us, but deal with us according to your mercy and compassion. Jer 10:24
11. Father, direct our paths to fulfill your counsel so that we can eat the goods of this land(Put your country). Isa 1:19
12. Father, please speak to us in the language we can always understand so that we can know exactly what you want us to do.
13. Father, Guide our heart right, to discern the voice of strangers and not to obey them. John 10: 3-5