RCCG House Fellowship Leader's Manual 22 March 2020, Lesson 30 – Divine Mercy And Favour
Subscribe to Blog via Email
Click HERE for Previous RCCG Manual
TOPIC: Divine Mercy And Favour (scroll down for RCCG House Fellowship 22 March 2020 Anthem)
PRAYER POINT: Father, thank you for your mercy and favour over my life.
PREVIOUS KNOWLEDGE: Leaders should ask members what they understand by Restitution.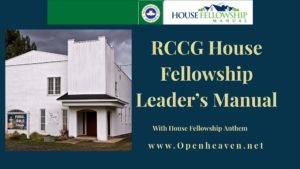 Today's RCCG House Fellowship Leader's Manual 15 March 2020
BIBLE PASSAGE: Matthew 15:29-39
29 And Jesus departed from thence, and came nigh unto the sea of Galilee; and went up into a mountain, and sat down there.
30 And great multitudes came unto him, having with them those that were lame, blind, dumb, maimed, and many others, and cast them down at Jesus' feet; and he healed them:
31 Insomuch that the multitude wondered, when they saw the dumb to speak, the maimed to be whole, the lame to walk, and the blind to see: and they glorified the God of Israel.
32 Then Jesus called his disciples unto him, and said, I have compassion on the multitude, because they continue with me now three days, and have nothing to eat: and I will not send them away fasting, lest they faint in the way.
33 And his disciples say unto him, Whence should we have so much bread in the wilderness, as to fill so great a multitude?
34 And Jesus saith unto them, How many loaves have ye? And they said, Seven, and a few little fishes.
35 And he commanded the multitude to sit down on the ground.
36 And he took the seven loaves and the fishes, and gave thanks, and brake them, and gave to his disciples, and the disciples to the multitude.
37 And they did all eat, and were filled: and they took up of the broken meat that was left seven baskets full.
38 And they that did eat were four thousand men, beside women and children.
39 And he sent away the multitude, and took ship, and came into the coasts of Magdala.
LESSON INTRODUCTION:
Mercy is the ability to forgive and forget the sins of others. It may also be defined as an act of being compassionate to others, especially those who ordinarily would not have been forgiven. Jonah 2:1-10, Jonah 4:2. Favour, on the other hand, is an act of kindness performed or granted out of goodwill to others. 1Chronicle 28:4, 1Kings 3:7. Divine mercy and favour therefore is God's ability to forgive human beings their sins and thereafter show kindness willingly, without any string attached to it. 1 Kings 3:6.
We pray that more than what we know, the master teacher, that is the holy Spirit, will reveal more, to us as we study together, In Jesus Name. Amen
MEMORY VERSE: "Thou shalt arise, [and] have mercy upon Zion: for the time to favour her, yea, the set time, is come." – Psalm 102:13.
TEXT REVIEW: Matthew 15:29-39
i. God is mercyful to those who draw near him.
ii. God is ever mercyful to his children.
iii. One major criteria to obtain mercy is by showing mercy to others
LESSON OUTLINES:
CHARACTERISTICS OF DIVINE MERCY AND FAVOUR.
The under listed characteristics distinguished divine mercy and favour of mankind:
It is God's prerogative, exclusively, to decide who is qualified to receive His mercy and favour. Romans 9:15-16, Matthew 17: 14-19, 1 Samuel 2:26, Matthew 20:30-34.
Man cannot have mercy and show favour unto someone unless ordained by God. Esther 2:15-17, 1Samuel 2:26.
Man's mercy and favour are always done with strings attached.
They are also with ulterior motives.
God's mercy and favour once he makes the statement, it's performance is guaranteed.
God's mercy endureth forever. 1 Chronicles 16: 34.
EXAMPLES OF THOSE WHO ENJOYED MERCY AND FAVOUR OF GOD
i. David. 1 Samuel 16:1,22, Psalm 18:50, 2 Samuel 7: 9-15.
ii. Isrealites. Psalm 44:1-3, Exodus 14:17-30, Isaiah 54:7-8, Jeremiah 30:18, 33:26, Exodus 12:36, Psalm 106:45&46.
iii. Virgin Mary. Luke 1:27-31.
iv. The Two (10) lepers. Luke 17:12-19.
V. Blind Bartimeaus. Mark 10:46-52.
Vi. The man sick of Palsy. Mattew 9:1-7.
Vii. The Two (2) blind men. Matthew 9:27-30.
Viii. The woman of Cannan. Mattew 15:22-28.
ix. Great Multitudes. Mattew 14:14-21.
x. Esther. Esther 5:2-8.
xi. Joseph. Genesis 39:21.
xii. Samuel. 1Samuel 2:26.
xiii. Daniel. Daniel 1:9.
SUMMARY:
God's mercy is ever sure.
CONCLUSION:
Divine Mercy and favour is God's ability to forgive human their sins and therafter show kindness wiilingly without any string attached to it. 1king 3:6. God's mercy endures forever 1 Chronicles 16: 14.
ASSIGNMENTS:
List other examples that obtained mercy from the Lord.
PRAYER POINTS
Thank God for the salvation of your soul.
Father, we thank you for your mercy and favour which are like Siamese twins over us.
Daddy, please let our families swim in your ocean of mercy and divine favour.
Daddy, whenever we offend you, please do not reject us but correct us in love, let your mercy and favour speak on our behalf.
Father, please continue to shower your mercy and favour upon RCCG, so that you will meet the church on your second coming.
GOLDEN DIET FOR THE WEEK
MONDAY: Romans 9:15-16, Psalm 102:13, 1 Peter 2:9-10. Let All my sins will be forgiven by God's mercy and favour.
TUESDAY: Act 13:22. The grace to take my fellowship to that level where all my sins will be completely forgiven like David, please give unto me.
WEDNESDAY: Jonah 2:1-10. Divinely restore me through your mercies & favour.
Open Heavens Daily Devotional
guide was written by
Pastor E.A. Adeboye
, the General Overseer of the Redeemed Christian Church of God, one of the largest evangelical church in the world and also the President of Christ the Redeemer's Ministries.
The Open Heavens devotional
application is available across all mobile platforms and operating systems: iOS, Android, Blackberry, Nokia, Windows Mobile and PC.
THURSDAY: Numbers 11:11-25. Father, please let me, my family & all RCCG members receive your favour and mercy.
FRIDAY: Proverbs 3:1-4, Proverbs 12:2. Father, please help us to keep Your commandments & statues.
SATURDAY: Luke 1:26-37. God like you favoured Mary & Elizabeth, please favour Daddy and Mummy G.O. in all areas of their lives.
SUNDAY: Luke 2:52:31. Father, please favour our children as they grow.
House Fellowship Anthem
I love this family Of God,
So closely knitted into one,
They have taken me into their arms
And 'am so glad to be
A part of this great family
I bless this family of God,
So greatly prospered by the Lord,
They have taken me into their arms
And 'am so glad to be
A part of this great family
I know this family of God,
So deeply rooted in the word,
They have taken me into their arms
And 'am so glad to be
A part of this great family
I see this family of God,
So highly lifted above all,
They have taken me into their arms
And 'am so glad to be
A part of this great family
Come and join this family of God,
So highly favoured by the Lord,
They have taken me into their arms
And 'am so glad to be
A part of this great family
SUGGESTED TIME SCHEDULE
10 minutes for Opening Prayer, Praise and Worship
10 minutes for Testimonies
15 minutes for Bible Discussion
15 minutes for General Prayers
10 minutes for Questions & Answers
5 minutes for Welcoming New Members
10 minutes for Announcements, Offering, House Fellowship Anthem & Closing Prayers.
Total – 60 Minutes (1 Hour)
AUTHOR: Pastor E.A. Adeboye.