RCCG HOUSE FELLOWSHIP LEADERS' MANUAL 28TH FEBRUARY 2021 LESSON: 26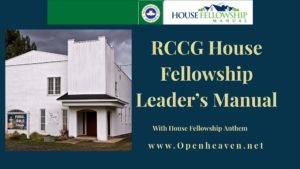 RCCG HOUSE FELLOWSHIP LEADERS' MANUAL 28TH FEBRUARY 2021 LESSON: 26
TOPIC: END OF SECOND QUARTER / INTERACTIVE SESSION
HOUSE FELLOWSHIP ANTHEM:
1. I Love This Family Of God,
So Closely Knitted Into One,
They Have Taken Me Into Their Arms
And `am So Glad To Be
A Part Of This Great Family
2. I Bless This Family Of God,
So Greatly Prospered By The Lord,
They Have Taken Me Into Their Arms
And ´am So Glad To Be
A Part Of This Great Family
3. I Know This Family Of God,
So Deeply Rooted In The Word,
They Have Taken Me Into Their Arms
And ´am So Glad To Be
A Part Of This Great Family
4. I See This Family Of God,
So Highly Lifted Above All,
They Have Taken Me Into Their Arms
And ´am So Glad To Be
A Part Of This Great Family
5. Come, Join This Family Of God,
So Highly Favoured By The Lord,
They Have Taken Me Into Their Arms
And ´am So Glad To Be
A Part Of This Great Family
SUMMARY OF LESSONS (14 – 25)
LESSON: 14
TOPIC: JESUS' POSITION ON VIGILS AND PRAYING ON THE MOUNTAINS.
TEXT: MATTHEW 6:6-8
MEMORY VERSE:
"And it came to pass in those days, that He went out into a mountain to pray, and continued all night in prayer to God." – Luke 6:12
LESSON INTRODUCTION
Moderation is needed in nearly all Christian virtues except in prayer, Philippians 4:5-6 is a guide on on this. Prayer is generally known and seen in Christianity as a means of communication between man and God. Jesus' ministry while on earth evidently illuminated this important mandate, Luke 18:1; Luke 6:12.
RCCG TOPIC THIS WEEK 
LESSON OUTLINES
PRAYING ON MOUNTAINS:
What is a mountain? In the ordinary point of view, mountain is a large mass of earth and rock rising above the common level of the earth or adjacent land, usually given by geographers as above 1000 feet (or 304,8 metres)by in height, though such masses may still be described as hills in comparison with larger mountains.
Praying on a mountain could mean, climbing the physical mountain for prayer. It could also mean, being in a solitary place (not necessarily a physical mountain) to pray without any distraction. It is a place of spiritual retreat. The important thing is that your mind does not wander away.
a,) Whether you are on the mountain for worship or prayer, or both, you must do so in the spirit. – John 4:23-24
b,) Should you plan to go to the mountain for prayer or personal retreat / revival, be focused on meeting Jesus Christ only and not man, for many false prophets abound everywhere. – Matthew 7:15, 24:11
c,) Jesus prayed on the mountain, – Luke 6:12 and He also prayed in the garden of Gethsemane. – Matthew 26:36-39
d,) Jesus prayed all night, so Christians must hold vigils like their master, Jesus Christ. – Luke 6:12, Luke 18:1
SUMMARY:
Prayer is a mighty weapon for Christians to dislodge any satanic power. So pray without ceasing and pray in the spirit and in understanding also.
CONCLUSION:
The importance of prayers to believers cannot be over emphasized. So believers in Christ must pray always (Ephesians 6:18), irrespective of being on a physical mountain or not. We must pray in the spirit without distraction.
XXXXXXXXXXX
LESSON: 15
TOPIC: WILL YOU GIVE GOD YOUR ISAAC?
BIBLE TEXT: GENESIS 22:1-14
MEMORY VERSE:
"And He said, Take now thy son, thine only son Isaac, whom thou lovest, and get thee into the land of Moriah; and offer him there for a burnt offering upon one of the mountains which I will tell thee of." – Genesis 22:2
LESSON INTRODUCTION:
"Behold, I am the LORD, the God of all flesh: is there any thing too hard for me?" – Jeremiah 32:27. The name Isaac means laughter. Abraham was commanded by God to sacrifice Isaac, and Isaac was the son of promise he had waited for; at long last, Isaac was born. If you were to be Abraham, what would you have done? Please, before you answer this question, let us look at what Isaac was to Abraham.
LESSON OUTLINES:
There are two lesson outlines, namely:
A: WHO WAS ISAAC TO ABRAHAM?
1 Isaac was a covenant son, promised to Abraham by God. – Genesis 15:1-6
2. Isaac was Abraham's legitimate heir. Without Isaac, Abraham's properties will be plundered by strangers. – Ezekiel 28:7
3. To fulfill the covenant of making Abraham a father of many nations, Isaac must not die. – Genesis 17:1-18
These and many more were the promises that God made to Abraham concerning Isaac, yet, God demanded that the same Isaac should be killed as a sacrificial lamb by his father (Abraham).
When God demands for your Isaac, He wants to test your love and obedience to Him. You must love God to the extent of giving Him anything He demands from you. After all He is the giver of that gift in the first place.
God rewards handsomely anyone that passes this hard test and surrenders his Isaac. – Genesis 22:17-18
B: WHAT IS YOUR ISAAC?
What you treasure most may be your Isaac. Can you let go of it to the hands of the Lord?
SUMMARY:
Abraham became a friend of God because he offered Isaac to God.
CONCLUSION:
Those who fear God and obey Him completely like Abraham to the point of giving God their Isaac will experience an overflowing blessing from God. – Genesis 22:12-18
XXXXXXXXX
LESSON: 16
TOPIC: GOD USES HARD WORKING MEN AND WOMEN
TEXT: 1 KINGS 19:15-21
MEMORY VERSE:
"Proverbs 6.6 – Go to the ant, thou sluggard; consider her ways, and be wise." – Proverbs 6:6
INTRODUCTION:
Our God is not lazy. The bible records that He created the whole world in six days then rested in just one day. And this same God created us in His image, so we must resemble Him by being hard working. For God to use anybody, such a fellow must have been a very committed worker, it does not matter the level of responsibility you are given or how little or menial it is. What matters is how you apply yourself to it. The narrative from our today's text is a food for thought.
LESSON OUTLINES
1. PROPHET ELISHA AS A CASE STUDY:
God told Prophet Elijah to ordain Elisha in his (Elijah) stead, because Elijah will soon be taken away. And this Elisha was a farmer, – not a lazy farmer. Elijah met him (Elisha) on his farm working.
Some lessons to learn:
i. Farming was Elisha's occupation.
ii. He had employees under him.
iii. He was always with his employees in the farm.
Remember the bible says "whatsoever thy hand findeth to do, do it with thy might…" – Ecclesiastes 9:10a.
Also the Holy Spirit admonishes us in 2 Thessalonians 3:10 that anybody who would not work, neither should he eat.
B: OTHER EXAMPLES OF MEN WHOM GOD USED MIGHTILY FOR THEIR GENERATION ARE:
a- David. – 1 Samuel 16:11-12
b- Joseph – Genesis 40:1-4; 41:38-40
c- Jephthah – Judges 11:1-3
d- Moses – Exodus 3:1-10
e- Joshua – Exodus 17:9-13
f- Paul – Acts 8:1-4; 9:1-9; 15
SUMMARY:
Be hard working.
CONCLUSION
God is still searching for hard working men and women in our present days. So find something meaningful to occupy yourself, it does not matter how menial it may look. Be hard working and gain respect from God and men.
XXXXXXXXXX
LESSON: 17
TOPIC: GREED IS DESTRUCTIVE
BIBLE TEXT: 2 KINGS 5:20-27
MEMORY VERSE:
"And He said unto them, Take heed, and beware of covetousness: for a man's life consisteth not in the abundance of the things which he possesseth." – Luke 12:15
LESSON INTRODUCTION: Greed is a selfish or excessive desire for more than is needed or deserved, especially for money, wealth, food or other possessions. It is not a virtue and it is more dangerous and destructive for believers to possess this character. Today's bible text is crystal clear by exposing this stigma in the character of GEHASI, the servant of the great prophet Elisha (the one who received the double portion of Prophet Elijah's anointing). Gehasi would have automatically succeeded his master, but on the account of greed he lost the opportunity of becoming Prophet Elisha's successor. What a monumental loss!
LESSON OUTLINE
There is one lesson outline.
THE END RESULTS OF GREED:
1: Greed can lead its victim to an untimely death by committing suicide (- a good example in the bible is Judas Iscariot who was offered money to betray his master, Jesus Christ- Matthew 27:1-5).
2: It can bring an incurable disease upon such an individual and it may transfer to his/her generation yet unborn (- Gehasi left the presence of Prophet Elisha with leprosy and brought the curse to his children – 2 Kings 5:26-27).
3: God's anger can come heavily upon such a person (- Prophet Balaam had a negative encounter with the Angel of God on his (Balaam's) way to curse the Israelites for King Balak – Numbers 22:21-32; Jude 1:11).
4: It can lead to a rejection as a leader by God – King Saul went for the spoil or booty of the war that God instructed him not to spare anything in the land of Amalek – 1 Samuel 15:18-26).
SUMMARY:
Please eschew greediness.
CONCLUSION:
Man became selfish after the fall. So, from no that time till now, man is not free from greediness. Except a regenerated man who has gone to the cross of Jesus Christ to dip himself/herself in the blood. God never ceases to mete down punishment on any person(s) who indulges in this scourge. Please repent immediately and make restitution like Zacchaeus – Luke 19:8.
XXXXXXXXXX
LESSON: 18
TOPIC: DELAY IS NOT DENIAL
BIBLE TEXT: 1 SAMUEL 1:5-20
MEMORY VERSE:
"For the vision is yet for an appointed time, but at the end it shall speak, and not lie: though it tarry, wait for it; because it will surely come, it will not tarry." – Habakkuk 2:3
LESSON INTRODUCTION:
The bible is full of stories of people that were waiting upon God's promises to be fulfilled. Some saw it as being unusually delayed so they decided to help themselves by doing what God would ordinarily not expect them to do. While some took God by His word and waited till God's set time, and their joy both within and without was unspeakable. Statistics in the bible have explicitly shown that God always fulfills His promise(s) especially when it appears to man to have been delayed.
God has His own timetable and at the time appointed by Him, He will fulfill His promises. – Psalm 102:13
LESSON OUTLINES:
There are two outlines:
A:THOSE THAT EXPERIENCED DELAY BEFORE RECEIVING THEIR BLESSINGS:
1: HANNAH: She was mocked as barren and God gave her a national Prophet – Samuel and five other children. – 1 Samuel 1:1-21
2: JOSEPH: God made all his dreams to come to pass in Egypt. – Genesis 37:2-10; Genesis 41:37-40
3: ZACHARIAS AND ELIZABETH: At their old age God gave them John the Baptist. – Luke 1:13-20; 57-64
4: Despite God's promises, Abraham waited for twentyfive years before God gave him Isaac. – Genesis 12:2; 15:4-6; 21:1-5
5: Before David became King of Judah and later the King of Israel, he waited for about 15-17 years despite Samuel's anointing. – 1 Samuel 16:1-13; 2 Samuel 2:4
B: WHAT TO DO WHILE WAITING:
(i) Put all your trust on God (Proverbs 3:5). Know that He cannot lie or fail (Numbers 23:19).
(ii) Have faith in God always (Hebrews 11:1).
(iii) Live holy (1 Peter 1:15-16; Matthew 5:48).
(iv) Pray and thank God always (Philippians 4:6).
(v) Do not listen to alternative advices from people (Matthew 24:23; Luke 17:23).
SUMMARY:
Have the assurance that whatever God promises you, He will surely fulfill same.
CONCLUSION:
Be resolute that whatsoever God has said He will do. That is exactly what He will do no matter the delay. Please do not take any alternative route.
XXXXXXXXXXXXXXX
LESSON: 19
TOPIC: GOD'S BLESSING IS WITHOUT SORROW
BIBLE TEXT: JOB 42:12-17
MEMORY VERSE: "The blessing of the LORD, it maketh rich, and he addeth no sorrow with it." – Proverbs 10:22
LESSON INTRODUCTION:
"This book of the law shall not depart out of thy mouth; but thou shalt meditate therein day and night, that thou mayest observe to do according to all that is written therein: for then thou shalt make thy way prosperous, and then thou shalt have good success." (Joshua 1:8). From the above underlined quotation verse, 'good success' could inferably mean that there are successes; that can be referred as 'BAD SUCCESSES' and this cannot come from God.
What is sorrow (as a verb)?
(i) to feel or express grief.
(ii) to feel grief over; to mourn; to regret.
From the aforementioned meaning of 'sorrow', God will not give you a blessing that you will regret at the end.
LESSON OUTLINES:
There are two outlines:
A: THE ENDPRODUCT OF BAD SUCCESS:
1: It will soon fizzle out with time (the magicians of Pharaoh) – Exodus 7:9-12
2: It cannot stand the test of time (the contest between Elijah and the prophets of Baal). – 1 Kings 18:12-40
3: No peace of mind – Isaiah 48:22; (King Ahab killed Naboth so that he could possess Naboth's vineyard). – 1 Kings 21:15-21
4: It will disappear when it is needed most. – Acts 16:16-20
5: It could cause you and your family members untimely death (Haman was promoted and the promotion intoxicated him). – Esther 2:21-23; 3:1; 7:6-10; 9:6-10.
B: BENEFITS OF WAITING ON GOD FOR SUCCESS:
1: The success will be inherited by other generation/s. – Jeremiah 33:17; 1 Kings 9:5
2: The person will eat the good of the land. – Isaiah 1:19
3: Such a fellow will enjoy allround wellness. – Isaiah 10:3
4: The fellow will not sow and another person will harvest it. – Isaiah 65:22
5: God will satisfy them with long life. – Psalm 91:16
SUMMARY:
All good blessings come from God. So, wait for them.
CONCLUSION: There is no shortcut to good success or blessing. If you try any other means for success or blessing, you may not live long enough to tell the story. So, please wait upon the Lord and obey His instructions.
XXXXXXXXXXX
LESSON: 20
TOPIC: THE POWER OF VISITATION
BIBLE TEXT: LUKE 1:39-56
MEMORY VERSE:
"And whence is this to me, that the mother of my Lord should come to me?" – Luke 1:43
LESSON INTRODUCTION:
Visitation has been the top plan of God to humanity right from the garden of Eden. God always visited Adam and Eve for fellowship and that legacy has been followed by our Lord Jesus Christ and even His disciples practiced it, especially Apostle Paul and his team in Acts 15:36.
* LESSON OUTLINES:*
There are three outlines:
A: IMPORTANCE AND POWER IN VISITING BRETHREN:
-God Himself does it (Genesis 3:8). Our heavenly Father Himself laid the foundation by regularly visiting Adam and Eve to have close fellowship with them.
-In Luke 1:40-41, when Mary visited Elizabeth, there was excitement. Even the baby in her womb was excited.
-It helps the brethren to be strong in the Lord.
-It encourages brethren to look up to Jesus as the author and finisher of their faith.
-It gives them a sense of belonging.
-It brings changes in the lives of the weak vessels.
B: THOSE THAT FOLLOWED THE MINISTRY OF VISITATION:
-We should know as Christians that visitation is a ministry which we must not joke with because our master Jesus Christ did it on a daily basis.
-Apostle Paul was so incurable in visitation and follow up that he took it upon himself to visit towns, cities, homes and individuals for the sake of the gospel and for sharing the love of Christ in the early church. – Acts 15:36; Acts 20:18-21
-Peter visited Cornelius (Acts 10). He also visited Dorcas (Acts 9).
-John visited the home of Gaius many times (3 John 1:12-14)
C: WHAT HAPPENS WHEN JESUS VISITS?
The bible recorded a lot of things associated with Jesus' visitation, namely miracles, healing, deliverance, blessings etc.. Jesus visited the house of Peter and healed his mother in law.
-Jesus visited Capernaum and the paralysed man was healed.
-Jesus visited the pool of Bethesda and the cripple man was healed of 38 years of sickness.
-Jesus visited the house of Zacchaeus and there was salvation.
SUMMARY:
Please try to visit and follow up new and old members in your housefellowship centre or/ and your parish.
CONCLUSION:
Involve yourself in the ministry of visitation and follow up because our heavenly Father has set the example.
XXXXXXXXXXX
LESSON: 21
TOPIC: GOD DECIDES WHEN TO SPEAK AND WHO TO SPEAK TO
*BIBLE TEXT: 1 SAMUEL 3:1-18
MEMORY VERSE:
"And it came to pass after ten days, that the word of the LORD came unto Jeremiah." – Jeremiah 42:7
LESSON INTRODUCTION:
The discretion is of the Lord on when to speak and who to speak to. Today's bible reading attests to this statement. Eli, the high priest, was there, but God decided to call the boy Samuel and began to speak to him.
LESSON OUTLINES:
There are three outlines:
A: PATIENCE IS A NECESSITY:
If you will succeed in your walk with God, be patient. God is not our errand boy that you order around. He has the discretion whether to answer you instantly or not. Remember in the book of John 15:16 Jesus said that He is the one who has chosen us, and not vice versa. In Luke 18:7 Jesus Christ also said, when you pray, the answer may tarry, but wait, it will surely come.
B: GOD DECIDES ON WHEN TO SPEAK:
Our memory verse in Jeremiah 42:7 is quite revealing on this; the Bible says, it was not until after ten days that God answered Prophet Jeremiah's prayer for direction which he tabled on behalf of the people. One would have expected God's answer the very minute Prophet Jeremiah prayed, because of its urgency.
C: GOD'S SOVEREIGNTY EVEN IN REVELATION:
Prophet Elisha confirmed the sovereignty of God on the type of information He reveals in 2 Kings 4:27: "…And the man of God said, Let her alone; for her soul is vexed within her: and the LORD hath hid it from me, and hath not told me." This was the same man that God was revealing the secret discussions that were going on in the palace of the King of Syria (2 Kings 6:11-12). Elisha was not only hearing God but he could see spiritually also (2 Kings 6:16-17).
SUMMARY:
Learn how to hear from God. When He speaks to you don't take it for granted.
CONCLUSION:
Beloved, please don't despair when answers to your prayers do not come from God at the time expected. Know this: Naaman would have missed his healing but for his servants, because he had a stereotype mind on how God will perform His healing on him. – 2 Kings 5:10-11.
XXXXXXXXXXX
LESSON: 22
TOPIC: WHEN A MAN'S WAYS PLEASE THE LORD
BIBLE TEXT: 1 KINGS 5:1-5
MEMORY VERSE:
"When a man's ways please the LORD, he maketh even his enemies to be at peace with him." – Proverbs 16:7
LESSON INTRODUCTION:
"The king's heart is in the hand of the LORD, as the rivers of water: He turneth it whithersoever He will." – Proverbs 21:1.
Revisiting the memory verse; do you know all your enemies? Or can you explain when and how they afflict or attack their victims? Or can you fight all your enemies? Why don't you submit to God totally and see what He will do to your enemies. God is omni-potent (all powerful) and He can touch your enemies' heart one by one so that they will be at peace with you.
LESSON OUTLINES:
There are two outlines:
A: SEVERAL WAYS GOD DEALS WITH THE ENEMIES OF HIS CHILDREN:
1: He can make them amazingly powerless (David said: He prepares a table before me in the presence of mine enemies – Psalm 23:5)
2: He can command the ground to open and swallow them alive. – Numbers 16:26-34
3: He can drown them in the sea. – Exodus 14:27-28
4: He can make them to be at peace with you. – Proverbs 16:7
B: WAYS YOU CAN PLEASE THE LORD:
1: Fear the Lord and reverence Him all the time. – Ecclesiastes 12:13
2: Obey the Lord always. – Job 36:11
3: Serve Him in Spirit. – John 4:23-24; Romans 8:8-14
4: Make Jesus Christ your role model. – Luke 5:11
5: Have faith in God. – Hebrews 11:1-6
6: Always yearn to do the will of God. – Luke 22:42
7: Give sacrificially. – Ecclesiastes 11:6
8: Live holy and hate iniquity. – Hebrews 1:9; Habakkuk 1:13
SUMMARY:
Everything in heaven and on earth has a price. So, pay for it.
CONCLUSION:
Let your life please the Lord. By so doing He will make your enemies to be at peace with you and their souls can be won to the Lord.
XXXXXXXXXXXX
LESSON: 23
TOPIC: THE CONTEST OF THE TWO SIMONS
BIBLE TEXT: ACTS 8:14-24
MEMORY VERSE:
"But Peter said unto him, Thy money perish with thee, because thou hast thought that the gift of God may be purchased with money." – Acts 8:20
LESSON INTRODUCTION:
What is contest or encounter? This connotes a fight or conflict that must be won and the person must humble himself/herself for God to take over his/her heart. This is what Simon the sorcerer did not do until he met with Simon Peter, though Simon the sorcerer was claiming to have surrendered his life to the Lord Jesus Christ like others did in the land of Samaria when Philip preached to them. However, he did not let go sorcery which was his former practice and handiwork that was of the devil. Though his physical appearance blended with the people of God, baptised with them, yet his mind was to take the new discovered power and add it to his magic for more powers. Jesus Christ said in the Bible that no one can put a new wine into old bottles: else the new wine will burst the bottles (Mark 2:22). This was the case, when the Holy Spirit revealed Simon the sorcerer's heart to Simon Peter.
LESSON OUTLINES:
There is one outline:
HIGHLIGHTS OF SOMEONE WHO HAS NOT ENCOUNTERED JESUS CHRIST:
1: Any person claiming to be born again but still committing sin. – Romans 6:1-2
2: The person is easily enticed by the things of the world. – Romans 12:2; John 17:15-16; 1 John 2:15-17
3: The person loves darkness rather than light. – John 3:19-21
4: The works of the flesh are manifested in the person. – Galatians 5:17-21
5: The person will always trivialise God's word. – Matthew 24:35; Luke 21:33
SUMMARY:
Please don't behave like Simon the sorcerer in your housefellowship centre or your parish, for God searches the heart. – Jeremiah 17:10
CONCLUSION:
If you are there in the church or in the housefellowship centre pretending to be born again, please repent today so that you can experience the time of refreshing. – Acts 3:19
XXXXXXXXXX
LESSON: 24
TOPIC: KINGS ARE NOT SAVED BY THEIR LARGE SIZES OF THEIR ARMIES
BIBLE TEXT: 1 KINGS 20:1-21
MEMORY VERSE:
"There is no king saved by the multitude of an host: a mighty man is not delivered by much strength." – Psalm 33:16
LESSON INTRODUCTION:
Benhadad, the king of Syria gathered thirty-two kings and their chariots to fight the king of Israel according to our today's text, because he saw Israel to be small in size likewise her men of war. Little did he know that by going to mock Israel he was in turn mocking their God. When the God of Israel stood up and fought against him, he came and pleaded for leniency. Romans 8:31 has this to say: "…if God be for us, who can be against us?" Nothing can be against you, if your trust is in God. It does not matter your size, provided that God is on your side, you are on the path of victory. Please note this: Whether you are a secular king with a kingdom that you oversee or you are a King and Priest in God's kingdom according to Revelation 1:6 and 5:10, note that one with God is majority.
LESSON OUTLINES:
There is one outline:
THOSE THAT WERE DELIVERED IN WAR BY GOD IRRESPECTIVE OF THEIR SIZES
1: GIDEON: He discomfited the Midianites with only three hundred men by God's instruction. – Judges 7:2; 5-7
2 And the LORD said unto Gideon, The people that [are] with thee [are] too many for me to give the Midianites into their hands, lest Israel vaunt themselves against me, saying, Mine own hand hath saved me.
5 So he brought down the people unto the water: and the LORD said unto Gideon, Every one that lappeth of the water with his tongue, as a dog lappeth, him shalt thou set by himself; likewise every one that boweth down upon his knees to drink.
6 And the number of them that lapped, [putting] their hand to their mouth, were three hundred men: but all the rest of the people bowed down upon their knees to drink water.
7 And the LORD said unto Gideon, By the three hundred men that lapped will I save you, and deliver the Midianites into thine hand: and let all the [other] people go every man unto his place.
2: KING JEHOSHAPHAT: He appointed a praise team at the war front and by the time they finished singing, there was no war to fight. –
2 Chronicles 20:20-24
20 # And they rose early in the morning, and went forth into the wilderness of Tekoa: and as they went forth, Jehoshaphat stood and said, Hear me, O Judah, and ye inhabitants of Jerusalem; Believe in the LORD your God, so shall ye be established; believe his prophets, so shall ye prosper.
21 And when he had consulted with the people, he appointed singers unto the LORD, and that should praise the beauty of holiness, as they went out before the army, and to say, Praise the LORD; for his mercy [endureth] for ever.
22 # And when they began to sing and to praise, the LORD set ambushments against the children of Ammon, Moab, and mount Seir, which were come against Judah; and they were smitten.
23 For the children of Ammon and Moab stood up against the inhabitants of mount Seir, utterly to slay and destroy [them]: and when they had made an end of the inhabitants of Seir, every one helped to destroy another.
24 And when Judah came toward the watch tower in the wilderness, they looked unto the multitude, and, behold, they [were] dead bodies fallen to the earth, and none escaped.
3: ABRAHAM: He went and rescued his nephew (Lot) with his 318 (three hundred and eighteen) trained men. –
Genesis 14:5-17
5 And in the fourteenth year came Chedorlaomer, and the kings that [were] with him, and smote the Rephaims in Ashteroth Karnaim, and the Zuzims in Ham, and the Emims in Shaveh Kiriathaim,
6 And the Horites in their mount Seir, unto El-paran, which [is] by the wilderness.
7 And they returned, and came to En-mishpat, which [is] Kadesh, and smote all the country of the Amalekites, and also the Amorites, that dwelt in Hazezon-tamar.
8 And there went out the king of Sodom, and the king of Gomorrah, and the king of Admah, and the king of Zeboiim, and the king of Bela (the same [is] Zoar;) and they joined battle with them in the vale of Siddim;
9 With Chedorlaomer the king of Elam, and with Tidal king of nations, and Amraphel king of Shinar, and Arioch king of Ellasar; four kings with five.
10 And the vale of Siddim [was full of] slimepits; and the kings of Sodom and Gomorrah fled, and fell there; and they that remained fled to the mountain.
11 And they took all the goods of Sodom and Gomorrah, and all their victuals, and went their way.
12 And they took Lot, Abram's brother's son, who dwelt in Sodom, and his goods, and departed.
13 And there came one that had escaped, and told Abram the Hebrew; for he dwelt in the plain of Mamre the Amorite, brother of Eshcol, and brother of Aner: and these [were] confederate with Abram.
14 And when Abram heard that his brother was taken captive, he armed his trained [servants], born in his own house, three hundred and eighteen, and pursued [them] unto Dan.
15 And he divided himself against them, he and his servants, by night, and smote them, and pursued them unto Hobah, which [is] on the left hand of Damascus.
16 And he brought back all the goods, and also brought again his brother Lot, and his goods, and the women also, and the people.
17 # And the king of Sodom went out to meet him after his return from the slaughter of Chedorlaomer, and of the kings that [were] with him, at the valley of Shaveh, which [is] the king's dale.
On the contrary, when God departed from the camp of the Israelites because of Achan's sin (Joshua 7:1-11); Despite the large size of the forces of Israel, they were utterly defeated by the small army of Ai.
Joshua 7:1-11
1 But the children of Israel committed a trespass in the accursed thing: for Achan, the son of Carmi, the son of Zabdi, the son of Zerah, of the tribe of Judah, took of the accursed thing: and the anger of the LORD was kindled against the children of Israel.
2 And Joshua sent men from Jericho to Ai, which [is] beside Beth-aven, on the east side of Beth-el, and spake unto them, saying, Go up and view the country. And the men went up and viewed Ai.
3 And they returned to Joshua, and said unto him, Let not all the people go up; but let about two or three thousand men go up and smite Ai; [and] make not all the people to labour thither; for they [are but] few.
4 So there went up thither of the people about three thousand men: and they fled before the men of Ai.
5 And the men of Ai smote of them about thirty and six men: for they chased them [from] before the gate [even] unto Shebarim, and smote them in the going down: wherefore the hearts of the people melted, and became as water.
6 # And Joshua rent his clothes, and fell to the earth upon his face before the ark of the LORD until the eventide, he and the elders of Israel, and put dust upon their heads.
7 And Joshua said, Alas, O Lord GOD, wherefore hast thou at all brought this people over Jordan, to deliver us into the hand of the Amorites, to destroy us? would to God we had been content, and dwelt on the other side Jordan!
8 O Lord, what shall I say, when Israel turneth their backs before their enemies!
9 For the Canaanites and all the inhabitants of the land shall hear [of it], and shall environ us round, and cut off our name from the earth: and what wilt thou do unto thy great name?
10 # And the LORD said unto Joshua, Get thee up; wherefore liest thou thus upon thy face?
11 Israel hath sinned, and they have also transgressed my covenant which I commanded them: for they have even taken of the accursed thing, and have also stolen, and dissembled also, and they have put [it] even among their own stuff.
SUMMARY:
Allow God to be your ally always in any battle of life.
CONCLUSION:
It does not matter the small size of your army, you will surely defeat your adversary if you have God as your ally. However, God will only come to your aid if sin is not found in you or in your camp.
XXXXXXXXXX
LESSON: 25
TOPIC: IDLE YOUTHS ARE VULNERABLE TO VICES AND TEMPTATIONS
BIBLE TEXT: 2 THESSALONIANS 3:6-16
MEMORY VERSE:
"The hand of the diligent shall bear rule: but the slothful shall be under tribute." – Proverbs 12:24
LESSON INTRODUCTION:
There is a popular adage that says 'an idle mind is the devil's workshop'. No one was created a non entity by God. Everybody has a talent embedded in him or her. Our today's text is in consonance with it. Today you can bear witness that some physically challenged people are displaying their talents and skills in various vocations. So, any youth or anybody who says he/she has nothing to do should refrain from being idle and check inward.
WHAT DOES IT MEAN TO BE 'VULNERABLE' (see today's heading)? It is when someone is exposed to the chance of being attacked or harmed, either physically or emotionally. Then, what are 'vices' ? Vice or vices mean bad habit. It therefore means that if you are idle, there is that tendency of being prone or exposed to some habits that will be hazardous to the society.
LESSON OUTLINES:
There are two outlines:
A: SOME YOUTH WHO DISTINGUISHED THEMSELVES THROUGH HARD WORK IN THE BIBLE:
1: DAVID: He was an instrumentalist and this took him to the palace. – 1 Samuel 16:16-23
2: JOSEPH: Even as a slave, his master recognised his hard work and handed over his properties to Joseph to manage. – Genesis 39:1-4
B: IDLE YOUTH WILL BE EXPOSED TO MANY EVIL THINGS SUCH AS:
1: Hard drugs: Drug barons may lure them to carry drugs for them.
2: Armed robbery: They may be lured to join armed robbery gangs.
3: Hired assassins: They may be recruited into a killer squad.
4: Kidnapping and banditry: They may induce them to become their members.
5: Lesbianism, gay etc.: Satan dangles huge money to lure idle people into his kingdom.
6: They may be lured to join secret cults for quick wealth and fame.
7: Male and female prostitution. Etc..
SUMMARY:
Please youths engage yourselves in any legitimate work to avoid social vices.
CONCLUSION:
Idleness is a destructive weapon in the hand of the devil against his victims. Please look for any legitimate and profitable venture to do. Then you will be surprised how God will bless the work of your hand.
GOLDEN DIET FOR THE WEEK (print or write it out so that you can participate daily):
MONDAY: Luke 6:12; Luke 18:1 – Jesus prayed all night, so you too must hold personal vigils.
TUESDAY: Luke 6:12 – Jesus prayed on the mountain. Should you plan to go to the mountain for prayer or personal retreat/revival, be focused on meeting Jesus Christ only and not man for many false prophets abound everywhere. – Matthew 7:15; 24:11
WEDNESDAY: Genesis 22:12-18 – Those who fear God and obey Him completely like Abraham to the point of giving God their Isaac will experience an overflowing blessing from God.
THURSDAY: Genesis 12:1-5; 15:3-4; Genesis 17:15-16; 21:1-5 – Abraham waited for twentyfive years to have Isaac. Delay is not denial.
FRIDAY: Acts 15:36 – Draw a new plan on visitation and follow up just like Paul and implement it.
SATURDAY: Proverbs 10:22 says "The blessing of the LORD, it maketh rich, and He addeth no sorrow with it." Never mortage your soul for wealth/position.
SUNDAY: Psalm 33:16 – There is no King saved by the multitude of an host: A mighty man is not delivered by much strength. No matter the large size of your enemies, remember Romans 8:31 "What shall we then say to these things? If God be for us, who can be against us?