RCCG JUNIOR ZEAL FOR 2021/2022 AGE 13-19 STUDENT'S MANUAL SUNDAY 13TH OF FEBRUARY, 2021
LESSON TWENTY FOUR (24)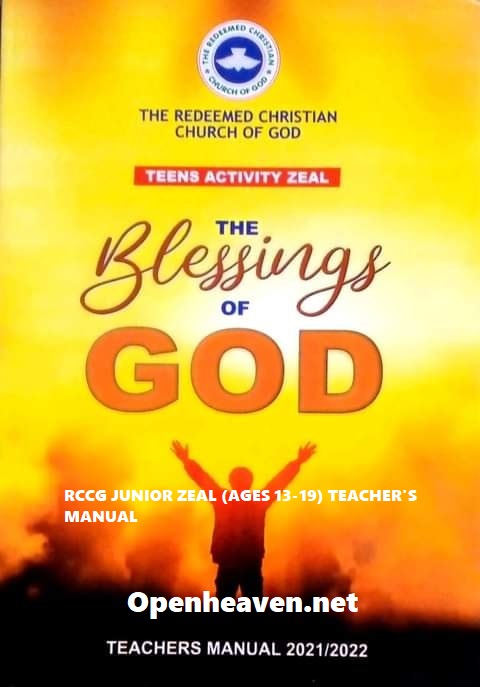 TOPIC: SEEK GOD'S BLESSINGS
BIBLE TEXT: Matthew 6:33
[33]But seek ye first the kingdom of God, and his righteousness; and all these things shall be added unto you.
HYMN FOR TODAY: Count your blessings, name them one by one
MEMORY VERSE: If ye then, being evil know how to give good gifts unto your children, how much more shall your Father which is in heaven give good things to them that ask him? Matthew 7:11
LESSON OUTCOME: After this study, teens should know the ways to seek for God's blessings.
CENTRAL TRUTH: God blesses those who seek Him first.
INTRODUCTION: The grace of God is sufficient for you to seek Godly blessings as against the get rich quick scramble in today's world. When you seek God first, all other blessings automatically are made available to you with ease. We all want God's blessing. but note that it is not automatic! We must diligently seek it The Bible is abundantly clear that God is ready to pour out His blessing on His people, but only when we order our lives rightly before Him and seek God Himself as the supreme blessing.
STUDY GUIDE
RCCG JUNIOR ZEAL 2022 AGE 13-19 STUDENT'S 13TH OF FEBRUARY LESSON 24
A. HOW TO SEEK GOD AND HIS BLESSINGS
1. Trust Him and have faith in Him – Proverbs 3:5-6.
2. Don't be anxious over anything – Philippians 4:6-7.
3. …………………………………. Psalm 100:1-5
4. Read the Bible regularly/daily. Joshua 1:8
5. Obey His commandments. Deut 28:1-2
6. …………………………………
7. Live a holy and righteous life. Matthew 6:33
B. WHAT OTHER THINGS DO TEENAGERS SEEK? (DISCUSS)
– Watching video/TV
– Keeping bad friends
– …………………………………
– Talent haunt
– Internet browsing, etc.
Mention More
ACTIVITY: How can we divert our attention to seek God?
LIFE APPLICATION: Begin to seek God and His righteousness and you will be blessed beyond your dreams.
CONCLUSION: Seeking God and putting Him first will allow the Holy Spirit to direct your ways against Satan who always tries to make you miss the blessings of God in your life. There are blessings in seeking God early.
ATTENTION: Next week is Revision Day and the following week is Quiz and Interactive Day. Let us read up our past lessons and prepare for the revision and the quiz with our teens. God bless you.
INDIVIDUAL REFLECTION
RCCG JUNIOR ZEAL 2022 AGE 13-19 STUDENT'S 13TH OF FEBRUARY LESSON 24
What is God saying in today's lesson?
…………………………..
How can I apply this to my life?
…………………………..
My prayer today is:
…………………………..