RCCG JUNIOR ZEAL AGE 13-19 STUDENTS' MANUAL SUNDAY 19TH OF JUNE 2022 LESSON FORTY TWO (42)
TOPIC: THE BLESSINGS OF LOVING GOD'S WORD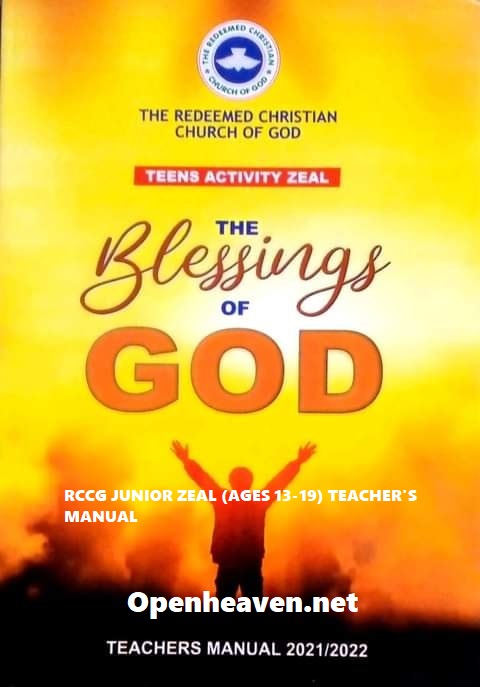 BIBLE TEXT: Joshua 1:8
[8]This book of the law shall not depart out of thy mouth; but thou shalt meditate therein day and night, that thou mayest observe to do according to all that is written therein: for then thou shalt make thy way prosperous, and then thou shalt have good success.
HYMN FOR TODAY: ANCIENT WORDS
MEMORY VERSE: How I delight in your commands! How I love them!' Psalm 119:47
LESSON AIM: At the end of this study, they should know about the blessing of loving God's Word.
CENTRAL TRUTH: Loving God's word brings prosperity.
INTRODUCTION: How do you feel about God's word? Do you always want to read or listen to it or do you struggle with it? We can only receive the blessings in God's Word when we read out of love rather than out of duty.
God has given us His word to guide us in our life's journey. Loving God's word will make our journey to greatness quicker. We will find true life as a result of hearing and following His Word.
STUDY GUIDE
RCCG JUNIOR ZEAL AGE 13-19 STUDENTS' MANUAL SUNDAY 19TH OF JUNE 2022
How can we love God's Words?
1. Read your Bible every day. Cultivate the habit of reading and enjoying God's Word. You can start from the stories in the new testament.
2. Meditate on God's Word. The idea of meditation means going over and over a verse, a story or a passage of scripture in order to gain all the nutritional value out of it. it is thinking and reflecting on it, asking questions and listening to God for answers. Meditation also helps us to learn to hear God's voice.
3. Memorize God's Word. As you do so, you are taking God's word with you and the Holy Spirit continues to speak to you throughout the day on the verse you have memorized. Psalm 119:11
4. Keep it constantly on your lips. Don't be afraid to speak God's word to people. exhort with it, share it, encourage with it, pray with it, rebuke with it. Let the word of God be part of your conversation Joshua 1:8
5. Do what it says James 1:25
Benefits of Loving God's Word:
1. It guides us – Psalm 119 :105
2. It ………………………………. – Isaiah 48:18
3. It leads to good success – Joshua 1:8
4. It brings us life & health – Proverbs 4:20-22, John 6:66
5. It ………………………………. – Isaiah 34:16
6. It keeps us away from sin – Psalm 119:11
7 It gives us joy in the midst of storm – Jeremiah 15:16
8. It helps us to know the nature of God and this boost our confidence in our God- Numbers 23:19, Isaiah 55:11
9. It helps us know the truth and not be deceived by false teachings – 2 Timothy 2:15, John 17:17
LIFE APPLICATION: Make it a daily habit and have a schedule for reading God's word.
CONCLUSION: Note that our mouth is one of the sources that fills our minds and hearts. There is a connection between our mouth and our minds. Loving God's word will help shape what comes out of our mouths. Psalm 119 is full of words that describes God's word. The Psalmist says. "Truly, I love your commands more than gold, even the finest gold" (Psalm 119:127)
INDIVIDUAL REFLECTION
RCCG JUNIOR ZEAL AGE 13-19 STUDENTS' MANUAL SUNDAY 19TH OF JUNE 2022
What is God saying in today's lesson?
…………………………..
How can I apply this to my life?
…………………………..
My prayer today is:
…………………………..