RCCG JUNIOR ZEAL FOR 2021/2022 AGE 13-19 STUDENTS' MANUAL SUNDAY 7TH OF AUGUST, 2022
LESSON FORTY NINE (49)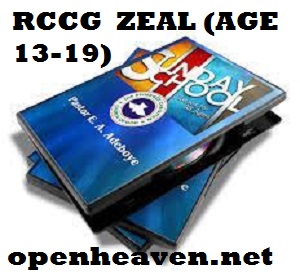 TOPIC: CONSECRATION
BIBLE TEXT: 1 Thessalonians 5:21-23
[21]Prove all things; hold fast that which is good.
[22]Abstain from all appearance of evil.
[23]And the very God of peace sanctify you wholly; and I pray God your whole spirit and soul and body be preserved blameless unto the coming of our Lord Jesus Christ.
HYMN FOR TODAY: Take my life and let it be
Memory Verse: "Therefore, I urge you, brothers and sisters, in view of God's mercy, to offer your bodies as a living sacrifice, holy and pleasing to God-this is your true and proper worship' Romans 12:1
LESSON AIM: I should learn and understand what is consecration?
CENTRAL TRUTH: Consecration is a requirement in our Christian journey.
INTRODUCTION: The word consecration can be defined as the act of separating ourselves from things and associations that can affect our relationship with God and dedicating ourselves to God and His kingdom. Joshua told the children of Israel to consecrate themselves for God to do wonders in their midst. Joshua 3:5
Things we should consecrate includes: friends, businesses, fun activities,
The process of consecration can be seen as the human side of sanctification, whereas God sanctifies us through His word, we consecrate ourselves unto God. Our memory verse is a call to consecration.
RCCG JUNIOR ZEAL AGE 13-19 STUDENTS' MANUAL SUNDAY 7TH OF AUGUST 2022 LESSON 49
STUDY GUIDE
How can we consecrate ourselves?
1. Praying with the word
2. Presenting ourselves to God a living sacrifice. Rom 12:1-2
3. 2 Corinthians 6:14
Benefits of Consecration:
1. Divine visitation Ex 19:10, Joshua 3:5.
2. Dominion.
3. Colossians 3:5-14………………………………..
4. 2 Corinthians 6:17………………………………..
5. Joshua 3:5………………………………..
6. Enjoy fresh auction always.
Why do we need to consecrate ourselves to God?
1. Consecration helps us to glorify God in our body – 1 Corinthians 6:20
2. Consecration helps us to become a living sacrifice – Romans 12:1
3. Consecration free from the slavery of Sin – Romans 6:19
4. Consecration helps us to present ourselves as instruments of righteousness – Romans 16:13
5. Consecration helps us to give ourselves to the Lord for his use – Exodus 13:2, Exodus 30:30
6. ………………………………. – Exodus 19:10, 1 Peter 2:9
7. Consecration helps us not to live our lives anyhow – Psalm 1:1-3.
LIFE APPLICATION: You can live a consecrated life to the Lord. Make up your mind to make that conscious decision.
CONCLUSION: For us to enjoy all spiritual blessings in Christ Jesus, we must be willing to make a conscious decision to dedicate your soul, mind heart, and body to God. Consecration is firstly a life of personal holiness before service to God. It is our personal relationship with God that brings spiritual power which enables us to be a living sacrifice holy and acceptable unto God.
Full consecration is the highest level we can attain in our Christian journey
Let us desire it and aim at it. The experience of living for and serving God at that level is awesome.
RCCG JUNIOR ZEAL AGE 13-19 STUDENTS' MANUAL SUNDAY 7TH OF AUGUST 2022 LESSON 49
INDIVIDUAL REFLECTION
What is God saying in today's lesson?
…………………………..
How can I apply this to my life?
…………………………..
My prayer today is:
…………………………..
RCCG JUNIOR ZEAL AGE 13-19 STUDENTS' MANUAL SUNDAY 7TH OF AUGUST 2022 LESSON 49