RCCG LOWER JUNIOR ZEAL FOR 2021/2022 AGE 6-8 TEACHER'S MANUAL SUNDAY 7TH OF AUGUST 2022 LESSON FORTY NINE (49)
ALL RCCG MANUALS FOR TODAY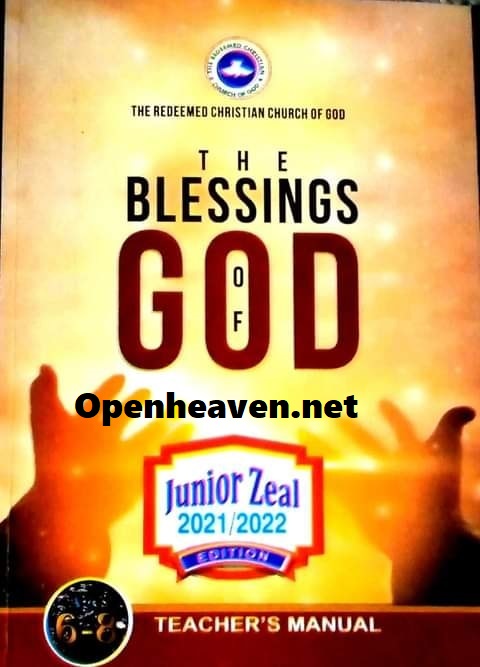 TOPIC: CONSECRATION
RCCG LOWER JUNIOR ZEAL FOR 2021/2022 AGE 6-8 TEACHER'S MANUAL SUNDAY 7TH OF AUGUST 2022 LESSON FORTY NINE (49)
BIBLE TEXT: 2 Corinthians 6:14-18
[14]Be ye not unequally yoked together with unbelievers: for what fellowship hath righteousness with unrighteousness? and what communion hath light with darkness?
[15]And what concord hath Christ with Belial? or what part hath he that believeth with an infidel?
[16]And what agreement hath the temple of God with idols? for ye are the temple of the living God; as God hath said, I will dwell in them, and walk in them; and I will be their God, and they shall be my people.
[17]Wherefore come out from among them, and be ye separate, saith the Lord, and touch not the unclean thing; and I will receive you,
[18]And will be a Father unto you, and ye shall be my sons and daughters, saith the Lord Almighty.
MEMORY VERSE: 2 Corinthians 7:1 "Having therefore these promises, dearly beloved, let us cleanse ourselves from all filthiness of the flesh and spirit, perfecting holiness in the fear of God."
LESSON AIM: The children will know the meaning and how to be separated unto God
CHILD-RELATED TRUTH: God wants you to rely on Jesus to be separated unto Him
INTRODUCTION:
What is consecration? Consecration simply means separating oneself for a particular purpose or dedicating to a divine purpose. The Bible tells us that God has created us for His pleasure and we cannot be truly fulfilled until we begin to fulfill this particular purpose, However, we cannot do this without being separated unto God.
PROGRESSION OF EVENTS: 2 Corinthians 6:14-18
1. It is making God the number one in our lives Matt 6:33.
2. It is letting God occupy the center of our hearts Prov 23:26.
3. It is the desire to always please God above all else Phil 1:21, Rom 8:35-38.
4. It is living a holy life and saying bye-bye to sin Heb 12:14.
5. It is having a hot love for God in us (Rev 3:15-16)
CLIMAX: Consecration is essentially being separated unto God Joshua 24:1 5.
CONCLUSION: Love God with all your heart.
CHALLENGE: The genuine love for God in your heart is the foundation /platform for true consecration (1 John 3:18). It is the genuine love of God that will motivate you to separate yourself unto God and keep away from every form of sin.
INVITATION: To be separated on unto God, you need to believe in Jesus as Lord and Saviour (John 5:24)
RCCG LOWER JUNIOR ZEAL FOR 2021/2022 AGE 6-8 TEACHER'S MANUAL SUNDAY 7TH OF AUGUST 2022 LESSON FORTY NINE (49)
DAILY DEVOTION
SUNDAY – EXODUS 16:13-18
MONDAY – EXODUS 16:19-24
TUESDAY – EXODUS 16:25-36
WEDNESDAY – EXODUS 17:1-6
THURSDAY – EXODUS 17:7-12
FRIDAY – EXODUS 17:13-16
SATURDAY – EXODUS 18:1-6
RCCG LOWER JUNIOR ZEAL FOR 2021/2022 AGE 6-8 TEACHER'S MANUAL SUNDAY 7TH OF AUGUST 2022 LESSON FORTY NINE (49)