RCCG JUNIOR ZEAL AGE 9-12 TEACHER'S MANUAL SUNDAY 7TH OF AUGUST 2022 LESSON FORTY NINE (49) AUGUST 2022 LESSON FORTY NINE (49)
TOPIC: CONSECRATION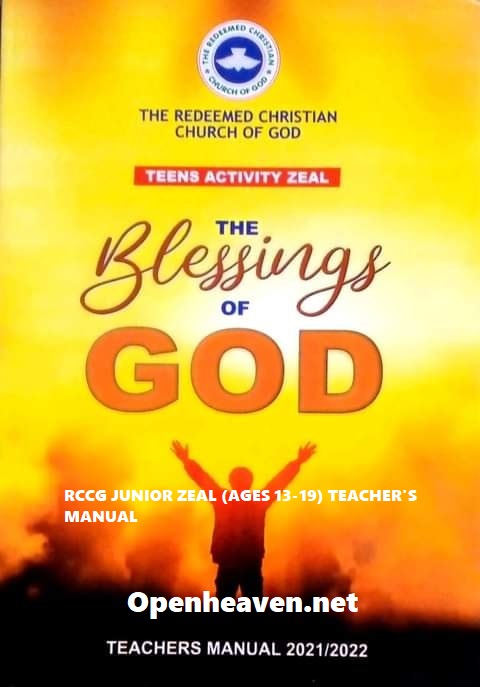 TEXT: Romans 12:1-2
[1]I beseech you therefore, brethren, by the mercies of God, that ye present your bodies a living sacrifice, holy, acceptable unto God, which is your reasonable service.
[2]And be not conformed to this world: but be ye transformed by the renewing of your mind, that ye may prove what is that good, and acceptable, and perfect, will of God.
MEMORY VERSE: 2 Corinthians 6 :7 "Therefore come out from them and be separate, says the Lord. Touch no unclean thing, and I will receive you"
LESSON AIM: To let the children know the need to be dedicated to God.
CENTRAL TRUTH: Be holy for our God is holy
INTRODUCTION: In worshipping the living God, our mind, heart and will must be involve in obedient service so that God can honour us and accept us. We must set ourselves apart for God's use.
RCCG JUNIOR ZEAL AGE 9-12 TEACHER'S MANUAL 7TH OF AUGUST 2022 LESSON FORTY NINE (49)
STUDY GUIDE
A. WHAT IS CONSECRATION
1. Consecration is giving yourself to the Lord to become a living sacrifice – Rom. 12:1
2. Consecration means sanctification, holiness or purity
3. To make holy – Rom 6:13
4. Separation of oneself from things that are unclean, especially anything that would contaminate ones relationship with a perfect God.
5. Consecration is the offering up of a whole life to God -1Cor. 6:20
6. Living for God -1 Peter 2:9
B. PURPOSE OF CONSECRATION
1. So that the will of God may be done in your life- Heb.14:20-21
2. So that you can be a vessel of honour.
3. To show you love Jesus and you belong to Him alone
4. To show you have been redeemed- 1 PT 1:18-19
5. To retain the presence of God in your life – Psalms 91
6. To make the anointing( fullness of the Holy Spirit) to continue to flow in your life.-Heb 1:9
7. To make the blessing of God overflow in your life. – Exodus 32:29
C. BIBLICAL CHARACTERS THAT LIVED A CONSECRATED LIVES
RCCG JUNIOR ZEAL AGE 9-12 TEACHER'S MANUAL 7TH OF AUGUST 2022 LESSON FORTY NINE (49)
1. Jesus Christ
2. Apostle Paul
3. Isaac
4. Samuel
5. Joseph
D. EXAMPLES OF PEOPLE WHO BROKE THEIR CONSECRATION IN THE BIBLE
i. Samson's consecration was broken by his disobedience and lust for strange women (Judges 14:1-3, 8,9).
ii. Prophetess Miriam's consecration was broken by envy (Numbers 12:1-10).
iii. Gideon's consecration was broken by pride. (Judges 7:20-22; 8:22-27).
iv. Prophet Moses' consecration was broken by anger (Exodus 14:21-28, Numbers 20:7-12).
v. King David's consecration was contaminated adultery. (1 Samuel 11:1-27).
CONCLUSION: Consecration is the giving of your life to God for His will instead of your own will. For us to enjoy all spiritual blessings in Christ Jesus,we must be willing to make a conscious decision to dedicate your soul, mind, heart, and body to God.
INVITATION: You need to accept Jesus Christ as your LORD and SAVIOUR
LIFE APPLICATION: God wants you to live for Him. Ask God what He wants you to do for him. Present yourselves to God as being alive from the dead. Only those that are alive from the dead can serve Him (Romans 6:13).
RCCG JUNIOR ZEAL AGE 9-12 TEACHER'S MANUAL 7TH OF AUGUST 2022 LESSON FORTY NINE (49)
DAILY DEVOTIONAL
SUNDAY – EXODUS 16:13-18
MONDAY – EXODUS 16:19-24
TUESDAY – EXODUS 16:25-36
WEDNESDAY – EXODUS 17:1-6
THURSDAY – EXODUS 17:7-12
FRIDAY – EXODUS 17:13-16
SATURDAY – EXODUS 18:1-6