RCCG JUNIOR ZEAL (AGE 4-5) TEACHER'S MANUAL SUNDAY 24TH OF JANUARY 2021
LESSON TWENTY-ONE (21) TOPIC: HATE EVIL
Open heaven January 2021 Sunday January 24
BIBLE TEXT: Genesis 4:1-16.
Genesis 4:1-14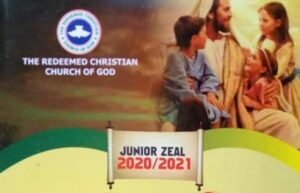 [1]And Adam knew Eve his wife; and she conceived, and bare Cain, and said, I have gotten a man from the LORD.
[2]And she again bare his brother Abel. And Abel was a keeper of sheep, but Cain was a tiller of the ground.
[3]And in process of time it came to pass, that Cain brought of the fruit of the ground an offering unto the LORD.
[4]And Abel, he also brought of the firstlings of his flock and of the fat thereof. And the LORD had respect unto Abel and to his offering:
[5]But unto Cain and to his offering he had not respect. And Cain was very wroth, and his countenance fell.
[6]And the LORD said unto Cain, Why art thou wroth? and why is thy countenance fallen?
[7]If thou doest well, shalt thou not be accepted? and if thou doest not well, sin lieth at the door. And unto thee shall be his desire, and thou shalt rule over him.
[8]And Cain talked with Abel his brother: and it came to pass, when they were in the field, that Cain rose up against Abel his brother, and slew him.
[9]And the LORD said unto Cain, Where is Abel thy brother? And he said, I know not: Am I my brother's keeper?
[10]And he said, What hast thou done? the voice of thy brother's blood crieth unto me from the ground.
[11]And now art thou cursed from the earth, which hath opened her mouth to receive thy brother's blood from thy hand;
[12]When thou tillest the ground, it shall not henceforth yield unto thee her strength; a fugitive and a vagabond shalt thou be in the earth.
[13]And Cain said unto the LORD, My punishment is greater than I can bear.
[14]Behold, thou hast driven me out this day from the face of the earth; and from thy face shall I be hid; and I shall be a fugitive and a vagabond in the earth; and it shall come to pass, that every one that findeth me shall slay me.
MEMORY VERSE: Amos 5:15a: Hate the evil and love the good.
LESSON AIM: God knows your thought as well as your actions.
CHILD RELATED TRUTH: Guide your thought and actions each day.
I
NTRODUCTION:
John 3:8b "The reason the son of God appeared is to destroy the devil's work. God sent Jesus to destroy all satanic work. The devil has held many of God's children under his bondage,
and that is the very reason why Jesus came. If you have received Jesus, you will hate the devil and all his evil works. A child of God does not partake in evil Matthew 7:16-20 by their fruits, ye shall know them.
PROGRESSION OF EVENTS
A. Eve joyfully gave birth to Cain.
B. Later Eve gave birth to Abel.
God made Adam and Eve and He gave His life to Cain and Abel, that same God made you and me.
C. Abel the younger Brother grew up and became a shepherd, while Cain decided to be a farmer. Vs. 2.
D. After a certain time, Cain and Abel came to worship God Vs. 3,4 (Each one brought His offering Cain, Fruit and vegetable from His Garden, Abel, one of the best lambs his flock)
E. The Lord was pleased with Abel and He accepted his offering. (God knew what was in Abel's heart; He was born as a sinner, but trusted God. He attitude and actions was right
and so God accepted his offering).
F. God was not pleased with Cain and his offering. Vs. 4. God looked upon Cain's heart, He saw it was full of sin, He did not believe in God. He wanted to have his own way.
Jeremiah 17:9. "The heart (the real you) is deceitful above all things and desperately wicked that means our hearts are very sinful. Wanting your own way, being jealous of hating
another person is sin. God loves you very much, but your sin must be punished. God was very displeased with Cain and the offering he brought.
G. Cain became angry with God for rejecting his offering. He was also jealous of his brother Abel, because Abel's offering was accepted. Cain's jealousy led to anger and his anger to
hatred).
H. God pleaded with Cain to "do well" (that is to do what was right) or face the consequences vs. 17. If Cain would change his attitude, believe God, and do what he said everything would be fine – God made away for sins to be forgiven, your sin and my sin and that is through the blood of His Jesus Christ who died and rose so that we can have our sins forgiven.
The only way Cain could have his sins forgiven was to change his attitude, believe God and come to God, God's way.
CLIMAX: Cain's refusal to accept God's way led him to murder his brother, Abel vs.8
CONCLUSION:
God tried to get Cain to confess that he had killed his brother, but Cain refused. vs. 9, 10 and because Cain refused God's way, he had to suffer the consequences of his sins vs11, 12. He became a fugitive and a vagabond on the earth. And God drove him from his presence but put a mark on him so that he will not be killed.
(There are great consequences of doing evil)
CHALLENGE: As a child of God, always do good, hate and run away from all forms of evil.
INVITATION: Sin always causes unhappiness and has to be punished, but God has provided a way for forgiveness. John 3:16
DAILY DEVOTIONAL:
SUNDAY: LUKE 9:1-3
MONDAY: LUKE 9:4-6
TUESDAY: LUKE 9:7-9
WEDNESDAY LUKE 9:10-12
THURSDAY: LUKE 9:13-15
FRIDAY: LUKE 9:16-18
SATURDAY: LUKE 9:19-21
Subscribe to Blog via Email
RCCG JUNIOR ZEAL (AGE 4-5) TEACHER'S MANUAL SUNDAY 24TH OF JANUARY 2021