RCCG JUNIOR ZEAL (AGE 4-5) TEACHER'S MANUAL SUNDAY 27TH DECEMBER, 2020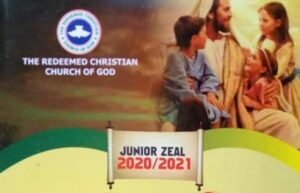 LESSON SEVENTEEN (17) TOPIC: BEAR FRUIT OF CHARACTER
BIBLE TEXT: Gal 5:22-23
[22]But the fruit of the Spirit is love, joy, peace, longsuffering, gentleness, goodness, faith,
[23]Meekness, temperance: against such there is no law.
MEMORY VERSE: Proverb 21:8 – But as for the pure, his works is right.
LESSON AIM: God wants you to be of good behaviour.
CHILD RELATED TRUTH: Be of good behaviour.
INTRODUCTION:
Matthew 7:20 says "Wherefore by their fruits ye shall know them vs. 17. Even so every good tree bringeth forth good fruit, but a corrupt tree bringeth forth evil fruits. God expects all His children to bear fruit of character.
PROGRESSION OF EVENTS:
– As a child of God according to Gal 5:22-23, we should bear fruits of the spirit which are:- Love, Joy, Peace, Patience, kindness, goodness, faithfulness. gentleness and self-control.
– A tree is known by its fruits, if you are child of a God and He lives in you, you will be like Him in your behaviour.
– Matthew 7:15-20 says Even so "every good tree bears good fruits, but a bad tree bears bad fruits.
– A good tree cannot bear bad fruits. Can a bad tree bear good fruit?
– Every good tree that does bear good fruit is cut down and thrown into fire. God is interested in you bearing good fruit and the tree that does not is wasted.
CLIMAX: Not anyone who says to me. Lord, Lord, shall enter the kingdom of heaven but he who does the will of My Father in heaven.
CONCLUSION: Many will claim that they are God's children and that they are even doing things in the name of God, God will say to
them "depart from me you worker of iniquity.
CHALLENGE: 2 Timothy 2:19 says. "Nevertheless the foundation of God standeth sure, having and this seal. The Lord knoweth them that are His. And let everyone that nameth the name of Christ depart from iniquity. As a child of God continue to bear fruit of character.
INVITATION: Change from bad fruit to good fruit, bear the fruits of the spirit, by first receiving Jesus as you Saviour from your sins.
Acts 16:31
DAILY DEVOTIONAL
SUNDAY: LUKE 7:34-36
MONDAY: LUKE 7:37-39
TUESDAY: LUKE 7:40-42
WEDNESDAY: LUKE 7:43-45
THURSDAY: LUKE 7:46-48
FRIDAY: LUKE 7:49-50
SATURDAY: LUKE 8:1-3