RCCG JUNIOR ZEAL (AGE 6-8) TEACHER'S MANUAL SUNDAY 27TH DECEMBER, 2020
LESSON SEVENTEEN (17) TOPIC: PORTRAY THE FRUIT OF THE SPIRIT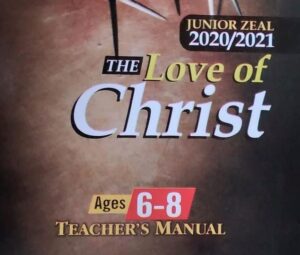 BIBLE TEXT: Galatians 5:22-23
22. But the fruit of the Spirit is love, joy, peace, longsuffering, gentleness, goodness, faith,
23. Meekness, temperance: against such there is no law.
MEMORY VERSE: John 15:5 "I am the vine, ye are the branches: He that abideth in me, and I in him, the same bringeth forth much fruit: for
without me ye can do nothing."
LESSON AIM: The children will show the fruit of the Spirit when they trust in Jesus as their Saviour.
CHILD RELATED TRUTH:
The fruit of the spirit will help you in any situation.
INTRODUCTION:
There is a famous passage in the Bible about fruit, I want to share with you today. This fruit reminds me of bananas because, like bananas, this fruit can do so many things. This fruit can help us make good choices. It can help us learn to treat others better. It can keep us from sin, and it can focus our minds on Jesus. I'm not talking about just
one fruit, but nine fruits. Paul calls them the Fruit of the Spirit.
PROGRESSION OFEVENTS: GALATIANS 5:22-23
1. God wants us to love others and to love Him, and He wants us to share His love with the world. That's why the first fruit is love.
2. God also wants us to have joy. Joy is more than emotion Iike happiness. Joy is knowing that no matter what happens, good or bad, God is in control. Even when we are sad, we can have joy, know that God is looking out for us.
3. Peace is something we can have when life is not going well. Its also something we can share. We can bring peace to bad situations by doing well and loving others.
4. Patience is something we all need more of; Patience means not just waiting, but trusting God is working all things out for our good.
5. Kindness, goodness, and gentleness are the way we treat others. God wants us to be kind and loving toward others, doing good where it is needed.
6. Faithfulness means being true to God, true to our loved ones, and true to our friends.
7. And self-control means learning to control our emotions and actions. We don't react in anger. We think before we speak. We consider our
words carefully. We resist the temptation to sin, and we do the right thing.
CLIMAX: The Fruit of the Spirit is love, joy, peace, patience, kindness, goodness, faithfulness, gentleness, and self-control. If we are living by
the Spirit, all of these things will be evident in our lives.
CONCLUSION:
When Paul talks about the Fruit of the Spirit, he means the fruits that grow in our lives. When we are following Christ and striving to serve others, people see these "fruits" in us.
CHALLENGE: When you give your heart to Jesus and really let Him take control, the Fruit of the Spirit will grow in your life. People will see Jesus in you through those fruits, and they will want Jesus for themselves. The fruit of the Spirit includes different attitudes and actions that become more and more evident in your life as you follow God's way. They grow in your life just as the fruit grows on a tree that is properly cared for and that can help you make a difference in this world. Let the Holy Spirit be your guide every day. He will help you make the best decisions, and those decisions will always please God.
INVITATION: If you do not have Jesus in your life, the Holy Spirit cannot guide you, accept Jesus into your life today (John 1:12)
Subscribe to Blog via Email
DAILY DEVOTION
SUNDAY: LUKE 13:6-9
MONDAY: LUKE 13:10-17
TUESDAY: LUKE 13:18-21
WEDNESDAY: LUKE 13:22-30
THURSDAY: LUKE 13:31-35
FRIDAY: LUKE 14:1-6
SATURDAY: LUKE 14:7-14