Subscribe to Blog via Email
RCCG JUNIOR ZEAL (AGES: 9-12) TEACHER'S MANUAL 6TH OF JUNE 2021 LESSON FORTY (40)
TOPIC: BE AT PEACE WITH OTHERS
BIBLE TEXT: Matthew 5:9
[9]Blessed are the peacemakers, For they shall be called sons of God.
MEMORY VERSE: Hebrews 12:14 "Follow peace with all men, and holiness, without which no man shall see the Lord".
LESSON AIM: To let the children know the importance of making peace with others.
CENTRAL TRUTH: God wants you to be a child of peace.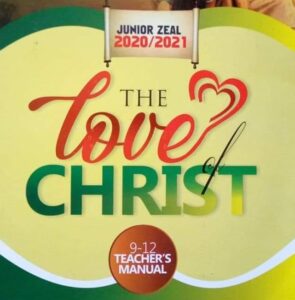 INTRODUCTION: Jesus Christ taught that peacemakers shall be called children of God. Peace is a fruit of the Holy
Spirit (Galatians 5:22). Our God is addressed as Jehovah Shalom which means "The Lord our Peace" (Judges
6:24). Children of God are children of peace.
STUDY GUIDE
A. WHAT IS PEACE?
1. Ability to remain calm and quiet irrespective of situations.
2. A state of tranquility or quietness.
3 Retaining calmness in all manner of circumstances.
4. Peace is when people are able to resolve their conflicts without violence and can work together to improve the quality of their lives
5. Peace is completeness, fulfillment, wholeness, harmony, security and well being.
B. HOW TO BE AT PEACE WITH OTHERS
1. Ask help from the Holy Spirit – John 14:26
2. Study the word of God – 2 Timothy 2:15
3. Don't compare yourself with others – Psalm 139
4. Know that it is only God that can change a person – Philippians 2:13
5. Watch your tongue – James 1:26,1 Peter 3:10
6 Obey the Holy Spirit – Acts 16:6-9
7. Ask God for wisdom – James 3:13
8. Renew your mind – Romans 12:1-2
9. Forgive those that offends you – Matthew 5:23-25
10. Preach the gospel to them – Mark 1:38
11. Pray for them – Matthew 5:44
12. Don't revenge – Romans 12:19
13. Know that God is on your side – Psalm 118:6
14. Resolve the offence with the offender -Matthew 18:15
C. WHY WE NEED TO LIVE IN PEACE
1. It affirms our sonship in God.
2. It makes us enjoy favour with people around us.
3. We are going to have peace of mind.
4. It gives us boldness to come into God's presence as His children.
5. We are going to receive answer to our prayers.
6. We will receive all the kingdom benefits.
RCCG THIS WEEK
RCCG JUNIOR ZEAL (AGE 4-5) TEACHER'S MANUAL SUNDAY 6TH OF JUNE, 2021 LESSON FORTY (40)
RCCG JUNIOR ZEAL (AGE 6-8) TEACHER'S MANUAL SUNDAY 6TH OF JUNE 2021 LESSON FORTY (40)
RCCG JUNIOR ZEAL (AGES: 9-12) TEACHER'S MANUAL 6TH OF JUNE 2021 LESSON FORTY (40)
RCCG 2020/2021 ZEAL (AGE 13-19) TEENS TEACHER'S MANUAL SUNDAY 6TH OF JUNE 2021 LESSON FORTY (40)
RCCG HOUSE FELLOWSHIP LEADERS' MANUAL DATE: SUNDAY 6TH JUNE 2021 LESSON 40
RCCG SUNDAY SCHOOL STUDENT'S MANUAL LESSON FORTY SUNDAY 6TH JUNE 2021
Open Heavens Daily Devotional
guide was written by
Pastor E.A. Adeboye
, the General Overseer of the Redeemed Christian Church of God, one of the largest evangelical church in the world and also the President of Christ the Redeemer's Ministries.
The Open Heavens devotional
application is available across all mobile platforms and operating systems: iOS, Android, Blackberry, Nokia, Windows Mobile and PC.
RCCG SUNDAY SCHOOL TEACHER'S MANUAL LESSON FORTY SUNDAY 6TH JUNE 2021
GOD BLESS YOU – PART 6 (PEACE BE STILL) PASTOR E.A ADEBOYE RCCG
CONCLUSION: Peace is the evidence that we are children of God.
INVITATION: There is no peace for the wicked Isaiah 48:22. To bear the fruit of peace, accept Jesus Christ as your Lord and saviour.
ACTIVITY: What is the meaning of Jehovah Shalom?
LIFE APPLICATION: You must live in peace with all men with the help of God. The bible says, blessed are the peace makers, for they shall be called sons of God. Matthew 5:9, Heb. 14:12 says you should live in peace with all men.
DAILY DEVOTIONAL:
SUNDAY: ISAIAH 25:6-12
MONDAY: ISAIAH 26:1-11
TUESDAY: ISAIAH 26:12-19
WEDNESDAY: ISAIAH 27:1-8
THURSDAY: ISAIAH 27:9-13
FRIDAY: ISAIAH 28:1-8
SATURDAY: ISAIAH 28:9-15