Subscribe to Blog via Email
RCCG JUNIOR ZEAL (AGES: 9-12) TEACHER'S MANUAL SUNDAY 17TH OF JANUARY, 2021
LESSON TWENTY (20) TOPIC: PRAISE GOD ALWAYS
MEMORY VERSE: Psalms 34:1 "I will bless the LORD at all times: His praise shall continually be in my mouth."
BIBLE TEXT: Hebrews 13:15
By Him therefore let us offer the sacrifice of praise to God continually, that is, the fruit of our lips giving thanks to His name.
LESSON AIM: To let children know the importance of praising God.
CENTRAL TRUTH: Praise brings down God's presence.
INTRODUCTION: We should not relent in offering praises to God especially because of what He has done for us. The text we read calls praise a sacrifice. It is giving thanks to God especially because of what He has done for us by offering His son Jesus Christ as a sacrifice for our sins. This sacrifice of praise should be offered continually, without stopping or ending. This is the only way we can appreciate God for all He has done for us. The goodness of God should be our confession all the time.
STUDY GUIDE:
A: WHAT IS PRAISE?
1. Praising God is thanking and adoring the heavenly father for His goodness and grace.
2. Thanking God for who He is.
3. It is proclaiming the greatness of God to others in joy and excitement.
4. Response of worship.
5. Giving God the glory He deserves.
B: WHY WE SHOULD PRAISE GOD:
1. He is worthy. Psalm 145:3
2. He is good. Psalm 135
3. He is faithful. 1 Corinthians 1:9
4. God inhabits the atmosphere of praise. Psalm 22:4
5. He is our creator. Psalm 148:5
6. It is a command. Psalm 146
C: WHO IS TO PRAISE GOD?
1. Everything that has breath. Psalm 150:6
2. Ministers of God. Psalm 134:2
C: HOW TO PRAISE GOD:
1. Singing songs. Psalm 100:2, Psalm 126:2
2. Singing hymns. Matthew 26:30, Matthew 14:26
3. Dancing. 2 Samuel 6:16
4. Clapping hands. Psalm 47:1
5. Worshipping Him even in our hearts and mind. Deuteronomy 6:5
6. Singing Psalms. Colossians 3:16
7. Testimony. Revelation 12:11, Psalm 19:7
E: BENEFITS DERIVED FROM PRAISING GOD:
1. Praise invites the presence of God. 2 Chronicles 5:11-14
2. Praise brings victory. 2 Chronicles 20:15-20
3. Praise brings deliverance from enemies. Psalm 18:3
4. Praise satisfies the soul. Psalm 63:1-5
5. Praise repels depression. Isaiah 61:3
6. Praise brings liberty. Acts 16:25-26
7. Praise brings joy. Psalm 100:4, 16:11
8. Praise draws men to God. John 12:32
9. Praise strengthens our faith. Romans 4:20
10. Praise brings us closer to God. James 4:8
CONCLUSION: God inhabits the praises of His people.
Open Heavens Daily Devotional
guide was written by
Pastor E.A. Adeboye
, the General Overseer of the Redeemed Christian Church of God, one of the largest evangelical church in the world and also the President of Christ the Redeemer's Ministries.
The Open Heavens devotional
application is available across all mobile platforms and operating systems: iOS, Android, Blackberry, Nokia, Windows Mobile and PC.
RCCG JUNIOR ZEAL (AGES: 9-12) TEACHER'S MANUAL SUNDAY 17TH OF JANUARY, 2021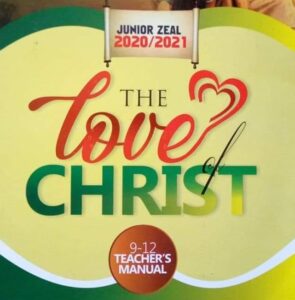 INVITATION: For you to praise God enough you must have an encounter with Jesus Christ.
ACTIVITY: Mention 5 (five) biblical characters that were engaged in praise.
LIFE APPLICATION: You should offer the sacrifice of praise to God continually. Use all means and opportunities you have to praise God.
DAILY DEVOTIONAL:
1. SUNDAY: 2 Corinthians 6:1-10
2. MONDAY: 2 Corinthians 6:11-18
3. TUESDAY: 2 Corinthians 7:1-16
4. WEDNESDAY: 2 Corinthians 8:1-7
5. THURSDAY: 2 Corinthians 8:8-15
6. FRIDAY: 2 Corinthians 8:16-24
7. SATURDAY: 2 Corinthians 9:1-15