RCCG LOWER JUNIOR ZEAL FOR AGE 6-8 TEACHER'S MANUAL SUNDAY 15TH OF MAY 2022 LESSON 37
TOPIC: THE MAXIMAL USE OF GOD's BLESSINGS 1 (TO GLORIFY GOD ON EARTH)
ALL RCCG MANUALS FOR THIS SUNDAY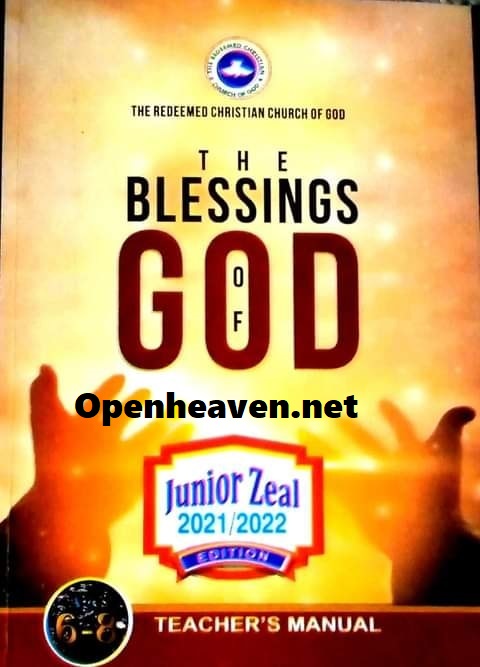 BIBLE TEXT: 2 Chronicles 20:1-30
2 Chronicles 20:1-15
[1]It came to pass after this also, that the children of Moab, and the children of Ammon, and with them other beside the Ammonites, came against Jehoshaphat to battle.
[2]Then there came some that told Jehoshaphat, saying, There cometh a great multitude against thee from beyond the sea on this side Syria; and, behold, they be in Hazazontamar, which is Engedi.
[3]And Jehoshaphat feared, and set himself to seek the LORD, and proclaimed a fast throughout all Judah.
[4]And Judah gathered themselves together, to ask help of the LORD: even out of all the cities of Judah they came to seek the LORD.
[5]And Jehoshaphat stood in the congregation of Judah and Jerusalem, in the house of the LORD, before the new court,
[6]And said, O LORD God of our fathers, art not thou God in heaven? and rulest not thou over all the kingdoms of the heathen? and in thine hand is there not power and might, so that none is able to withstand thee?
[7]Art not thou our God, who didst drive out the inhabitants of this land before thy people Israel, and gavest it to the seed of Abraham thy friend for ever?
[8]And they dwelt therein, and have built thee a sanctuary therein for thy name, saying,
[9]If, when evil cometh upon us, as the sword, judgment, or pestilence, or famine, we stand before this house, and in thy presence, (for thy name is in this house,) and cry unto thee in our affliction, then thou wilt hear and help.
[10]And now, behold, the children of Ammon and Moab and mount Seir, whom thou wouldest not let Israel invade, when they came out of the land of Egypt, but they turned from them, and destroyed them not;
[11]Behold, I say, how they reward us, to come to cast us out of thy possession, which thou hast given us to inherit.
[12]O our God, wilt thou not judge them? for we have no might against this great company that cometh against us; neither know we what to do: but our eyes are upon thee.
[13]And all Judah stood before the LORD, with their little ones, their wives, and their children.
[14]Then upon Jahaziel the son of Zechariah, the son of Benaiah, the son of Jeiel, the son of Mattaniah, a Levite of the sons of Asaph, came the Spirit of the LORD in the midst of the congregation;
[15]And he said, Hearken ye, all Judah, and ye inhabitants of Jerusalem, and thou king Jehoshaphat, Thus saith the LORD unto you, Be not afraid nor dismayed by reason of this great multitude; for the battle is not yours, but God's.
……………………….
RCCG LOWER JUNIOR ZEAL FOR AGE 6-8 TEACHER'S MANUAL SUNDAY 15TH OF MAY 2022 LESSON 37
MEMORY VERSE: Isaiah 42:12 "Let them give glory unto the Lord, and declare his praise in the islands."
LESSON AIM: The children will know that God is able to do more than we imagine and He deserves our worship.
CHILD-RELATED TRUTH: God is worthy of our worship.
INTRODUCTION
Let each child say one thing that is good about God. Let the children keep thinking of things until they run out. Then lead a prayer and praise God for the good things He has done. If you are able, lead the children in some songs that praise God (Praise Him,
Praise Him! I Sing Praises to Your Name. God Has Done Great Things. etc.) In today's story, we are going to learn about a time when an army was lead by people who were singing praises to God was Iead by people who were singing praises to God.
PROGRESSION OF EVENTS: 2 Chronicles 20:1-30
RCCG LOWER JUNIOR ZEAL FOR AGE 6-8 TEACHER'S MANUAL SUNDAY 15TH OF MAY 2022 LESSON 37
1. Judah had enemies who were some of the countries nearby and sometimes these enemies would try to attack the country.
2. One time the enemy was getting very close to attacking, so King Jehoshaphat was afraid for his people and decided to ask the Lord what to do.
3. He told all the people that no one should eat during this special time of prayer.
4. All the people of Judah came together to ask God for help just as King Jehoshaphat told them to.
5. When all of the people had gathered together, Jehoshaphat began to pray to God and asking Him fo help.
6. As the people all stood in front of the temple listening their king pray, God spoke to them through one of the priest telling them not to be afraid or discouraged.
7. Tomorrow, go down and stand before those people, you do not have to fight for the Lord will save you, and do not be afraid
GOSPEL CONNECTION: King Jehoshaphat loved and depended on God to save his people because he knew that God loved them, God
loves you and me and wants to save us from all our enemies. God sent His Son Jesus to save us from our sins. Our sins can separate us from God. Jesus died on the cross, He was buried and rose again on the third day. Because of what Jesus did on the cross, you can now have your sins forgiven when you ask Him into your life. You can now depend on God to save you from all your enemies just like King Jehoshaphat did.
8. The next day Jehoshaphat put a special group of men in front of the army singing songs of praises to the Lord, went out into the
desert, and marched to meet their enemies.
CLIMAX: By the time Jehoshaphat and his arny arrived, all of the enemies were dead.
CONCLUSION: King Jehoshaphat and all of the soldiers returned to Jerusalem praising the Lord. They went to the temple and worshiped
Him.
CHALLENGE: When we choose to seek God's help in our difficulties, we can trust that He will help us. Not only will we see His mighty
power but each person that is watching our lives will see how great and awesome He is. Your faith in the Lord will be richly rewarded and your response will be one of joy and praise to the One who rescued you. We will never know how many people may turn from their sins and believe in Jesus simply because they saw God help us as we trusted Him in all of our circumstances.
INVITATION: To depend on God to save you, you need to first accept Jesus as Lord and Saviour (John 1:12)
RCCG LOWER JUNIOR ZEAL FOR AGE 6-8 TEACHER'S MANUAL SUNDAY 15TH OF MAY 2022 LESSON 37
DAILY DEVOTION:
RCCG LOWER JUNIOR ZEAL FOR AGE 6-8 TEACHER'S MANUAL SUNDAY 15TH OF MAY 2022 LESSON 37
SUNDAY: GENESIS 49:13-18
MONDAY: GENESIS 49:19-24
TUESDAY: GENESIS 49:24-29
WEDNESDAY: GENESIS 49:30-33
THURSDAY: GENESIS 50:1-6
FRIDAY: GENESIS 50: 7-13
SATURDAY: GENESIS 50: 13-18