RCCG SUNDAY SCHOOL STUDENT'S MANUAL MAIDEN SPECIAL FOR YOUNG ADULTS AND YOUTHS (YAYA)
4TH APRIL 2021 LESSON 31
TOPIC: A PURPOSE-DRIVEN LIFE (PT2)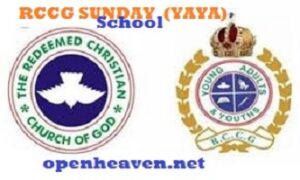 Subscribe to Blog via Email
NOTE: SPECIAL 3RD QUARTER LESSONS FOR YOUNG ADULTS AND YOUTHS.
Please be informed that the idea of the special Quater 3 lessons for YAYA is to deal extensively with issues/subjects peculiar to YOUTHS and needed for their well-being as Christians.
Therefore:
1. All Youth Parishes should SWITCH completely to the lessons dedicated to YOUTHS throughout the 3rd quarter.
2. Parishes with special classes for YOUTHS should allow the youth classes SWITCH completely to the lessons dedicated to YOUTHS throughout the 3rd quarter while the rest of the church continues with the regular 3rd quarter for ADULTS.
3. Other Parishes without special classes for YOUTHS should re-group the members of the church and create a special class for the Youth so that the youths of the parish can SWITCH completely to the lessons dedicated to YOUTHS throughout the 3rd quarter while the rest of the church continues with the regular 3rd quarter for ADULTS.
MEMORY VERSE: "Rest in the LORD, and wait patiently for Him; Do not fret because of Him who prospers in his ways, Because of the man who brings wicked schemes to pass". — Psalm 37:7 (NKJV)
BIBLE PASSAGE: PHILIPPIANS 3:7-14
Philippians:3.7
But what things were gain to me, these I have counted loss for Christ.
Philippians:3.8
Yet indeed I also count all things loss for the excellence of the knowledge of Christ Jesus my Lord, for whom I have suffered the loss of all things, and count them as rubbish, that I may gain Christ
Philippians:3.9
and be found in Him, not having my own righteousness, which [is] from the law, but that which [is] through faith in Christ, the righteousness which is from God by faith;
Philippians:3.10
that I may know Him and the power of His resurrection, and the fellowship of His sufferings, being conformed to His death,
Philippians:3.11
if, by any means, I may attain to the resurrection from the dead.
Philippians:3.12
Not that I have already attained, or am already perfected; but I press on, that I may lay hold of that for which Christ Jesus has also laid hold of me.
Philippians:3.13
Brethren, I do not count myself to have apprehended; but one thing [I do,] forgetting those things which are behind and reaching forward to those things which are ahead,
Philippians:3.14
I press toward the goal for the prize of the upward call of God in Christ Jesus.
INTRODUCTION
Today, many people, especially youths has been misled by those who have possessions, wealth, fame, glamour etc. Regardless of the source or process (Psalm 37:1-2). There is a serious misconception about what life is and the purpose for living. Some youths model their lives after those referred to as celebrities, magnets, business moguls, etc who 'preach' that all that is about life is to make money. Youth must avoid these misconception, rediscover themselves, put their trust in God (Psalm 37:7) and enjoy the benefits of living a purpose driven life.
LESSON OUTLINES
1. MISCONCEPTIONS ABOUT THE PURPOSE FOR LIVING
2. BENEFITS OF LIVING A PURPOSE-DRIVEN LIFE
MISCONCEPTIONS ABOUT THE PURPOSE FOR LIVING
The view of many people in the world about the purpose for living contradicts God's plan for mankind. Man is naturally self-centered and wants to live for himself. The natural (unregenerated) man considers everything in possession and achievement (Luke 12:13-21). This includes his spouse, the children, land, houses, education, status, power, fame, titles, etc. (Matthew 6:31-32; 19:27-30). He can take advantage of people or even kill in order to possess these things (James 4:1-3). The Bible calls it the lust of the eyes, lust of the flesh and the pride of life ( 1John 2:15-17). Greed, corruption, wars and killings are all the ways of the natural man: all for selfish gains (1Timothy 6:10; Ecclesiastes 5:10).
This is why our Lord Jesus admonishes believers to be careful because a man's life doesn't the abundance of the things he possesses (Luke 12:15). Hence, youth should not be selfish in their drive to posses material things at the expense of God's plan or will for their lives ( Jeremiah 29:11). Life is not about a pursuance of wealth, fame, power, etc, rather, it is about keying into one's divine mandate and purpose for living (Romans 14:17; Matthew 6:33). Youth should avoid 'get-rich-quick' syndrome or inordinate affections for material possessions (Proverbs 13:11; Ecclesiastes 5:10). Only by restoring fellowship with God through faith in Jesus Christ can purpose in life be rediscovered (Ecclesiastes 12:12-13).
BENEFITS OF LIVING A PURPOSE-DRIVEN LIFE
Our purpose in life has God originally created man is to glorify God and enjoy fellowship with Him, have good fellowships with others, work and have dominion over the earth. The benefit of discovering or rediscover your purpose of living as a youth include the followings:
1. It gives meaning to your life. We were made to have meaning. Without God, life has no purpose and without purpose, life had no meaning. Without meaning, life has no significance or hope (Jeremiah 29:11; Ephesians 3:20).
2. It simplifies your life. It divines what you do and what you do not do. Your purpose becomes the standard you use to evaluate which activities are essential and which are not (Proverbs 13:7; Isaiah 26:3).
3. It keeps focused in life. It concentrate your efforts and energy on what is important. You become effective by being selective. Without a clear purpose, you will keep changing directions, jobs, relationships, churches etc (Ephesians 5:17). Apostle Paul almost single-handedly spread Christianity through the Romans Empire. His secret was a focused life ( Philippians 3:13, 15).
4. It motivates you. Purpose always produces passion and passion dissipates when you lack purpose. Nothing energises like a clear purpose (Philippians 3:10-12).
5. It prepares you for eternity. What ultimately matters most is what God says about you. A wise use of time is to build an eternal legacy because you are put here on earth to prepare for eternity (Romans 14:10b; Romans 4:12; Revelation 22:12).
CONCLUSION
A purpose-driven life is fulfilling your divine purpose of existence and to answer a fundamental question about life; why am I here on earth?
QUESTIONS
1. Mention some misconceptions about life?
2. What are the benefits of living a purpose-driven life?