THE PROPHESIES FOR YEAR 2023 BY PASTOR E.A ADEBOYE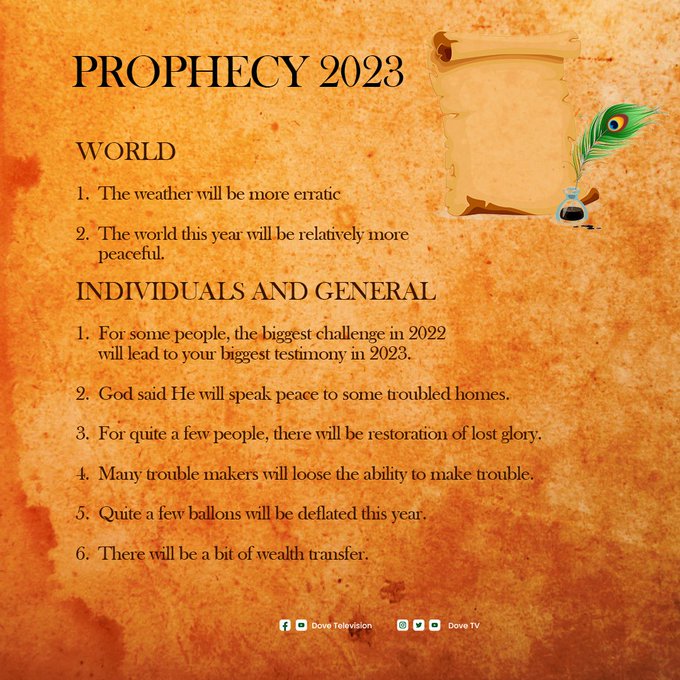 Full Transcript Rights ascribed to Openheaven.net – Usage remains as Released without Editting!
I just want to give you a Glimpse into what God said is coming in Year 2023.
We will talk about few Prophesies concerning the New Year – And we are combining Individuals as well aa General. For the world, we will say one (1) or two (2) things. And for The Redeemed Christian Church of God (RCCG); you will hear from your Pastors at the right time.
FOR THE WORLD
1. The Almighty God said that the Weather Pattern this Year (2023) will be more Erratic.
The Weather condition will not be very nice in some Places. But we are trusting God that it will be nice wherever we are – Amen!
2. The Lord said that the world this Year (2023) will be Relatively more Peaceful.
FOR INDIVIDUALS AND GENERALLY SPEAKING
1. For some People, your "Biggest Challenge" of Year 2022; will lead to your "Biggest Testimonies" in Year 2023.
2. The Lord also said that in this Year (2023); He will speak Peace to some "Troubled Homes".
3. The Lord said that this Year (2023); for quite a few People; there will be Restoration of "Lost Glories".
4. The Lord said that this Year (2023); many "Trouble Makers" will lose their Abilities to make troubles.
They won't just have what it takes to make troubles anymore.
5. This is the best way that I can say this without getting into trouble:
The Lord said that in this Year (2023); quite some few Ballons will be deflated – Amen.
6. The Lord said that this Year (2023); there will be a bit of "Wealth Transfer" – Amen.
You say – Is that all you are going to say?
Well, there was a News about two (2) or three (3) days ago that in Ghana (A Country located in the Western Part of the Continent of Africa); that the Police says that any Pastor that Prophesy anything that can cause Fear will be arrested.
Subscribe to Blog via Email
You say that is in Ghana – But Ghana is just next door to us!
The Elders has a Proverb – They say: Araba tun ra mu, odo gbe arere.