Subscribe to Blog via Email
Open Heaven 28 December 2020
MEMORISE:  "Commit thy way unto the LORD; trust also in him; and he shall bring it to pass." – (Psalms 37:5)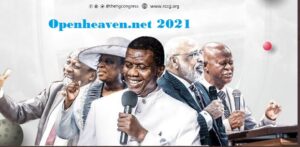 READ: Psalms 37:1-5 (KJV)
1. Fret not thyself because of evildoers, neither be thou envious against the workers of iniquity.
2. For they shall soon be cut down like the grass, and wither as the green herb.
3. Trust in the LORD, and do good; so shalt thou dwell in the land, and verily thou shalt be fed.
4. Delight thyself also in the LORD; and he shall give thee the desires of thine heart.
5. Commit thy way unto the LORD; trust also in him; and he shall bring it to pass.
1. Praise God for year 2020, praise Him for every single month of the year. Thank Him for preserving you all through the outgoing year.
2. Lord, keep me alive to see year 2021 in sound mind and divine health in the mighty name of Jesus.
3. Father, let me experience many significant breakthroughs in the coming year.
4. Father, uncover and destroy every ambush laid ahead for me by the enemy in the coming year.
5. Father, please make year 2021 my best year yet in the mighty name of Jesus.
6. Father, help me to know You more, love You more and serve You more in year 2021.
7. Father, if You tarry, by the end of year 2021, let me look back and say Indeed the Lord has helped me greatly.
8. Father, in year 2021, I will not expend my resources on sickness, court cases, funerals or anything evil.
9. Father, let all Your plans for me in year 2021 be fulfilled in the mighty name of Jesus.
10. Father, put Your shield of protection around me and my loved ones in the coming year.
11. Father, give me Your joy in the coming year – joy in my family, in my workplace, in Your Church, joy all around in the mighty name of Jesus.
12. Special prayer request for year 2021.
I join my faith with yours and pray that the Lord will grant all your requests concerning 2021 in the mighty name of Jesus.
KEY POINT: Have faith in God that 2021 will be your best year yet and so shall it be in the mighty name of Jesus.
Open Heavens Daily Devotional
guide was written by
Pastor E.A. Adeboye
, the General Overseer of the Redeemed Christian Church of God, one of the largest evangelical church in the world and also the President of Christ the Redeemer's Ministries.
The Open Heavens devotional
application is available across all mobile platforms and operating systems: iOS, Android, Blackberry, Nokia, Windows Mobile and PC.
BIBLE IN ONE YEAR:  Revelation 6-11
Thank you for studying today's Open Heaven – Prayers for Year 021 – written by Pastor Enoch A.
READ TOMORROW OPEN HEAVEN 29TH DECEMBER 2020
Open Heaven 28 December 2020