Open heaven January 2021 Tuesday January 26
TOPIC: LIKE A CHILD II
Memorize: But without faith it is impossible to please him: for he that cometh to God must believe that he is, and
That he is a rewarder of them that diligently seek him.
Hebrews 11:6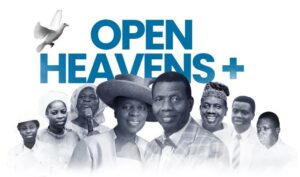 Read: Deuteronomy 28:3-13
If a father tells his son that he would buy him a toy, the little boy would go around telling his peers that he has a toy, despite the fact that he is yet to receive it. I recall telling a child that I would buy him a new pair of shoes. He went around telling everyone one that he will receive a new pair of shoes and while boasting one of his friends, one of his friends also said his father also promised him new shoes as well. The latter was laughed at because everyone knew his father could not afford to buy him new shoes. The boy however was so Sure that he because his father had told him so. That was a boy whose father was known to be a pauper. How much more you? Everyone knows you serve the King of kings; it is clearly written in Luke 1:37 that with God nothing shall be Impossible.
YESTERDAY: Open heaven January 2021 Monday January 25
Yet you doubt His word that says you shall be the head and no weapon fashioned against you can prosper. You doubt Exodus 23:26 which say that none shall be barren. You should be excited when you read these great promises that your Father has made to you. Would you be happy if your son shows doubt by looking for alternatives, after you have promised to provide for his needs? No. That is why Hebrews 11:6 says:
But without faith it is impossible to please
Him: for he that cometh to God must believe
That he is, and that he is a rewarder of them
That diligently seeks him.
Stop looking for substitutes for what God has promised you. If God has said it, He will do it. All you have to do is believe. Many a time, we miss our miracles because we don't have faith in His word. While scientists will say "Prove it and I will believe you", God says "Believe me, and I will prove it to you". Believe Him. Stand on His word, boast about His promises. Live in the fulfillment of the promise and He will hasten to bring it to pass. If God made Sarah conceive at the age of ninety, He can still give you a child. No matter how hopeless the doctors Say your case is, He will heal you. If He fed an entire nation with manna in the wilderness, He can provide for all you needs. If He parted the Red Sea so His children could pass through and then drowned their enemies in the same sea, He will take you out of difficult situations, deal with your pursuers and level all your mountains. Open heaven January 2021 Tuesday January 26
Nothing is too hard for Him to do! Just believe.
Open heaven January 2021 Hymn 25 Standing On The Promises Of Christ
My King
Action point: Read today's Bible text Deuteronomy 28:3-13 with
excitement, knowing that the promises of God to you in that
passage will surely come to pass.
Bible in one year Genesis 43-45
Subscribe to Blog via Email
LESSON
Hallelujah! Jesus Christ is LORD. AMEN. Glory to God. Today's Open Heavens Daily Devotional is out and I believe you have been blessed greatly by it. The open Heavens Daily Devotional is written by Pastor Enoch Adejare Adeboye who is the General Overseer of the Redeemed Christian Church of God. Here is another powerful message that has been passed by Daddy Adeboye through the inspiration of the Good HOLY SPIRIT. It is about having total faith in God like children usually do in their parents. Once you inform the child that you are getting something for him or her, the child takes your word very seriously and starts going from one place to another telling others with joy. So, if we are to be Christ's indeed, then we must be ready at all times to keep our faith in HIM and always trust HIM to do all He said He will do. This is what God wants, and we must take it with all seriousness. Thank you for reading today Open Heavens Daily Devotional. You can take to the comment section to share your thoughts on the lessons you have learned from today Open Heavens Daily Devotional. As you express yourself, you will be able to be a blessing to someone else out there. Don't also forget to share and bless someone else. GOD bless you in Jesus Name Amen Open heaven January 2021 Tuesday January 26