OPEN HEAVENS Thursday July 15
Topic: FAITH: A DIMENSION OF REALITY
Memorise: Now faith is the substance of things hoped for, the evidence of things not seen. Hebrews
11:1
Read: Genesis 12: 1-4
The concept of faith is a great one and it is backed by evidence. For example, Hebrews 11:8 says:
By faith Abraham, when he was called to go out into a place which he should after receive for an
inheritance, obeyed; and he went out, not knowing whither he went.
This was faith in action. This is why the Bible says in Hebrews 11:6:
But without faith it is impossible to please him:
for he that cometh to God must believe that he is, and that he is a rewarder of them that
diligently seek him.
We need faith to experience the supernatural. Jesus said in Mark 11:22-23:
..Have faith in God. For verily I say unto you, That whosoever shall say unto this mountain, Be thou
removed, and be thou cast into the sea; and shall not doubt in his heart, but shall believe that those
things which he saith shall come to pass; he shall have whatsoever he saith.
This means that our faith must be in the God who never fails.
Jeremiah 17:5 says: Thus saith the Lord; Cursed be the man that trusteth in man, and maketh flesh his
arm, and whose heart departeth from the Lord.
In the light of our Bible reading of today, faith is simply accepting the verdict of God in all situations.
Faith is saying Yes, Lord We must learn to identify the will of God as we exercise our faith. Jesus Christ
exercised His faith in the will of His Father when He prayed in Luke 22:42:
..Father, if thou be willing, remove this cup from me: nevertheless, not my will, but thine, be done.
God will give you that kind of faith in Jesus name. The reality of Jesus type of faith is the one that cries
"Thy will be done O, Lord" even in the face of adversity. This was also the type of faith that made Job
say: Though he slay me, yet will I trust in him: but I will maintain mine own ways before him. Job 13:15
This is the type of faith that glorifies God; it is the type that will ultimately take us to heaven.
OPEN HEAVENS Thursday july 15 Hymn 14: Jesus My Lord, My God, My All
Prayer Point: Father, please grant me the grace to say Yes Lord" to Your will in every situation of
my life, in Jesus name.
Bible in one year: Job 9-10
OPEN HEAVENS July 15, July 16, July 17, July 18, July 19, July 20, July 21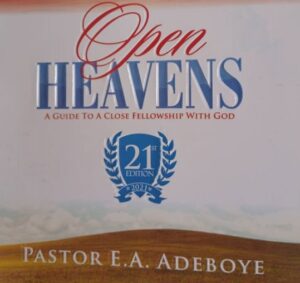 OPEN HEAVENS Friday July 16
TOPIC: CONQUERORS AND OVERCOMERS
Memorise: To him that overcometh will I grant to sit with me in my throne, even as also overcame, and
am set down with my Father in his throne.
READ: Romans 8:35-39
It is sweet to be a conqueror but sweeter still to be more than a conqueror! Christians, being the brides
of Jesus Christ, can be likened to the wife of a boxing champion.
A boxing champion is a conqueror, but the wife is more than a conqueror because when the champion is
awarded the winning belt, he hands it over to the wife who didn't even fight.
In the same vein, our Lord Jesus Christ conquered for us His bride and gave us the victory. This fact
informed Apostle Paul's statement who wrote in Romans 8:37 that "..in all these things we are more
than conquerors.."
Jesus Christ said to His disciples in John 14:12: Verily, verily, I say unto you, He that believeth on me, the
works that I do shall he do also; and greater works than these shall he do; because go unto my Father.
Our Lord Jesus Christ has obtained more than enough grace and mercy for us with His perfect obedience
to the Father.
This is the direct opposite of the disobedience of the first Adam according to Apostle Paul in Romans
5:12,14. To God be the glory, the second Adam brought us victory over sin and death through His
atonement (1 Corinthians 5:45) The question now is: What should we do with the revelation in this
Scripture? Simple: we must accept Jesus Christ as our Lord and Saviour for victory over Satan, sin and all
its attendant woes. John the Beloved wrote in 1 John 5:4-5:
For whatsoever is born of God overcometh the world: and this is the victory that overcometh the world,
even our faith. Who is he that overcometh the world, but he that believeth that Jesus is the Son of God?
This is the assurance we have from the Almighty God. that Overcomers Now it takes being born again –
being born of God, to overcome the world. You will not just overcome the world; you will be more than
a conqueror if you surrender your life to God and accept Jesus Christ as your Lord and personal Saviour.
With Him as your Lord, you will be a conqueror and an overcomer.
OPEN HEAVENS july 16 Hymn4: Conquerors And Overcomers Now Are We
Action Point: Decide to live holy so that you can be more than a conqueror in the mighty name of Jesus
Bible in one year: Job 11-12
OPEN HEAVENS Saturday July 17
TOPIC: NEW CREATURE IN CHRIST I
Memorise: Therefore if any man be in Christ, he is a new creature: old things are passed away; behold,
all things are become new.
Read: Romans 7:18-25
Speaking about a new creature is an indication that there was an old one. A new life in Christ however,
Is the new way of thinking and doing things in accordance with the word of God. Galatians 2:20 says:
I am crucified with Christ: nevertheless I live; yet not I, but Christ liveth in me: and the life
which I now live in the flesh I live by the faith of the Son of God, who loved me, and gave himself for me.
This simply means that when a person accepts Jesus as his or her Lord and Saviour, such a person
automatically. becomes dead to the old life. Every link with the old life is cut off. The old password
simply refuses to work because the username has changed. This marks the end of the old life and the
beginning of the new one in Jesus, as seen in today's memory verse (2 Corinthians 5:17).
At this point everything about the life we lived before we met Jesus ceases. Every new creature in Christ
submits to His lordship. From the point of rebirth, we begin to hunger for righteousness by pursuing
purity, honesty, justice, love, humility, and service to humanity; we take on a new focus.
The Bible makes it clear that becoming a Christian is more than adopting a new philosophy of life. It
starts from a new mind- you immediately begin to think differently from the old ways to such an extent
that your new behaviour may seem strange, even to you. 2 Corinthians 5:17
Out of the blue, you suddenly have new standards, you begin to measure everything you do in line with
the word of God. This new life in Christ comes with the assurance of abundant life- here on earth and
even in heaven. You have the assurance of answered prayers, confidence in His love and mercy. As you
read His word, your faith grows and intensifies to the point where you know that He will never leave nor
forsake you.
God is faithful and dependable; as a new creature in Jesus Christ, you can count on Him. Ignore the devil
whenever he comes to remind you of your past. The Bible describes him as the accuser of the brethren
(Revelation 12:10). Respond boldly by reminding him that old things are passed away and you are now a
new creature in Christ.
OPEN HEAVENS JULY 17 Hymn 2: Amazing Grace! How Sweet The Sound
Prayer Point: Father, as a new creature in Christ, please help me to always live according to Your word,
in Jesus name.
Bible in one year: Job 13-14
OPEN HEAVENS Sunday July 18
TOPIC: NEW CREATURES IN CHRIST II
Memorise: Wherefore come out from among them, and be ye separate, saith the Lord, and touch not
the unclean thing; and I will receive you. 2 Corinthians 6:17
Read: Isaiah 43:18-19
Everybody desires new things. As we expect new things to come our way, the Almighty God shall give
them to us this season in Jesus name. God says He will do a new thing (Isaiah 43:19), To whom is He
making this promise? To His people, of course. This leads all those who are expecting a new thing this
season to ask themselves some fundamental questions: Am l a child of God? Does God know me? Am l
among His elect? Am I among the redeemed of the Lord? What is the proof that
am redeemed of the Lord?
Our memory verse shows that, for you to be really redeemed of the Lord, you must adopt a new way of
living.
One thing that can come upon a new creature in Christ is the movement from poverty to prosperity. The
Bible says in 2 Corinthians 8:9:
For ye know the grace of our Lord Jesus Christ, that, though he was rich, yet for your sakes he became
poor, that ye through his poverty might be rich.
Apostle Paul encourages us to be transformed rather than being conformed to this world of sin (Romans
12:1-2).
The truth of the matter is this: only those who are in Christ can experience the new things God promises
us in His word:
Wherefore come out from among them, and be ye separate, saith the Lord, and touch not the unclean
thing; and I will receive you, And will be a Father unto you, and ye shall be my sons and daughters, saith
the Lord Almighty. 2 Corinthians 6:17-18
You need to change all old habits that are contrary to God's word. New blessings cannot come upon an
old life of sin. Matthew 9:16-17 says:
No man putteth a piece of new cloth unto an old garment, for that which is put in to fill it up taketh from
the garment, and the rent is made worse. Neither do men put new wine into old bottles: else the bottles
break, and the wine runneth out, and the bottles perish: but they put new wine into new bottles, and
both are preserved.
I pray that you will experience new things in your life this season, in Jesus' name.
OPEN HEAVENS July 18 Hymn 7: Have You Been To Jesus
Prayer Point: Father, please let Your divine touch change me for the better. Let me experience new and
pleasant things this season, in Jesus name.
Bible in one year: Job 15-16
OPEN HEAVENS July 15, July 16, July 17, July 18, July 19, July 20, July 21
OPEN HEAVENS 2021 Monday July 19
TOPIC: ABIDE IN CHRIST
Memorise: Abide in me, and I in you. As the branch cannot bear fruit of itself, except it abide in the vine;
no more can ye, except ye abide in me.
Read: John 15:4-8
The meaning of the name Emmanuel is not real to many so-called children of God because they are not
abiding in Christ. Therefore, they are caught in many horrible things in the course of their daily activities.
This scripture reveals our part in the covenant of God being our Present Help in times of need (Psalm
46:1). We must remember that the Almighty God is forever faithful. Though the world may deny Him,
He cannot deny Himself. Though the whole world may be unfaithful, He remains faithful to His word in
the lives of His children. What is our part in this bargain? We must abide in Him, living holy because He is
holy. We should never take a break from living holy. It is important for all children of God who want to
enjoy the presence of Emmanuel to abide in Him so that He would in turn abide in them.
How can we abide in God? Ecclesiastes 12:13 says: Let us hear the conclusion of the whole matter:
Fear God, and keep his commandments: for this is the whole duty of man.
We must fear God and keep His commandments. Many people today are taking the grace of God for
granted, teaching that we can live in sin and grace would still abound (Romans 6:1). Mischievously they
argue that we are in the dispensation of grace and thus can do whatever we like. They seem to be
saying & Let us commit sin the more, so that we may make maximum use of God's abundant grace!" They
claim to believe in God yet do not see Him as the Consuming Fire (Hebrews 12:29)!
Constantly being in the presence of God attracts multiple blessings. One of these is the opportunity to
pray and receive instant answers to our prayers. Jesus said: If ye abide in me, and my words abide in
you, ye shall ask what ye will, and it shall be done unto you. Herein is my Father glorified, that ye bear
much fruit; So shall ye be my disciples. John 15:7-8
What if we fail to abide in Christ? God forbid, because it carries terrible consequences. Jesus Christ our
Lord said in John 15:6:
If a man abide not in me, he is cast forth as a branch, and is withered; And men gather and cast them
into the fire, and they are burned.
Abiding in Christ is the ticket to peace and prosperity on earth as well as eternity with God. Therefore,
let us abide in Him because He is willing to grant us everlasting life.
OPEN HEAVENS July 19 2021 Hymn 9: Holy, Holy, Holy, Lord God Almighty
Prayer Point: Father, please help me to abide in You, in the mighty name of Jesus
Bible in one year: Job 17-18
OPEN HEAVENS July 15, July 16, July 17, July 18, July 19, July 20, July 21
OPEN HEAVENS 2021 Tuesday July 20
TOPIC: IDENTIFY YOUR OFFICE AND OPERATE THEREIN
Memorise: Seest thou a man diligent in his business? He shall stand before kings; He
shall not stand before mean men. Proverbs 22:29
Read: 1 Corinthians 12:4-7
Apostle Paul tells us in the Bible reading of today that he would not want us to be ignorant of the truth
concerning our calling as Christians and workers in the vineyard. Hosea 4:6 also emphasizes the danger
of ignorance:
My people are destroyed for lack of knowledge…
Our Lord Jesus Christ emphasized the importance of knowing the truth in John 8:32:
And ye shall know the truth, and the truth shall make you free.
In other words, lies hold people captive! In Proverbs 22:29 we read that a person who is diligent in his or
her business shall stand before kings. In what business? The fellow is to be diligent in whatever is
committed into his or her hands academically, professionally, spiritually and in all other areas.
Whatsoever thy hand findeth to do, do it with thy might; for there is no work, nor device, nor
knowledge, nor wisdom, in the grave, whither thou goest.
Ecclesiastes 9:10
The Scripture above emphasizes the need for diligence. in the light of today's reading, let us consider
some things worthy of learning: One, it is possible for Christians to be ignorant of facts about spiritual
gifts. Two, there are many gifts in the body of Christ and every believer should possess at least
one. Three, it is the Holy Spirit who distributes gifts to every believer as He chooses. Four, there are
differences in the administration as well as division of labour. Thus, believers should beware of carrying
out too many activities in the Church by themselves because it could be counter-productive.
Five, though there are differences in operations from believer to believer, it is the same God through His
Holy Spirit that works in all genuine believers. Six, the Holy Spirit then give different assignments to
different believers for the edification of the entire Body of Christ.
Thus, we see that it is not for the fun of it that believers are endowed with one gift or another.
Therefore, we come to the seventh lesson: no gift is either superior or inferior to another.
For this reason, Apostle Paul further wrote to warn us against discriminating in the use of the spiritual
gifts (1 Corinthians 12: 15-17).
Therefore beloved, let us work together as many members, but one indivisible Body of Christ-everyone
playing his or her part as the Lord has given us enablement. We shall not miss our reward in Jesus'
name.
OPEN HEAVENS 2021 July 20 Hymn 10: I Pressing On The Upward Way
Action Point: ldentify your spiritual gift(s) and begin to operate in its fullness, to the glory of God.
Bible in one year: Job 19-20
OPEN HEAVENS July 15, July 16, July 17, July 18, July 19, July 20, July 21
OPEN HEAVENS 2021 Wednesday July 21
TOPIC: DON'T BE WORLDLY!
Memorise: Love not the world, neither the things that are in the world. If any man love the world, the
love of the Father is not in him.
Read: 1 John 2:15-17
In todays memory verse, Apostle Paul enjoins us not to love the world and warned that we cannot love
God and the world at the same time. He urges further that we should not engage in the works of
darkness as listed in Ephesians 5:4, 5, and 12: Neither filthiness, nor foolish talking, nor jesting, which
are not convenient… For ye know, that no whoremonger, nor unclean person, nor covetous man, who is
an idolater, hath any inheritance in the kingdom of Christ and of God…for it is a shame even to speak of
those things which are done of them in secret.
Why however, are there thieves in the congregations of Churches today? Why are harlots in the Choir?
Why are extra-marital affairs now commonplace among believers? The answer is simple: worldliness has
become the order of the day! The get-rich quick spirit is holding sway among believers who have
forgotten Pauls counsel to be content with what they have (1 Timothy 6:6-11). The 'end justifies
the means philosophy growing in the Church today is contrary to the word of God that says everyone
shall give account for his or her actions (Romans 14:12).
Another reason for the growth of worldliness in the Church today is that the children of light have made
our places of worship comfortable for evildoers. Many believers are now living lives of deadly
compromise. Integrity is now considered old school.
How can we change this situation? The Bible says in Ephesians 5:7-8:
Be not ye therefore partakers with them. For ye were sometimes darkness, but now are ye light in the
Lord: walk as children of light:
The Bible in Romans 13:12-14 also says: The night is far spent, the day is at hand: let us therefore cast
off the works of darkness, and let us put on the armour of light. Let us walk honestly, as in the day; …But
put ye on the Lord Jesus Christ, and make not provision for the flesh, to fulfil the lusts thereof.
Henceforth, let us walk as children of light (Ephesians 5:8) and separate ourselves from every form of
worldliness.
May the second coming of the Lord not catch us unawares in Jesus name.
OPEN HEAVENS JULY 21 2021 Hymn 12: In Christ Alone
Prayer Point: Father, please grant me the grace to be vigilant that the day of the Lord will not catch me
unawares, in the mighty name of Jesus
Bible in one year: Psalms 63-65
OPEN HEAVENS July 15, July 16, July 17, July 18, July 19, July 20, July 21