OPEN HEAVENS Friday July 16
TOPIC: CONQUERORS AND OVERCOMERS
Memorise: To him that overcometh will I grant to sit with me in my throne, even as also overcame, and
am set down with my Father in his throne.
READ: Romans 8:35-39
 35 Who shall separate us from the love of Christ? shall tribulation, or distress, or persecution, or famine, or nakedness, or peril, or sword?

36 As it is written, For thy sake we are killed all the day long; we are accounted as sheep for the slaughter.

37 Nay, in all these things we are more than conquerors through him that loved us.

38 For I am persuaded, that neither death, nor life, nor angels, nor principalities, nor powers, nor things present, nor things to come,

39 Nor height, nor depth, nor any other creature, shall be able to separate us from the love of God, which is in Christ Jesus our Lord.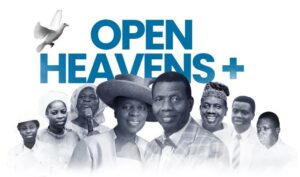 OPEN HEAVENS Friday July 16
It is sweet to be a conqueror but sweeter still to be more than a conqueror! Christians, being the brides
of Jesus Christ, can be likened to the wife of a boxing champion.
A boxing champion is a conqueror, but the wife is more than a conqueror because when the champion is
awarded the winning belt, he hands it over to the wife who didn't even fight.
In the same vein, our Lord Jesus Christ conquered for us His bride and gave us the victory. This fact
informed Apostle Paul's statement who wrote in Romans 8:37 that "..in all these things we are more
than conquerors.."
Jesus Christ said to His disciples in John 14:12: Verily, verily, I say unto you, He that believeth on me, the
works that I do shall he do also; and greater works than these shall he do; because go unto my Father.
Our Lord Jesus Christ has obtained more than enough grace and mercy for us with His perfect obedience
to the Father.
This is the direct opposite of the disobedience of the first Adam according to Apostle Paul in Romans
5:12,14. To God be the glory, the second Adam brought us victory over sin and death through His
atonement (1 Corinthians 5:45) The question now is: What should we do with the revelation in this
Scripture? Simple: we must accept Jesus Christ as our Lord and Saviour for victory over Satan, sin and all
its attendant woes. John the Beloved wrote in 1 John 5:4-5:
For whatsoever is born of God overcometh the world: and this is the victory that overcometh the world,
even our faith. Who is he that overcometh the world, but he that believeth that Jesus is the Son of God?
This is the assurance we have from the Almighty God. that Overcomers Now it takes being born again –
being born of God, to overcome the world. You will not just overcome the world; you will be more than
a conqueror if you surrender your life to God and accept Jesus Christ as your Lord and personal Saviour.
With Him as your Lord, you will be a conqueror and an overcomer. OPEN HEAVENS Friday July 16
OPEN HEAVENS Friday July 16 Hymn4: Conquerors And Overcomers Now Are We
1 Conquerors and overcomers now are we,
Thro' the precious blood of Christ we've victory,
If the Lord be for us, we can never fail;
Nothing 'gainst his mighty pow'r can e'er prevail.
Refrain:
Conquerors are we, thro' the blood, thro' the blood;
God will give us victory, thro' the blood, thro' the blood,
Thro' the Lamb for sinners slain,
Yet who lives and reigns again,
More than conquerors are we,
More than conquerors are we.
2 In the name of Israel's God we'll onward press,
Overcoming sin and all unrighteousness;
Not to us, but unto him the praise shall be,
For salvation and for blood-bought victory. [Refrain]
Subscribe to Blog via Email
3 Unto him that overcometh shall be giv'n
Here to eat of hidden manna sent from heav'n;
Over yonder he the victor's palm shall bear,
And a robe of white, and golden crown shall wear. [Refrain]
OPEN HEAVENS Friday July 16
Action Point: Decide to live holy so that you can be more than a conqueror in the mighty name of Jesus
Bible in one year: Job 11-12