Subscribe to Blog via Email
RCCG SUNDAY SCHOOL TEACHER'S MANUAL LESSON FORTY-SIX SUNDAY 18TH JULY 2021
TOPIC: SPIRITUAL AWAKENING
SUNDAY SCHOOL HYMN
1. O Sunday School, on the Lord's day,
O how I love Thee well,
I am happy, it makes me glad
To rejoice at Thy birth.
2. O Sunday School, on the Lord's day,
Thy friend friendship suits me well,
Both young and will sing Thy song,
We long for Sunday School.
3. O Sunday School, on the Lord's day,
Christ was Thy first teacher,
The Holy Spirit, great teacher,
Does manifest in thee.
4. O Sunday School, on the Lord's day,
This testimony is sure,
That God, the Father Almighty,
Poured His blessing on Thee
5. O Sunday School, on the Lord's day,
Though the sun be so bright,
Or if the clouds be black with rain,
I'll be in Sunday School.
6. O Sunday School, on the Lord's day,
I rejoice to see Thee,
Will thou pass over me today?
Without my being blest?
RCCG TOPICS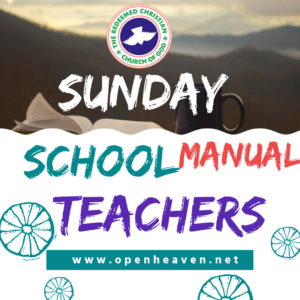 OPENING PRAYER
Father, deliver us from the spirit of spiritual sleep and slumber. Give us strength to watch and be sober.
MEMORY VERSE: "Therefore let us not sleep, as do others; but let us watch and be sober". — 1Thessalonians 5:6
BIBLE PASSAGE: 1THESSALONIANS 5:1-8
1 Thessalonians:5.1
But concerning the times and the seasons, brethren, you have no need that I should write to you.
1 Thessalonians:5.2
For you yourselves know perfectly that the day of the Lord so comes as a thief in the night.
1 Thessalonians:5.3
For when they say, "Peace and safety!" then sudden destruction comes upon them, as labor pains upon a pregnant woman. And they shall not escape.
1 Thessalonians:5.4
But you, brethren, are not in darkness, so that this Day should overtake you as a thief.
1 Thessalonians:5.5
You are all sons of light and sons of the day. We are not of the night nor of darkness.
1 Thessalonians:5.6
Therefore let us not sleep, as others [do,] but let us watch and be sober.
1 Thessalonians:5.7
For those who sleep, sleep at night, and those who get drunk are drunk at night.
1 Thessalonians:5.8
But let us who are of the day be sober, putting on the breastplate of faith and love, and [as] a helmet the hope of salvation
INTRODUCTION
Open Heavens Daily Devotional
guide was written by
Pastor E.A. Adeboye
, the General Overseer of the Redeemed Christian Church of God, one of the largest evangelical church in the world and also the President of Christ the Redeemer's Ministries.
The Open Heavens devotional
application is available across all mobile platforms and operating systems: iOS, Android, Blackberry, Nokia, Windows Mobile and PC.
Spiritually, sleep could either be caused naturally (Proverbs 3:24) or supernaturally (Genesis 2:21). Sleep is also used as a figurative expression of death (John 11:11-13), spiritual weakness or lukewarmness (Ephesians 5:14). Spiritual sleep is considered dangerous for any believers. This calls for spiritual awakening, i.e. waking up from spiritual sleep.
TEXT REVIEW: 1THESSALONIANS 5:1-8.
The Apostle Paul distinguished between the children of the day and the children of the night in 1Thessalonians 5:1-8 (5). Teacher should identify any five of such differences from today's passage. For instance:
i. The children of the day are children of light while the children of the night are children of darkness.
ii.
iii.
iv.
v.
LESSON OUTLINES
1. SIGNS AND DANGERS OF SPIRITUAL SLEEP
2. REMEDIES FOR SPIRITUAL SLEEP
SIGNS AND DANGERS OF SPIRITUAL SLEEP
The following are the signs of spiritual sleep.
i. Increased interest in the pursuit of worldly things and materials wealth (1John 2:15; Ecclesiastes 5:10)
ii. Manifesting works of the flesh (Galatians 5:19-21);
iii. Loss of appetite for spiritual food (The word of God) (Colossians 3:15-16);
iv. No longer impacted by the word of God (Isaiah 6:9-10; Jeremiah 15-16);
v. Loss of interest in prayer (Romans 11:7-8);
vi. Loss of hearing from God
vii. Loss of thirsty for righteousness (Matthew 5:6).
viii. Feeling of knowing it all (master of knowledge). (Proverbs 18:2; Galatians 6:3);
ix. Pursuit of fame or self-glory (Jeremiah 45:5);
x. Unmindful of consequence of action or proximity of danger (Judges 16:16-25; Jonah 1:3-5);
xi. Lack commitment in relationship with spiritually-minded Christians (Hebrews 10:25).
xii. Loss of discernment of spiritual matters (1Corinthians 2:11-14; Proverbs 29:18).
xiii. Loss of spiritual sight (Genesis 13:14-18; Jeremiah 17:5-6).
xiv. Exposure to spiritual attack (1Kings19:1-8; Matthew 13:24-30)
xv. Sudden destruction ( Acts 20:9-12; Judges 4:17-21).
xvi. Spiritual weakness (Judges 16:20)
xvii. Experiencing disappointment (2Timothy 4:10).
xviii. Missing divine appointment (Matthew 25:1-12).
CLASS ACTIVITY 1
Mention signs or danger of spiritual sleep.
REMEDIES FOR SPIRITUAL SLEEP
A. REMEDIES:
i. spiritual awakening- waking up out of all forms of spiritual sleep, slumbering, weakness or death (Romans 13:11).
ii. Regular preparation for the second coming of the Lord Jesus Christ, which is fast approaching ( Matthew 24:42-44).
iii. Maintaining our position as "light" and avoiding the world of"darkness" (1Thessalonians 5:5).
iv. Conscious effort to wake up and be alive (Ephesians 5:14)
v. Being filled with the knowledge of God and living a life of righteousness (1Corinthians 15:34)
B. REASONS WHY SLEEPERS MUST WAKE UP
i. To emit light and chase away darkness (Ephesians 5:14).
ii. To be free from the snares of the devil (2Timothy 2:26).
iii. To win more souls to the kingdom of God (Luke 10:2).
iv. To raise a defence against the wars and attack of the enemy, the devil (Matthew 13:25; 1Peter 5:8).
C. CHECKLIST FOR SPIRITUAL AWAKENING
i. Heed the warning to awake to righteousness and be dead to sin. 1Corinthians 15:34
ii. Ask yourself these questions:
a. Am I asleep or awake? (2Corinthians 13:5; Luke 21:34).
b. Am I watching? (Luke 21:36; Matthew 26:41).
c. Am I praying? (Luke 21:36; Matthew 26:41).
SUMMARY
Awake now if you are sleeping.
CONCLUSION
Learn to walk in the power of the Holy Spirit in order not to sleep spiritually. If you are already sleeping, wake up.
CLOSING PRAYER
Father, release the power of the Holy Spirit to wake up all your children who are sleeping spiritually now.
ASSIGNMENT
Mention any five things which God can do to wake the believers from their sleep