Subscribe to Blog via Email
RCCG JUNIOR ZEAL (AGES: 13-19) TEACHER'S MANUAL SUNDAY 18TH OF JULY, 2021 LESSON FORTY SIX (46)
TOPIC: SUPPORT MISSION
BIBLE TEXT: Mark 16:15
[15]And He said to them, "Go into all the world and preach the gospel to every creature.
MEMORY VERSE: Mark 16:15 "And He said to them, "Go into all the world and preach the gospel to every creature".
HYMN FOR TODAY:
Take my Lfe and let it be: Hymn 569
LESSON AIM: To encourage the teens to support the mission work.
CENTRAL TRUTH: Mission, the heartbeat of Christ must be a priority for every believer.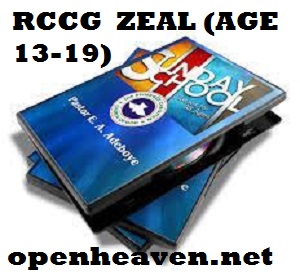 RCCG TOPICS 
INTRODUCTION: Mission is an important assignment given to a person or group of people, typically involving relocation. Christlan missions involve sending individuals and groups, called missionaries, across boundaries, most commonly geographical boundaries, to carry on evangelism or other
activities, such as educational or hospital work, A Christian mission is an organized effort to spread Christianity to new converts. Christan missionaries were the ones that took the gospel to countries of the world.
STUDY GUIDE:
Why Should We Support Missions?
• We were all commanded to preach the gospel, thus by supporting them, we become part of the commission – Rom 10:14-15
• Laborers are few – Matt 9:37-38
• Missionaries depend on churches – Phil 4:10-18. Fulltime missionaries depend on prayer, encouragement and financial support
to meet spiritual, emotional and physical needs, so that they can give themselves fully to the work of spreading the gospel.
• We are blessed for a reason – Luke 12:48
• There is reward for supporting missionaries – Heb 6:10
• So that God's kingdom can be established on earth.
What Kind Of Support Can We Give?
• Prayers.
• Money.
• Material things.
• We can visit them on the field.
DISCUSSION: Discuss your mission support experience if any. Otherwise discuss how you hope to take part.
INVITATION/ APPLICATION: It is good for us to remember that God has chosen us to do the work of missions through the financial support of faithful saints. When God sent His Son to do the work of missions on the earth, He chose to
provide for Him through the faithful fhnancial support of others. Get actively involved in supportung mission work today.
CONCLUSION: The Bible teaches us that we are all called to be missionaries whether we serve in missions at home or abroad. We all are called to go throughout the world and make disciples (Matt 28:19). However, many have
wrong perspecaves on supporting missions. Some may feel like they are not called to support missions. Some feel like giving to missions is a burden. Some feel ashamed about raising funds for missions, and some will not consider going simply because they lack finances. All of these are wrong perspectives on missions that hinder God's great work. As we look at Paul's final words to
the Philippians in chapter 4, we learn a great deal about a proper perspechve on supporting missions as he speaks about how they supported him in the past and also while imprisoned in Rome.
ACTIVITY:
How can I apply this to my life?
What is God saying in the text?
MY PRAYER POINT FOR THE LESSON:
Father, help me to support your work here on earth in Jesus name.