OPEN HEAVENS MARCH 2021 Thursday March 18
TOPIC: EVANGELISE
Memorise: Go ye therefore, and teach all nations, baptizing them in the name of the Father, and of the Son, and of the Holy Ghost: Matthew 28:19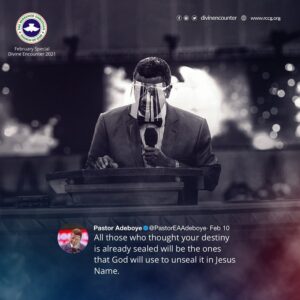 Read: Matthew 28:18-20
The charge to win souls Is not a suggestion, it is a command. In other words, is not negotiable. Every true believer must carry a burning desire and burden to reach out to the unsaved. If you love Jesus, you will preach His gospel to the lost because he does not desire the death of sinners, he desire every sinner saved (Ezekiel 18:23).
And every one that hath forsaken houses, or brethren, or Sisters, Or brethren, or mother, or wife, or children, or lands, for my name's sake, shall receive an hundredfold, and shall inherit everlasting life.
Matthew 19:29
From the passage above, we see that God will generously reward everyone who participates in evangelism because they are in partnership with Him. Not everybody can be a full-time evangelist, but in your Little corner, you are to win souls, as well as supporting and praying for the full-time evangelists risking their Iives to obey God's mandate of preaching to the unsaved souls, Visiting their families and encouraging them financially. The work of missions is dear to God's heart and ignoring it is ignoring Him.
At his day thou shalt give him his hire, neither shall the sun go down upon it; for he is poor, and setteth his heart upon it: lest he cry against thee unto the lord, and it be sin unto thee.
Deuteronomy 24:15
God said you should not owe anyone their wages and Corinthians 3:8-9 says those who are involved with missions are His labourers. In other words, the moment you begin evangelising your name enters His payroll and believe me honestly, He will never owe you your wages.
what exactly is your wage as an evangelist?
ye have not chosen me, but I have chosen you, and ordained you, that ye should go and bring forth fruit, and that your fruit should remain: at whatsoever ye shall ask of the Father in my name, he may give it you. John 15:16
The wage in the of an evangelist is a like a blank cheque from the richest being in the entire universe. If l were you, I would decide today to make soul winning my lifestyle
OPEN HEAVENS MARCH 2021 Hymn 15: Ive A Message From The Lord, Hallelujah
Action Point: Pick up your phone and call somebody to tell them about Jesus Christ now and make this a habit.
Bible in one year: Exodus 40
OPEN HEAVENS MARCH 19 CLICK HERE