OPEN HEAVENS MARCH 2021 Wednesday March 3
TOPIC: GOD'S PARTNER
Memorise: For we are labourers together with God: ye are God's husbandry, ye are God's building. 1 Corinthians 3:9
Read: Ezekiel 37:1-10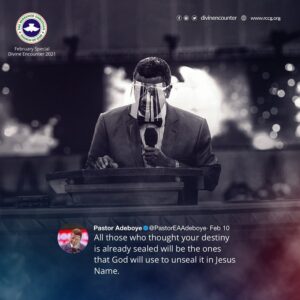 Are you old? Switch to wisdom. Job 32:7 If you can't do certain things by strength any more, do it by wisdom. Wisdom is better than strength. Cooperate with the youths, guide them. Tell them what to do. Genesis 14:14-15 Solemn Assembly Service Morning session Day 3
God loves to partner with people for His work here on earth. When He wanted to deliver ther people of Israel from the bondage of the Egyptians, He partnered with Moses. when He wanted to raise dry bones to become an army, He partnered with Prophet Ezekiel as we see in today's Bible reading, The major thing that qualifies you for partnership with God is holiness cause He is a holy God and Amos 3:3 says two cannot walk together except they agree.
Beyond holiness however, one thing has to be clear from the beginning: He is the Senior Partner while you are the junior partner. Being the Junior partner means that you have to forget whatever it is that you have achieved and place yourself wholly under His leadership.
Peter was a professional fisherman. He had been fishing Since he was a youth. Jesus on the other hand was a carpenter. When Jesus wanted to perform the miracle of a boat-sinking catch and needed Peter to partner with Him, He told him to fish at a time when, from experience, Peter knew there would be little or no catch. Peter however put all his experience and qualifications aside to obey the Senior Partner and the result was a catch so great that it filled two boats.
One day, just after I became the General Overseer of The Redeemed Christian Church of God, the Lord said to me, My son, you are almost forty years old and forty as you know is considered the age of wisdom". I said "Yes, Lord". He went on to show me two graphs. One looked like d valley, the other a mountain. He then told me to choose which of the two I wanted. I understood straightaway by the help of the Holy Spirit, so I chose the valley. He said very well, son, I am ready to become your partner so that From now, you will be climbing. But for that to happen everything about you has to reduce to zero. Before that time, my name plate read 'Rev. Dr. E.A Adeboye, Bsc, M.SC., Ph.D. and at the bottom was General overseer, God said to me "From now, you will be known Simply as pastor Adeboye. All the big titles have to go- the B.sc, M.SC., Ph.D. I am not interested in them.
if you want God to partner with you, humbly take the position of a junior partner. All your knowledge and achievements have to be put aside. Your obedience to your Senior Partner has to be absolute.
OPEN HEAVENS MARCH 2021 Hymn 12 In Christ Alone
Key Point: God is the Senior Partner, you are the junior partner. He instructs, you obey. He leads, you follow.
Subscribe to Blog via Email
Bible in one year: Acts 9-10