Subscribe to Blog via Email
RCCG Fast for Monday 17th February 2020
DAY 38: POWER TO DO THE WILL OF GOD, TEXT: Jer 29:11. When prayer is effective it avails much. Through effective prayers we bring to pass the will of God on earth.
PRAYER POINTS ON TODAY'S OPEN HEAVENS 17 FEBRUARY 2020 MONDAY
Open Heavens Daily Devotional
guide was written by
Pastor E.A. Adeboye
, the General Overseer of the Redeemed Christian Church of God, one of the largest evangelical church in the world and also the President of Christ the Redeemer's Ministries.
The Open Heavens devotional
application is available across all mobile platforms and operating systems: iOS, Android, Blackberry, Nokia, Windows Mobile and PC.
OPEN HEAVEN 17 FEBRUARY 2020 MONDAY: THE POWER OF YOUR WORDS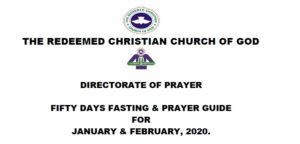 1. Bless the Lord O my soul and all that is within me. Bless His Holy name. Psa 103:1
2. Thank God for a new day and for the salvation of your soul
3. Father, please let Your will be done in all spheres of my life on earth as it is in heaven. Matt 6:10, Luke 11:2
4. Father, please, whatsoever that will not allow Your will be done in my life , destroy it now. Matt 6:10, Luke11:2
5. Thank God for His plans and purpose and His will concerning you. 1Thess 5 :18
6. Father, please let Thy kingdom come upon my life and forever. Matt 6:10, Luke11:2
7. Father, please according to Your will, sanctify me to avoid sexual immorality in my life. 1Thess 4:3
8. Father, please according to Your will, let Your thoughts of peace and not of evil be manifested in my life. Jer 29:11.
9. Father, please according to Your will, let all the goodness in your word come to me. Jer 29:10
10. Father, please according to Your will, baptize me with Your divine wisdom that upbraideth not. Jas 1:5
11. Father, please according to Your will, we confess all our sins knowingly and unknowingly before you. 1Joh 1:9
12. Father, please according to Your will, cleanse us from all unrighteousness by the blood of the Lamb. 1Joh 1:9
13. Father, you are the God of peace, make me perfect in every good work to do Your will. Heb 13:20-21
14. Father, please teach me to do Thy will and lead me to the land of uprightness. Psa 143:10