RCCG FASTING AND PRAYER POINTS SATURDAY 7 NOVEMBER 2020
THE REDEEMED CHRISTIAN CHURCH OF GOD DIRECTORATE OF PRAYER THIRTY (30) DAYS PRAYER GUIDE TOWARDS THE REALISATION OF A NEW NIGERIA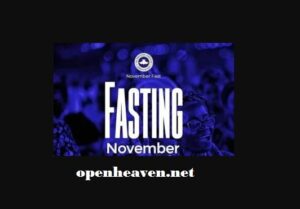 Our daily declaration during the period of fasting and prayer.
1. Nigeria; you will arise and shine again, for thy light is come.
2. All Prophesies of glory about Nigeria shall come to fulfilment in Jesus name.
3. I will eat the good of the land of Nigeria in Jesus name.
4. When the glory of Nigeria shall appear I and my family shall not disappear.
5. I thank you father for your good plan for Nigeria and answer to our prayers.
RCCG FASTING AND PRAYER POINTS SATURDAY 7 NOVEMBER 2020
TOPIC: PRAYER OF DELIVERANCE FOR NIGERIA
TEXT(S): ISAIAH 49:24-26. EXODUS 1:11-15
INTRODUCTION: It was sin that led man into captivity of the devil, 1 John 3:8, Only Jesus can set a nation free, John 8:36. As we pray for Nigeria, Jesus will set our nation free in Jesus mighty name.
PRAYER POINTS
1. Father, we thank you for your mercy that endure for ever, Psalms 136:1
2. Father, we thank you for all powers belong to you, Mathew 28:18,
3. Father, we thank you for your blood that was shed for our Redemption,Galatians 3:13.
4. Father, thank you for your mercies that brought about the creation of Nigeria to fulfil divine destiny of greatness. James 2:13.
5. Father arrest, cut to piece that serpent in the wilderness that has been released all over the nation to swallow progress and a new beginning. Exo. 7:12.
6. Father anyone that has vowed to bury righteousness in Nigeria disgrace and blot them out of this nation in your own way. Prov. 14:34.
7. Father any force anywhere that have hijack peace and good governance in Nigeria command them to fail and fall woefully. Luk. 10.18.
8. Let us plead for mercy for the killings and reckless wastages of human lives going on in Nigeria without culprits and without justice
9. Let us plead the blood of Jesus for the cleansing of the land of Nigeria
10. O God we destroy every altars of witchcraft thirsty and demanding for blood in Nigeria. Isa 10:27
11. Many are still in the prisons of the kidnappers; Father; Arise and set the captives free.
12. Father, we thank you for our time of deliverance has come, psalm 102:13.
13. Father, arise and deliver Nigeria from satanic captivity Isaiah 49:24-26
14. Father, let the power in the blood of Jesus deliver Nigeria from all bondages. Rev. 12:11.
15. Father, let the power in the blood of Jesus cancel every satanic covenant with Nigeria
16. Father, let the power in the blood of Jesus deliver and separate Nigeria from every evil alliance and association
17. Father; destroy the mentality of quick money without work in Nigeria.
18. Father expose the hideouts of all kidnappers and ritual killers in Nigeria
19. Father; as many that are behind the shedding of innocent blood in anyway,
bring them to judgment in Jesus name.
20. Father. Joblessness is a major challenge for our teeming youths, in your own way make a way for our youths to be gainfully engaged in Jesus name. OPEN HEAVEN 8 NOVEMBER 2020 SUNDAY: CHRISTIAN DISCIPLESHIP I