RCCG HOUSE FELLOWSHIP MANUAL SUNDAY 29TH OF NOVEMBER 2020
TOPIC: FIRST QUARTERLY REVIEW
SUMMARY OF LESSON ONE – TWELVE
DATE: SUNDAY 6TH SEPTEMBER, 2020 (THANKSGIVING SUNDAY)
LESSON: ONE (01)
TOPIC: IN EVERYTHING GIVE THANKS
MEMORY VERSE:
"In every thing give thanks: for this is the will of God in Christ Jesus concerning you."
1 Thess. 5:18
BIBLE PASSAGE: Psalm 100:4, Luke 17:11-19
INTRODUCTION:
It is the will of God for us to be thankful to Him 1 Thessalonians 5:18.
Giving thanks is the master key to gaining entrance into His gate Psalms 100:4, it is a response to the goodness and mercy of God. Regardless of our present situation, whether good, bad or delightful, we are to give Him thanks Ephesians 5:20. Our God deserves our thanksgiving particularly when we reflect on the journey of 2019/2020 spiritual year which He has faithfully seen us through. Nothing will stop us not to also convey the joy of our salvation better than regularly giving God our sincere thanks.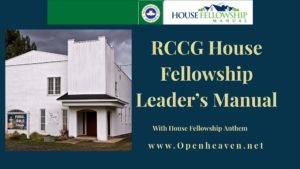 REASONS TO GIVE THANKS TO GOD
1. WE ARE TO BE THANKFUL FOR WHO HE IS:
1 Chronicles 16:34
1 John 1:9
2 WE ARE TO BE THANKFUL FOR WHAT HE HAS DONE:
Colossians 1:12
Romans 5:8
Psalms 118:21
3. WE ARE TO BE THANKFUL FOR WHAT HE HAS GIVEN US:
Ephesians 2:8, Dueteronomy 10:21, 1 John 4:16.
CONCLUSION:
We should be thankful, no matter what? Training our hearts to be thankful in all situations keeps us from bitterness, discouragement, selfishness, anger, covetousness and other harmful attitudes. Giving thanks to Him brings joy and peace to our hearts and prepares the ground for more of His blessings.
PRAYER POINTS:
1. Thank God for all the benefits you have received in the past
DATE: SUNDAY 13TH SEPTEMBER, 2020
LESSON: TWO [02] TOPIC: ABUNDANT BLESSINGS FROM SERVING GOD WHOLEHEARTEDLY
PRAYER POINTS:
My Father, please help me to serve you wholeheartedly till I meet You in glory.
MEMORY VERSE:
"If they obey and serve [him], they shall spend their days in prosperity, and their years in pleasures."
Job 38:11
BIBLE PASSAGE: Exodus 23:25-28
TEXT REVIEW: Exodus 23:25-28
i. Wholehearted service to the Lord invokes blessings from God.
ii.The enemies are in trouble when you serve God wholeheartedly.
INTRODUCTION:
There is no man or woman who serves God wholeheartedly that will walk away empty handed. Isaiah 45:19.
You can never be at loss when you serve God wholeheartedly. He has blessed us with everything including our lives, our family and everything we call ours. The only to express our gratitude is to serve Him wholeheartedly which in turn will still attract much more blessing. Our memory verse says "If they obey and serve Him, the shall spend their days in prosperity, and their years in pleasures." Job 36:11.
LESSON OUTLINES
1. STEPS TO SERVING GOD WHOLEHEARTEDLY:
2. BLESSINGS ATTACHED WHEN YOU SERVE GOD WHOLEHEARTEDLY: (BUT NOT LIMITED TO THOSE BELOW)
Dueteronomy 28:7, Leviticus 26:7
SUMMARY:
There is no one who serves God wholeheartedly that will not be rewarded.
CONCLUSION:
Quoting the Bible in Matthew 22:37 "Jesus said unto him, Thou shalt love the Lord thy God with all thy heart, and with all thy soul, and with all thy mind". It is only through our serving Him with the whole of our hearts that we can obtain blessings that we desire in our lives.
DATE: SUNDAY 20TH SEPTEMBER, 2020
LESSON: THREE (03)
TOPIC: VIOLENCE SHALL NO MORE BE HEARD IN THY LAND.
MEMORY VERSE
"Violence shall no more be heard in thy land, wasting nor destruction within thy borders; but thou shalt call thy walls Salvation, and thy gates Praise."
Isaiah 60:18
BIBLE PASSAGE: Isaiah 60:18-22, Isaiah 2:1-4
Isaiah 60:18-22
18 Violence shall no more be heard in thy land, wasting nor destruction within thy borders; but thou shalt call thy walls Salvation, and thy gates Praise.
19 The sun shall be no more thy light by day; neither for brightness shall the moon give light unto thee: but the LORD shall be unto thee an everlasting light, and thy God thy glory.
20 Thy sun shall no more go down; neither shall thy moon withdraw itself: for the LORD shall be thine everlasting light, and the days of thy mourning shall be ended.
21 Thy people also [shall be] all righteous: they shall inherit the land for ever, the branch of my planting, the work of my hands, that I may be glorified.
22 A little one shall become a thousand, and a small one a strong nation: I the LORD will hasten it in his time.
Isaiah 2:1-4
INTRODUCTION:
"Violence shall no more be heard in the land" is a description of peace and prosperity which would prevail in the time of Our Lord Jesus Christ (Our Messiah). There will be a new heaven and a new earth. There will be no more violence and war. The cry of violence and devastation will be no more. There will be no sin, no sickness and demonic activities, but only the glory of God.
GOD'S PROMISES TO THE RIGHTEOUS
CONCLUSION:
Violence will no more be heard in the land of those who make Jesus Christ their Lord and Saviour. He promised to take us to where there will be no more violence, where He is in John 14:1-3 and His promises are sure.
xxxxxxxcxxxxxx
DATE: SUNDAY 27TH SEPTEMBER, 2020
LESSON: FOUR (04)
TOPIC: LIFE WITHOUT CHRIST IS VANITY.
PRAYER POINTS:
Father, please give me the grace to live for you alone.
MEMORY VERSE:
For what shall it profit a man, if he shall gain the whole world, and lose his own soul?
Mark 8:36.
BIBLE PASSAGE: Ecclesiastes 2:1-11,24-26
i. Without Christ, all is vanity.
ii. Take a stand for Christ.
INTRODUCTION:
The book of Ecclesiastes is widely accepted to have been written by King Solomon Ecclesiastes 1:1, the King that experienced it all. His wealth and royal opulence was unrivaled 2 Chronicles 9:22, His passion for women was legendary with a record of seven hundred wives and three hundred concubines 1 Kings 11:1-3. Above all, God endowed him with rare wisdom such that other Kings and Queens travelled long distances to learn from him 2 Chronicles 9:6, 23. He rightly observed that "all is vanity" Ecclesiastes 1:2, 12:8.
However, He concluded by admonishing that man should "…. Fear God, keeping His commandments: for this is the whole duty of man." Ecclesiastes 12:13. Anything that excludes God is vanity. All the world has to offer without Christ is an empty life. Matthew 6:33 says "But seek ye first the kingdom of God, and his righteousness; and all these things shall be added unto you". 2 Chronicles 8:22 – wealth, wisdom..etc.
LESSON OUTLINES
There is one lesson outline.
LESSON LEARNT FROM LUKE 5:1-11 – A NIGHT OF FAILURE WITHOUT JESUS
LESSON ACTIVITIES:
What is the difference between a life without Christ and a life in Christ?
SUMMARY:
There is a great gain to have Christ.
CONCLUSION:
In our materialistic world, we spend our lifetime pursuing the transient and ephemeral things of life which only gives temporary happiness, they don't give genuine peace, can crumble and fade-off at any time. 1 Peter 1:24. Without Christ, you are lost forever, your material opulence will be of no benefit to you, it will not save you. Mark 8:36-37 "For what shall it profit a man, if he shall gain the whole world, and lose his own soul?
Or what shall a man give in exchange for his soul?"
xxxxxxxxxxxxxxx
DATE: SUNDAY 4TH OCTOBER, 2020
LESSON: FIVE (05)
TOPIC: BEWARE OF UNGODLY OPPORTUNITIES.
Proverbs 13:11
BIBLE PASSAGE: Isaiah 1:19-20
Ye adulterers and adulteresses, know ye not that the friendship of the world is enmity with God? whosoever therefore will be a friend of the world is the enemy of God.
Galatians 5:16
INTRODUCTION:
There is a difference between godly and ungodly opportunities. Any opportunity gotten without Heaven's approval through the Word of God is nothing but an ungodly opportunity. Ability to say no to ungodly opportunities places one on the side of God who rewards such loyalty. Sometimes, many ungodly opportunities appear as Heaven's sent, but we need to be very sensitive and always be at alert to discern those opportunities that are not godly. Don't sleep with your boss for that job or promotion. Don't offer bribe to get that contract. Don't pay a third party to sit for your child in exams.
BIBLICAL EXAMPLES OF UNGODLY OPPORTUNITIES
CONSEQUENCES OF UNGODLY OPPORTUNITIES
CONCLUSION:
As believers, we must not value earthly possession more than our salvation. Remember that the devil is looking for who to devour.
1 Peter 5:8, 1 Corinthians 10 :12 "Wherefore let him that thinketh he standeth take heed lest he fall". Work out your salvation with fear and trembly Philippians 2:12.
xxxxxxxxxxxxxxxx
RCCG HOUSE FELLOWSHIP MEMBER'S MANUAL
DATE: SUNDAY 11TH OCTOBER, 2020
LESSON: SIX (06)
TOPIC: WHENEVER GOD SPEAKS, IT IS DONE.
HOUSE FELLOWSHIP ANTHEM:
BIBLE PASSAGE: Genesis 1:3-24, Isaiah 55:11
INTRODUCTION:
Speaking is the first active verb of the universe. Speaking is the tool used by God in creating the universe. When he speaks, nothing remains the same. At the beginning, God spoke and the universe was created out of nothing. The universe didn't just create itself, it was created by the Word of God, Psalms 33:9. In Genesis 1:3, God said "Let there be light" and there was light. He followed a pattern when he created the earth: He spoke, and it was so. God doesn't make suggestions, He speaks with the full authority and what he has said will come to fruition. His Words come with power and Holy Spirit 1 Thessalonians 1:5, John 6:63.
A. SOME BIBLICAL EXAMPLES OF WHEN GOD SPEAKS – OLD TESTAMENT
B. IN THE NEW TESTAMENT
CONCLUSION:
By the Word of the Lord were the heavens made, and all the hosts of them by the breath of His mouth Psalms 33:6. He created all things by His Word, He spoke it and it was done Psalms 148:5, Hebrews 11:3. We can only please God when He speaks and we obey it.
xxxxxxxxxcxxxxxxxx
DATE: SUNDAY 18TH OCTOBER, 2020
LESSON: SEVEN (07)
TOPIC: FORGIVE AND YE SHALL BE FORGIVEN.
PRAYER POINTS:
Father, please give me the grace to forgive anyone that offends me.
MEMORY VERSE:
Judge not, and ye shall not be judged: condemn not, and ye shall not be condemned: forgive, and ye shall be forgiven
Luke 6:37
BIBLE PASSAGE: Mathew 5:23-24, Matthew 6:14-15, Mark 11:25
TEXT REVIEW: Mathew 5:23-24, Matthew 6:14-15, Mark 11:25
i. Forgiving others is a command not a choice.
ii. Forgiveness attract a lot of blessings from God.
INTRODUCTION:
To forgive means to let go of an offence, to pardon, to waive any negative feeling or desire for punishment, to acquit the accused of a crime and Set him/her at liberty without pressing any claim Matthew 18:25-27. Living a forgiven is God's expectation of all His children so as to receive forgiveness from Him. We all need to regularly ask God in prayer to give us the spirit of forgiveness.
LESSON OUTLINES.
WHY SHOULD WE FORGIVE ONE ANOTHER?
WE SHOULD FORGIVE BECAUSE:
ACTIVITY
Can any Christian who refuses to forgive go to Heaven?
SUMMARY:
Forgive so that Your Heavenly Father will forgive you.
CONCLUSION:
Do you still keep the record of wrongs done to to you in the black book of your mind? This can rob you of God's presence and it is also capable of nullifying all your efforts towards making Heaven. There is need to forgive and release those you have vowed not to forgive so that you can make Heaven at last.
xxxxxxxxxcxxxxxxxxx
RCCG HOUSE FELLOWSHIP MEMBER'S MANUAL
DATE: SUNDAY, 1ST NOVEMBER 2020
LESSON: NINE (09)
TOPIC: DO NOT CONSULT MEDIUMS, WITCHES AND FALSE PROPHETS
MEMORY VERSE:
"Regard not them that have familiar spirits, neither seek after wizards, to be defiled by them: I am the LORD your God"
Leviticus19:31.
BIBLE PASSAGE: Dueteronomy 18:9-14, Leviticus 20:6
INTRODUCTION:
God clearly warned in Dueteronomy 18:10-14 that it is contrary to His will that His children engage in any activity of the occult. The Bible teaches that spiritual guidance should be sought from God alone. We are to avoid anyone that practices divination or sorcery, interprets omen or anyone who is a medium because they have aligned themselves with supernatural forces that are not from God, but from Satan.
The final step in King Saul's tragic downfall took place when he consulted a medium at Endor. 1 Chronicles 10:13-14 "13 # So Saul died for his transgression which he committed against the LORD, [even] against the word of the LORD, which he kept not, and also for asking [counsel] of [one that had] a familiar spirit, to enquire [of it];
14 And enquired not of the LORD: therefore he slew him, and turned the kingdom unto David the son of Jesse."
King Manasseh equally provoked God to anger by practicing sorcery and consulting mediums 2 Chronicles 33:6
THE BIBLE VERSES THAT ARE GIVEN TO US AS WARNINGS ARE:
CONCLUSION:
Every form of divination, whether from occult or natural objects, communication with the dead necromancy etc are all against what the Bible says in Exodus 20:3-5a. God commands absolute loyalty and doesn't tolerate any involvement with other gods or spirits. He said in Exodus 20:5 that He is a jealous God. Therefore, for the direction you need in your life, turn instead to Jesus Christ. God has assured his children in Jeremiah 33:3 "Call unto me, and I will answer thee, and shew thee great and mighty things, which thou knowest not."
xxxxxxxxxcxxxxxxxxx
SUNDAY 8TH OF NOVEMBER, 2020
LESSON TEN (10)
TOPIC: EVERY DAGON WORKING AGAINST YOUR LIFE MUST BOW
OPENING PRAYER: Father, let every power of darkness bow before Your presence in my life now.
MEMORY VERSE: "And when they arose early on the morrow morning, behold, Dagon was fallen upon his face to the ground before the ark of the LORD; and the head of Dagon and both the palms of his hands were cut off upon the threshold; only the stump of Dagon was left to him." 1 Samuel 5:4
INTRODUCTION: Dagon was the chief deity of the Philistines, he was the fish god represented as a half-man, half-fish creature. It was with great ceremony that the Philistines carried the arc of God into the temple of Dagon after defeating the Israelites in battle. They boasted as if they had defeated God Himself who was unable as they thought to protect His people not knowing that our God is a consuming fire and even a jealous God (Deuteronomy 4:24). What a shock, the idol (Dagon) of the Philistines fell twice before the Arc of God and was irreparable broken into pieces.
TEXT REVIEW: 1 Samuel 5:1-12
i: Bring everything to obedience in Christ.
Ii. God is over everything all the time
LESSON OUTLINES: There are two outlines.
A: THE FOLLOWING DAGON (IDOLS) WORKING AGAINST YOUR LIFE MUST BOW:
1. Pride. – Isaiah 2:11
2. Lust. – Matthew 5:27-28
3. Other gods. – Exodus 20:3-5a
4. Bitterness and hatred. – Ephesians 4:26-27
5. Self. – Placing what you want ahead of what God wants for you. – Matthew 6:33
6. The love of the world. – 1John 2:15
7. Fear and worry: Giving room to fear and worry is another Dagon that controls your life – Phi 4:16
8. Sickness 9. Poverty 10. Curses
11. Demonic manifestations, etc.
B: WAY OUT:
We need to receive a new heart (Ezekiel 36:26-27). We are dead in our sins and we need to be made alive with Christ (Ephesians 2:1-5). Also, placing our desires and affections on the things above as Apostle Paul said in Colossians 3:1-3 will make all this Dagons (idols) working against our lives bow.
ACTIVITY: Mention the different types of Dagon and the way out.
SUMMARY: Sooner or later Dagon must bow to the name of Jesus, so don't give up.
CONCLUSION:
Every heart has a throne and on that throne sits something or someone (Romans 6:16). Find out the Dagon (idol) that has sneak into your life that make you to bow to fear, worry, sadness, lust and so on and dethrone him today and put God back on His throne. He is the supreme ruler of the universe, the one to whom every Dagon must submit.
Subscribe to Blog via Email